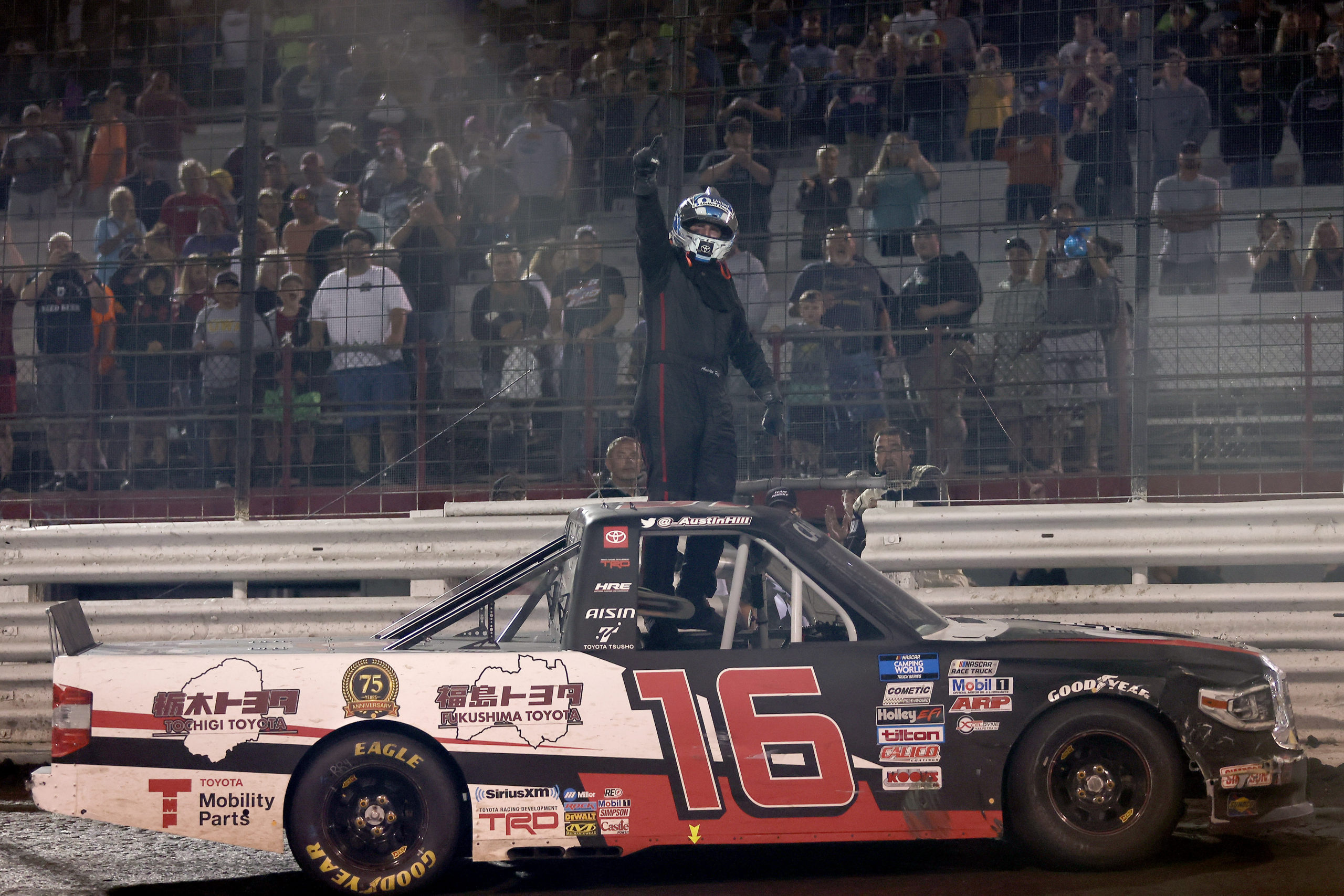 Austin Hill Outlasts Overtime for Inaugural Knoxville Truck Win
KNOXVILLE, IA. – It may have taken 14 cautions and four Overtimes, but the inaugural Truck Series race from Iowa's famed Knoxville Raceway eventually finished. The historic dirt win went to Austin Hill, as the Hattori No. 16 Toyota led the final 10 laps. This win is the seventh of Hill's career, and also secures his spot in the Playoffs for the third-straight year. Only one race remains in the Trucks' regular season, coming next month at Watkins Glen.
Many Winless Drivers Step Up to the Plate
Derek Kraus started from pole after his Heat race win and would also hang on to win both Stages. These all-important bonus points vaulted the 19 Truck up to 12th in points. A spin however in the final Stage put the Wisconsin native back, and he would recover to finish fifth. Entering the regular season finale, Kraus is 40 points below the Playoff cutoff line. If the 19 team wants any chance of contending for the 2021 title, they must win Watkins Glen.
Kraus being set back gave the top spots to Carson Hocevar and also Chandler Smith. Both young drivers would swap the lead back and forth multiple times, each going for their maiden victory. After so many restarts though, their battle wound on and on, allowing many others the chance to capitalize.
The Big One… at Knoxville?
All night long several minor incidents led to cautions on the dirt half-mile. While several incidents did involve multiple trucks, one in particular takes the cake. On the first Overtime attempt, the 34 of Jake Griffin spun his tires and turned in front of Donny Schatz. A major chain reaction incident turned the frontstretch into a parking lot. In total, 17 trucks were involved in this calamity. This very short-lived moment under green was the first of four attempts at bonus racing.
One of these overtime restarts saw a very pivotal position change. Austin Hill remained alongside Chandler Smith through turns 1 and 2, and just edged ahead on corner exit. At the time of caution, the 16 was scored ahead of the 18. This lap 170 lead change eventually decided the race win, as Hill held off Smith's charges.
Hill's Winning Reaction
"I don't know," Hill said on pulling off his first dirt win. "Kind of thought we were out of it there on that restart when I was on the outside of the 38 (Todd Gilliland) and I fell back to like 20th and I didn't think we were going to make it back up. Track position was huge and it was really hard to get around people. You had to kind of rough them up to get around them. I just kept my head down.
"This team and everybody at HRE (Hattori Racing Enterprises), they never quit. That's the thing I love about this group. We don't stop, we don't quit – even when we think we're down and out, we just keep coming back. If you would have told me that we would win a dirt race this year, I would have told you that you were lying. I can't thank everybody at Toyota enough – Tochigi, Toyota Mobility Parts, Fukishima and everyone else for being on this truck. Jack Irving (TRD) and Tyler Gibbs (TRD) and everyone for helping me to get to where I'm at. My parents, my family – this is awesome."
Hill is the fifth driver to lock themselves into the 2021 Playoffs with a win. Also into the postseason on points after Knoxville are Zane Smith and Matt Crafton. Heading into the regular season finale, the last three drivers into the 10-man Playoffs are Carson Hocevar, Stewart Friesen, and Chandler Smith. Smith holds a 40-point advantage over Derek Kraus.
Knoxville Top 10 Results
Coming up just shy of his first career win in second was Chandler Smith. Knoxville marks Smith's best finish of 2021, and only his third top five. Grant Enfinger, Todd Gilliland and Derek Kraus rounded out the top five. The rest of the top 10 were Matt Crafton, Ben Rhodes, Brian Brown, Tate Fogleman, and Danny Bohn.
What's Next for Trucks
The next stop for the Camping World Truck Series is upstate New York, for Watkins Glen. Trucks have not raced at The Glen since 2000, and now it will determine the last three drivers into the Playoffs. Coverage of the United Rentals 176 will be Saturday, August 7 at 12:30 p.m. ET on FS1, MRN, and SiriusXM NASCAR Radio Channel 90. With a road course closing out the regular season, can we see a Playoff upset?
Written by Peter Stratta
Be sure to follow us on Twitter
Be sure to follow the writer on Twitter
Photo Credit to James Gilbert/Getty Images for NASCAR