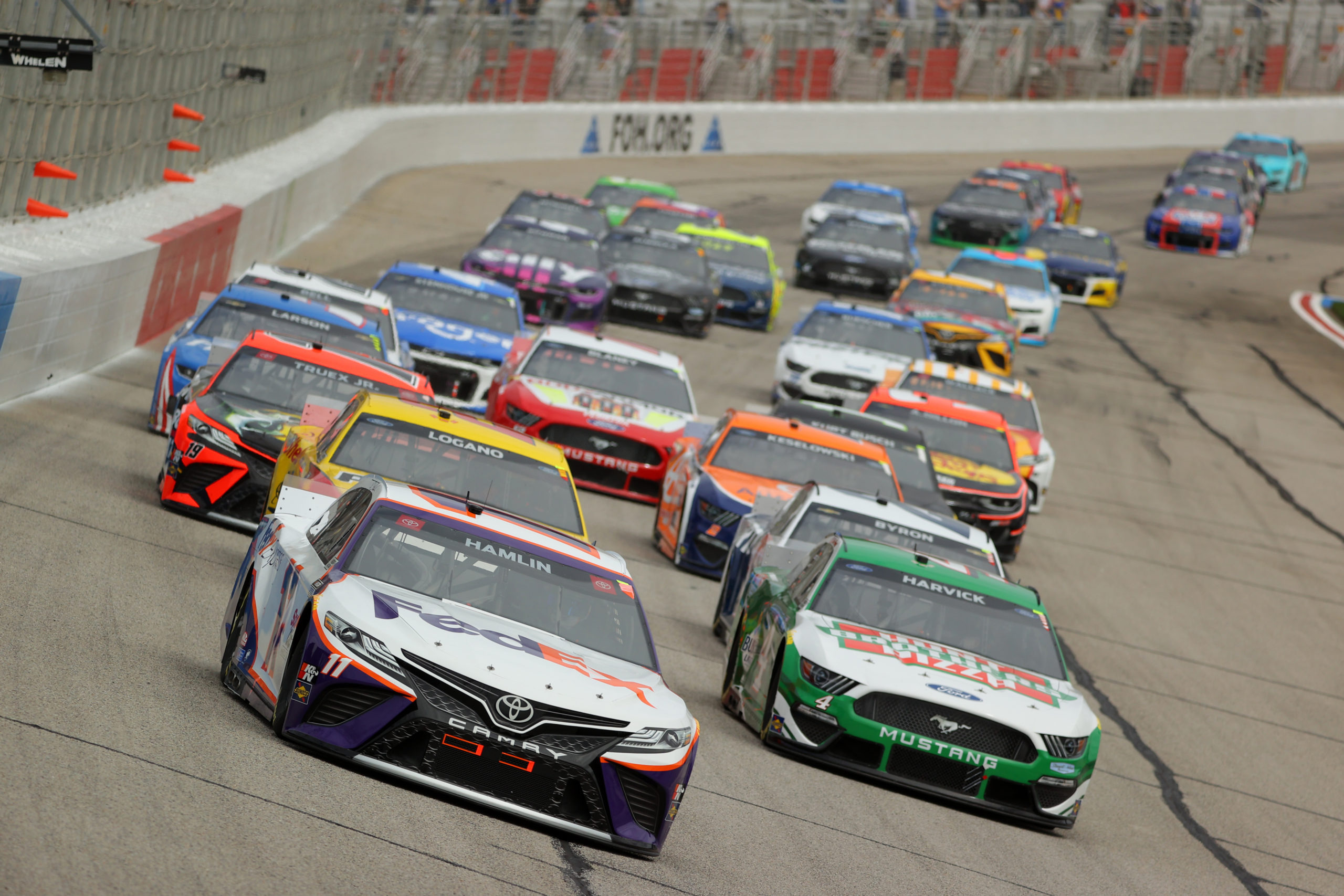 Ones To Watch Out for in Atlanta Quaker State 400
HAMPTON, Ga. – For the first time since 2010, Atlanta Motor Speedway will host a second NASCAR Cup Series race. Back in March, Kyle Larson was the man to beat here, leading 269 laps. However the 5 car was in fact beaten by the 12 of Ryan Blaney. The Penske driver got by the 5 in the closing laps to earn his first win of 2021. This time around, will Larson still be the favorite for the Atlanta victory, or are others in the conversation for the Quaker State 400?
Kurt Busch
Coming off a streak of four top-10s in five races, Kurt Busch is a sleeper for Atlanta. The Ganassi driver has won here three times before, but not since 2010. However, Busch does boast an Atlanta top 10 in five of the last six races. The 1 car was well on its way to another strong Atlanta finish in March. However, restart contact from Denny Hamlin sent Busch into the outside wall. Busch left that day in a dismal 39th-place, and hopes to show out better this time in Atlanta. In a push to make the Playoffs, Busch will try and retain 16th in points after starting eighth.
Brad Keselowski
Ever since being thrown into the thick of silly season, Brad Keselowski's on-track results have waned. However, this two-time Atlanta winner could earn a hat trick Sunday. A Ford has won the last five-straight Atlanta races, with two of those coming from Keselowski. The 2 will roll off 14th Sunday, going for his second win of 2021.
Kevin Harvick
The Stewart-Haas 4 team has been off all year, and perhaps no track showed that more than Atlanta in March. That day Harvick finished 10th, but spent much of the day outside the top 20. In a second attempt at one of his better tracks, Harvick hopes to be a contender. Harvick has three career Atlanta wins, including his first-ever victory back in 2001. His two other wins came much more recently, in 2018 and 2020. The last time Harvick did not either lead a ton of laps or finish in the top 10 in Atlanta was way back in 2010. In short, expect the 4 to be towards the front of the pack. Harvick will start deep in the field in 21st, but do not anticipate him staying back there long.
Ryan Blaney
What are Ryan Blaney's chances of pulling off an Atlanta sweep? Despite Kyle Larson being the class of the field in March, Blaney saved just enough tires to pass the 5 with nine laps to go and steal the victory. With the lack in speed Penske has shown throughout the summer, it may take a similar strategy call for the 12 to be in this situation again. The 12 will roll off 15th, going for a second-straight Atlanta win.
Martin Truex, Jr.
Amazingly Martin Truex, Jr. has never won in Atlanta, can the 19 change that this weekend? After an abysmal stretch to kick off the summer, MTJ is coming off a ninth-place run in Road America. Ninth is also where Truex finished in March's Atlanta race. It's still surprising that 'Mile-and-a-half Martin' has not found victory lane in Atlanta, where is his confidence entering this weekend?
"Atlanta is a great racetrack with the worn-out surface and obviously it's going to be hot this weekend," Truex said. "That should make the track slick and that's fun for us as drivers. We weren't quite as good as we wanted to be in that first Atlanta race, so hopefully we can improve on that this weekend and get back in the top five like we have been able to do the past few years there."
All of Joe Gibbs Racing seems very primed to take the fight to Hendrick Motorsports this week. Their four Toyotas start 2-3-4-5. The No. 19 of Truex starts fifth, and aside from the HMS stable is seen as a heavy favorite for the win.
Chase Elliott
The pride of Dawsonville, Georgia is also winless at his home track. Coming off a Road America win, can Chase Elliott capitalize in his home state? Elliott will have arguably his best shot ever at an Atlanta win. The 9 car will start from the pole on Sunday thanks to the Road America victory. However Atlanta has not been the kindest to the track's native son. In six Peach State starts, Chase Elliott has four top-10s, 26 laps led, and an average finish of 14.7. Elliott's best Atlanta result was fifth back in 2017, but starting from the pole he could top that this weekend. Elliott also has added reason to be optimistic entering Atlanta this time.
"I am super excited for Atlanta this weekend for a lot of different reasons," Elliott said. "Number one is obviously it's my home track and that's always an important thing for any driver – to want to do well at your hometown track. A place where you have a lot of family and friends that tend to want to go and watch and support. It just means a lot to me to be racing there."
Elliott Enthusiastic for New Partner's Debut
"And then number two, we are bringing on a new partner this weekend with A SHOC. It's a race, I think, we have all been really excited for and looking forward to for a while. This partnership has been a lot of fun and it's always exciting to bring a new partner into the sport, and we just hope we can bring them in the right way and have a good run for them here in Atlanta. It is good to see them on board and I'm looking forward to a fun week down there."
Starting from the pole in a Hendrick car, Elliott is a heavy favorite to make it back-to-back wins at his home track. Should he pull off the victory, he would join his father Bill as the only Georgia-born Atlanta Motor Speedway winners.
Kyle Busch
Aside from Hendrick Motorsports, Kyle Busch is having a quietly consistent summer stretch. Can the good times for Rowdy continue in Atlanta? Driver 18 has two previous Atlanta victories, and was also fifth here in March. Busch is also running his fifth and final Xfinity race of the year on Saturday, so he will go for a weekend sweep. If anyone outside of the Hendrick stable is favored for the Atlanta win, it may just be the 18. Busch will start second alongside Elliott Sunday.
William Byron
In his young career, William Byron has not finished better than eighth in Atlanta. Off to his best season to date, can the 24 return to prominence in Atlanta? His one top 10 here came in March, in the midst of his run of 11-straight top-10s. All three of Byron's teammates now have multiple wins on the year. Can the 24 break back into victory lane in Atlanta? This weekend will mark the first time Byron returns to a racetrack with crew chief Rudy Fugle. Can this dynamic duo pull off another win?
"I feel really good about going back to a track for the first time with Rudy in the Cup Series," Byron said. "We can really work on those little details this time that we wanted to work on before but opted to get a good baseline the first time around. So far, the things we have worked on in the simulator recently for Atlanta seem really good. I'm excited to get back there and I think we'll run better than eighth like we did in the spring." Byron will try and better that eighth-place run after starting 19th.
Kyle Larson
The incredible summer stretch for Kyle Larson was in its infancy last time we raced in Atlanta. The 5 car led 269 laps, swept both Stages, but came up just nine laps shy of the win. This time around, Larson eyes Atlanta with vengeance on his mind. Since his run of three-straight victories, Larson has had winning chances slip out of his grasp in the last three races. Larson was en route to a top 10 in Road America before being spun late by teammate Alex Bowman. Last week marked the first time since Kansas in May where the 5 finished worse than ninth. How does Larson feel about trying to get a retribution win this weekend?
"I definitely learned a lot in the moment, but I can learn even more by rewatching the race," Larson said. "You learn from everything – the good races and you definitely learn from the ones you feel got away. The track will certainly be different with the temperatures and the heat. We'll need to learn quickly and adapt quickly so we can hopefully battle for stage wins, the race win and the Playoff bonus points that go along with that." Larson started sixth in March and will once again start sixth, as he hunts for a fifth win on the 2021 campaign.
Denny Hamlin
In spite of Larson's summer tear, Denny Hamlin is still the points leader. Can the 11 lock his way into the Playoffs with an Atlanta win? The 11 team seems to be turning a corner in speed and performance in recent weeks. Hamlin had to pit from the lead late in Pocono, and came back to a fifth-place effort at Road America. Hamlin is also no stranger to success in Atlanta, a track where he has one win and has top fives in four of the last five trips here.
"We've won there before, of course we'd like to add another," Hamlin said. "We've made some progress on our mile-and-a-half program and we'll keep working at it. We are surrounded by all the right people, putting in all the work to give us the best result we can possibly get. I'm looking forward to an awesome different race with our friends from Offerpad this weekend." In a new scheme for Offerpad, Hamlin's No. 11 will start third, around his JGR teammates.
Coverage of the Quaker State 400 will be live on Sunday, July 11 at 3:30 p.m. ET on NBCSN, PRN, and SiriusXM NASCAR Radio Channel 90. While the low-hanging fruit prediction is to say Larson will earn another walk-off win, Atlanta will be a different track this weekend. Summer weather will lead to much higher track temps, and much less grip all around. Larson is certainly a favorite for Sunday, but he is far from the only contender.
Written by Peter Stratta
Be sure to follow us on Twitter
Be sure to follow the writer on Twitter
Photo Credit to Kevin C. Cox/Getty Images for NASCAR