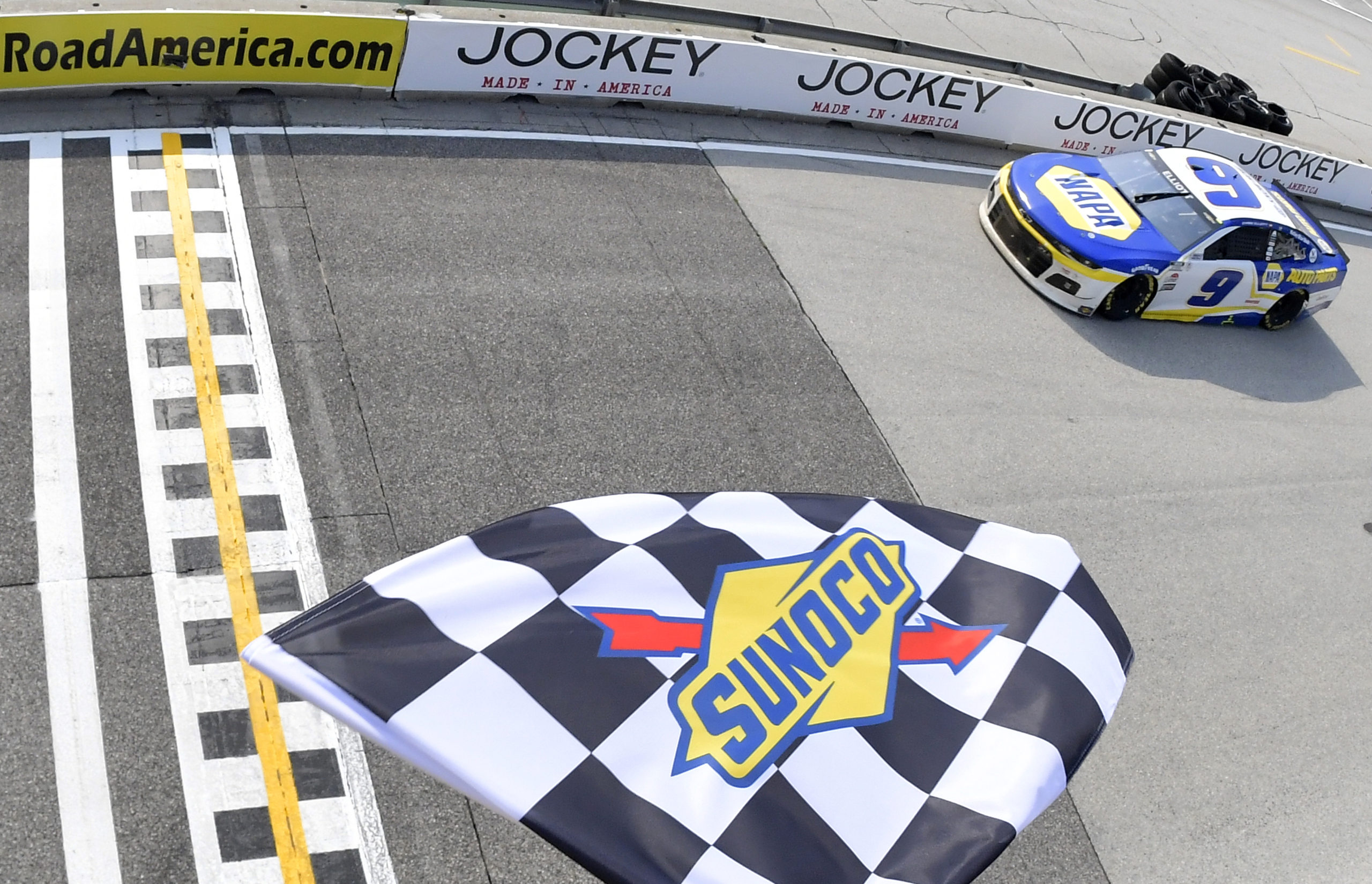 Chase Elliott Wins NASCAR's July 4th Return to Road America
ELKHART LAKE, Wis. – Independence Day was very kind to Chase Elliott. The Napa 9 car went back to victory lane in the first NASCAR Cup race at Road America in 65 years. Elliott now has two wins in his championship defense season, and yet another road course victory. After some bad luck in qualifying however, Elliott was faced with an uphill battle starting 36th.
Byron Blows Away Competition for Stage 1
After starting from the pole, William Byron was perfect in Stage 1. The Hendrick 24 battled Kyle Larson on two restarts, but maintained track position. In a very fitting display of patriotism, the Liberty University Chevrolet was strong early. Road America marked Byron's third Stage win of 2021.
Stage 1 did end under caution a few laps early, as Kyle Tilley went off track. The biggest movers in Stage 1 were certainly Chase Elliott and Kyle Busch. Both drivers started outside of the top 35, and Elliott managed to break into the top 10 by lap 14. Busch was right on Elliott's tail until short-pitting put him back in the pack.
Several Faces Up Front in Stage 2
Stage 2 would see many different drivers take turns leading. While Martin Truex, Jr. restarted as the leader, Austin Cindric and Matt DiBenedetto quickly asserted themselves as contenders.
Cindric took over on the restart after a three-wide divebomb move into turn one. The 33's day quickly became derailed though, as a mechanical issue sent Cindric from the lead to the garage. After leading laps, Cindric left Road America in 38th-place.
Cindric's woes gave the top spot to Matt DiBenedetto, as he led for the first time on a road course. Not far behind the Wood Brothers 21 car though was Kyle Busch. A tire issue forced DiBenedetto to give up the lead to Busch. The 18 held the top spot until short-pitting again, handing the Stage 2 win to Tyler Reddick.
Thanks to staying out under the Stage break, Kyle Busch was the leader once the final Stage started. DiBenedetto quickly got by the 18, but could not hold off the hard charging 9 car. Chase Elliott took the lead from the 21 on lap 38, and began to drive off.
After Elliott took command, only one caution slowed the race. Anthony Alfredo blew out a brake rotor entering turn one and got stuck in the gravel trap. This caution sent Elliott back to third, as Busch and Denny Hamlin edged the 9 off pit road. With other drivers staying out however, Busch also restarted back in traffic. Elliott would not stay behind for long, as the 9 was back on point by turn 12. From this point on, it was Chase Elliott showing his road course supremacy once again. Eventually, Elliott held a lead of more than five seconds at the checkered flag.
Elliott's Winning Reaction
"I appreciate you all coming out," Elliott said to the 100,000-strong crowd at Road America. "Thank you for spending your 4th of July with us, I hope you enjoyed the show! It was a hot day, but a lot of fun! Just really proud of our team for overcoming some adversity early having to start in the back. We had a really fast Napa Chevrolet. Just so proud, we've had a rough couple of weeks so it feels really good. Thanks again to everyone for coming out, happy 4th, y'all have a safe weekend and thanks for coming out."
Elliott on Challenges of Road America
"This track has a lot of character to it. It's so long. You have a lot of opportunity to make mistakes or be good whenever you hit it. I mean, four miles is a long course. Just has a lot of character to it, a lot of bumps, a lot of sections that are really tricky to get through. I think conserving your tire was actually a little bit of a thing today, which to be honest we don't have much of that I feel like any more."
Fans in turn five convinced Elliott to do another burnout in front of them. With no rear tires left on the 9 car, it was very slow in getting to victory lane. However, Elliott did eventually reach the winner's circle to celebrate his seventh career road course win. This puts Elliott third in all-time road course victories, behind only Jeff Gordon and Tony Stewart.
Top 10 From Road America
Nearly six seconds back of Elliott was Christopher Bell, earning his first top five since April. Coming up just short of a weekend sweep in third was Kyle Busch, who started last. Kurt Busch and Denny Hamlin would round out the top five. The rest of the top 10 were Chase Briscoe, Ross Chastain, Tyler Reddick, Martin Truex, Jr. and Matt DiBenedetto.
Playoff Standings Update
With a strong fourth-place effort from Road America, Kurt Busch padded his points cushion over Chris Buescher. The 1 is now the last team in the 2021 Playoffs by 25 points over the 17. Ross Chastain (-69), Ricky Stenhouse, Jr. (-70), and Matt DiBenedetto (-74) round out the top 20 in points after 20 races.
What's Next for Cup
The next race for the NASCAR Cup Series is the second trip of 2021 to Atlanta Motor Speedway, for the Quaker State 400. Coverage begins next Sunday, July 11 at 3:30 p.m. ET on NBCSN, PRN, and SiriusXM NASCAR Radio Channel 90. Back in March, Kyle Larson dominated in Atlanta only to lose it late to Ryan Blaney. Coming off a win, can Chase Elliott capitalize at his home track?
Written by Peter Stratta
Be sure to follow us on Twitter
Be sure to follow the writer on Twitter
Photo Credit to Logan Riely/Getty Images for NASCAR