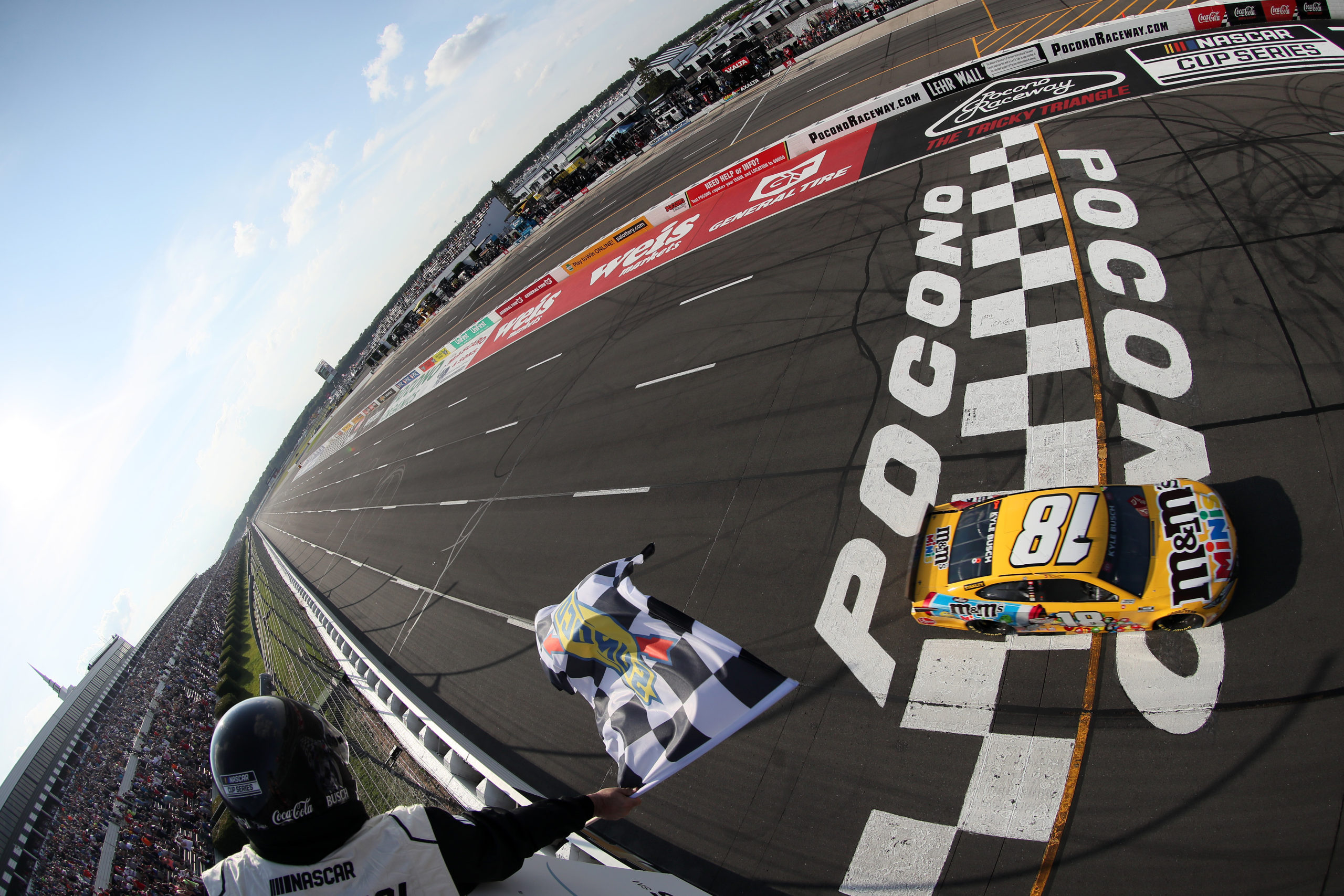 Kyle Busch Earns Second Win of 2021 in Pocono Fuel Mileage Race
LONG POND, Pa. – In the second leg of the Pocono doubleheader, it all came down to fuel mileage. By virtue of pitting on lap 95, Kyle Busch had just enough fuel to outlast the competition for his second win of 2021. The closing laps saw high drama, as four separate leaders would have to pit for fuel. Mechanical issues gave Busch another hurdle to clear for career win number 59. Busch also breaks the six-race winning streak for Hendrick Motorsports.
Up-And-Down Stages for Busch
After starting third, Martin Truex, Jr. would take the Stage 1 victory. While Truex got the win, the fastest car in Stage 1 was the 18 of Busch. Busch raced his way up to fifth after starting 19th, but short-pitted for fuel.
After Stage 1 however, Busch reported issues with his No. 18 car staying in fourth gear. Despite this Busch was able to remain competitive, even taking the lead in Stage 2. Due to issues getting off pit road though, Busch lost some ground in Stage 2. The 18 would cede this win to William Byron, while Busch came home eighth.
After Stage 2, the 18 made numerous extended pit stops to repair the transmission. A crew member would even have to hop inside the car to assess damage, but Busch was still not out of contention.
Under a later debris caution, Busch reported that he had no clutch. This only compounded the 18's issues in the second Pocono race, as Sunday appeared to be a lost cause. However that would be far from the truth, as Busch gutted it out for the best possible finish.
Mistakes End Day for Elliott, Bell
Under a debris caution, Chase Elliott tried faking his way onto pit road, but turned right at the last moment. Race control deemed that the 9 had not maintained pace car speed, and thus sent Elliott back from the lead to restarting third. Leader Christopher Bell would then incur heavy damage on the restart due to intense racing with Ross Chastain. A lap later, Elliott made contact with Bell and the 20 spun. Even though no caution came out, the 9 did suffer a flat tire. Elliott would pit for fresh tires, only to cut another right front tire. After working his way up to the leaders, Elliott would leave Pocono in 27th, and Bell would also finish 32nd.
Fuel-Mileage Race is On
Pit strategy and restarts had cycled Alex Bowman to the lead, but he was significantly short on fuel. Lap 114 would see the 48 come in for fuel from the lead, and any hope of a Pocono sweep vanished. This gave the lead to Brad Keselowski, but he was also several laps short of the finish.
With Keselowski still leading, Busch was told that he was good to go on fuel and picked off drivers one-by-one. The 18 would pass Kyle Larson, Kurt Busch, and stall behind Denny Hamlin.
Once Keselowski pitted with nine laps left, the lead went to William Byron. The 24 had to try and manage his gap back to the 11 and 18, while also save every possible drop of fuel. Byron's tank ran dry with three laps to go, seemingly giving the win to Denny Hamlin. However, Hamlin ran out coming to the white flag, giving Kyle Busch the lead and an unchallenged gap.
Despite a whole host of mechanical issues throughout the day, pitting a lap later than Hamlin was the winning move for Kyle Busch. The 18 would take their second victory of 2021, and fourth at Pocono.
Career win number 59 has Busch take sole possession of ninth-most all-time Cup Series wins. Prior to Pocono, Busch was tied with Kevin Harvick. It will be interesting to see how that status changes among Busch and Harvick all season long.
Busch's Winning Reaction
"Yeah stuck in fourth gear and about out of gas," Busch said after the win. "Just saving, just riding, just playing the strategy the best we could with what was given to us. Just can't say enough about everyone on my team, everyone at Joe Gibbs Racing, Toyota, TRD, and all the work they're putting in. Sometimes these races aren't won by the fastest car, but it still felt like we had the fastest car, even though we were in the back and behind and having to come through and persevere through being stuck in fourth gear and having no clutch. It's all burned out, nothing left in this M&M's Minis Camry, it was awesome today. Really great to pull off another win here at Pocono. Feels good."
Busch also made sure to thank one important member of his team for today's win. "Thanks to Matt, the fuel guy, for getting it full. That was a big important one here today."
Top 10 Results From Pocono
A distant 8.6-seconds behind Kyle Busch was Kyle Larson. After coming a corner shy of the win on Saturday, a tough day for the 5 ends in second place. Brad Keselowski, Kevin Harvick, and Bubba Wallace rounded out the top five. For Wallace, this is his first top-five for 23XI Racing, and best result since Daytona last August. Ryan Blaney, Alex Bowman, Ryan Preece, Tyler Reddick, and Joey Logano were the rest of the top 10.
Playoff Picture After Pocono Doubleheader
With Pocono now in the rearview mirror, we have passed the halfway point in the 2021 NASCAR season. Only seven races remain until the Playoffs, and this weekend saw some shakeup. Thanks to a strong showing Saturday, Kurt Busch broke into the top 16. The 1 car now holds just a three-point buffer over Chris Buescher. Daniel Suarez, Ricky Stenhouse, Jr., and Bubba Wallace round out the top 20 in points.
What's Next for Cup
For July 4th Weekend, the NASCAR Cup Series heads to Elkhart Lake, Wisconsin, to race at the 4-mile Road America course. While this is not the inaugural Cup race on the Wisconsin track, it is the first trip here in over 50 years. Coverage of the Jockey Made in America 250 will be Sunday, July 4 at 2:30 p.m. ET on NBC, MRN, and SiriusXM NASCAR Radio Channel 90. Chase Elliott is NASCAR's road course king, but lost to Kyle Larson at Sonoma. Can either of them get another win at Road America?
Written by Peter Stratta
Be sure to follow us on Twitter
Be sure to follow the writer on Twitter
Photo by James Gilbert/Getty Images for NASCAR