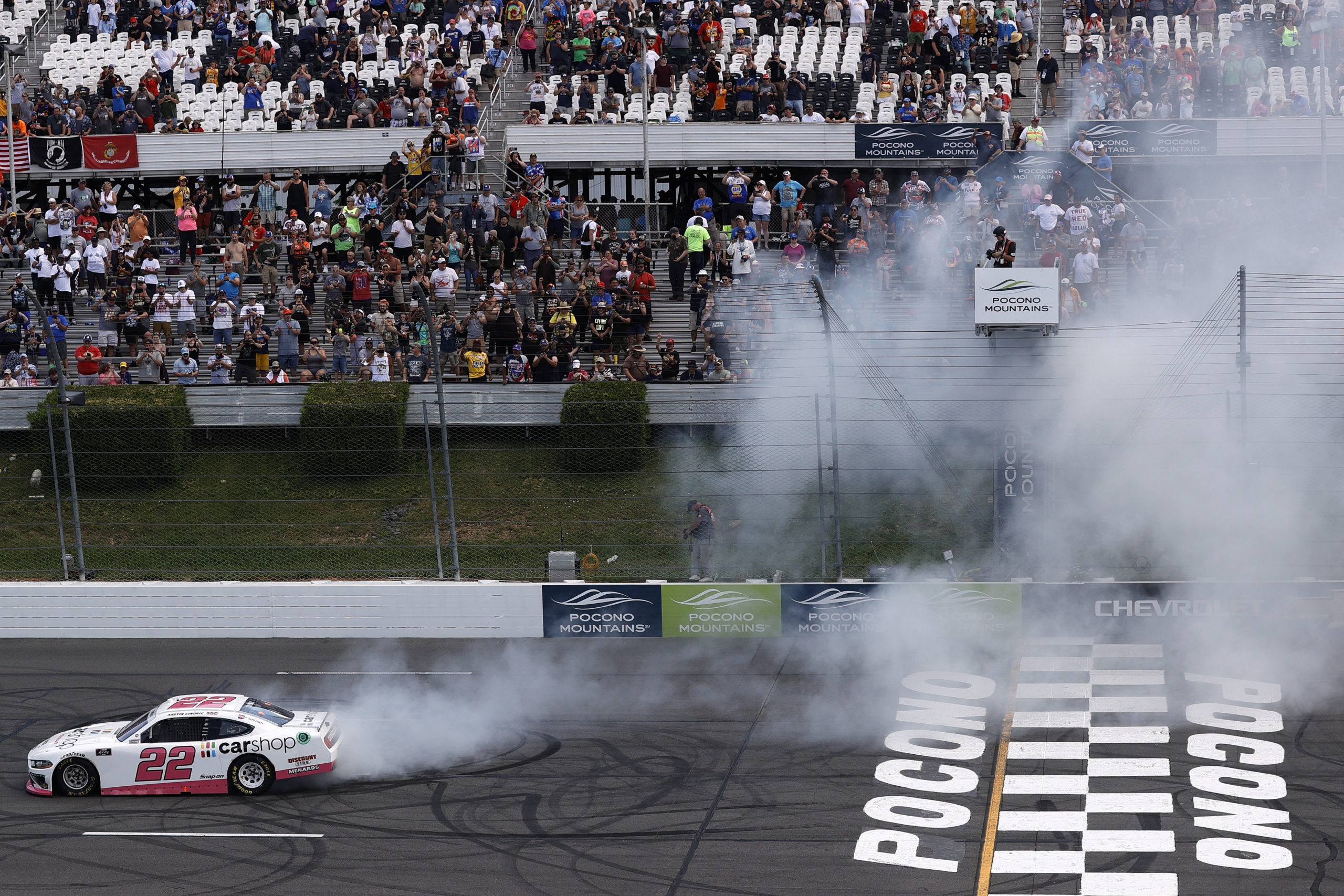 Cindric Holds Off Late Rally from Ty Gibbs
LONG POND, Pa. – Austin Cindric held off a hard-charging Ty Gibbs in the final two laps to win the Pocono Greens 225 at Pocono Raceway. Cindric had a lead of over three seconds with two laps remaining but lapped traffic cut that lead down to a few car lengths. In the end, Cindric beat Gibbs by three tenths. The win is Cindric's fourth of the season
Harrison Burton Dominates Stage 1
Starting from the pole, Harrison Burton quickly checked out on the field. A Josh Williams spin brought out the caution on lap seven. Williams had some contact with Santino Ferrucci, which sent him spinning into the outside wall in turn one.
A few cars towards the middle of the pack pitted but the majority of the leader stayed out. Burton held off Daniel Hemric and Justin Allgaier to pick up his second Stage win of the season.
Stage 2 Begins with a Scary Crash
Allgaier, Justin Haley, and four others stayed out while everyone else pitted. On the restart, Haley made some contact with Sam Mayer coming off turn one. The contact sent Haley hard into the inside wall. He then came back up into traffic, right in front of Ryan Vargas.
Haley laid on the ground after getting out of the car but he did get and walk to the ambulance. He and Vargas were thankfully okay after the hard hits.
Out of precaution, Haley did sit out the Cup race later Sunday afternoon after this major incident. Justin Allgaier drove the Spire No. 77 Chevrolet to a 25th-place finish.
Burton's Great Start Ends in Disappointment
Once back to green, Daniel Hemric took the lead from Justin Allgaier. Allgaier began to slide back on older tires. Harrison Burton and Austin Cindric quickly ran him down.
Going into turn one, Burton turned under Allgaier but he got loose and backed his car into the outside wall. A promising start ended in a 37th place finish for Burton.
Ty Gibbs Plays Strategy to Win Stage 2
Most of the leaders pitted, but Ty Gibbs led the 10 cars that stayed out. Austin Cindric won the race off pit road for the guys who pitted while Hemric had a speeding penalty.
It was a two-lap sprint to the end of stage 2. Gibbs quickly got away to pick up the Stage win over Noah Gragson and Brandon Jones. Cindric made it up to sixth on the fresh tires.
Cindric Finally Works His Way to the Front
Gibbs, Gragson, and Myatt Snider stayed out during the caution. However, the choose cone rule allowed Cindric to go to the front row on the inside lane. Cindric stayed in second place on the restart and passed Gibbs on the next lap after he got loose in turn one. Riley Herbst brought out the caution moments later.
Once the race went back to green on lap 50, the strategy began to take shape. Every driver knew they had to pit one more time. At this point, it was a matter of if you would take fuel only, two tires, or four tires.
Justin Allgaier began the cycle with a four-tire stop on lap 56. Cindric, Gibbs, AJ Allmendinger, and Brandon Jones all came within the next three laps. Cindric and Gibbs took four tires, Allmendinger took two, while Jones took fuel only.
Allmendinger initially got out in front of Cindric, with Jones just behind Cindric. However, Cindric quickly got around Allmendinger for what would eventually be the lead. The other four drivers battled for what would be second. Gibbs ending up breaking away from the pack with Allgaier behind.
Pit Road Penalty Dooms Hemric Again
We thought Cindric and those other guys were racing for the win, but Daniel Hemric was the wildcard in this scenario. He stayed out much longer than everyone, leading 14 laps. The expectation was he would pit for fuel only and jump ahead of Cindric on the racetrack.
However, when Hemric finally pitted on lap 71, the team opted for four tires. The major problem though was Hemric sped on pit road for the second time.
Cindric Takes the Win Despite Late Issues
Austin Cindric finally cycled back to the lead with 16 laps to go. He led Gibbs by over three seconds. It seemed like he had the race in the bag until the final two laps. Some lapped cars held up Cindric, cutting his big lead down to just a few car lengths. Gibbs nearly got to Cindric's back bumper on the final lap, but Cindric held him off. He led a race-high 26 of 90 laps en route to the victory.
Top 10 Results
Cindric's win gives him five more Playoff bonus points. That's going to go a long way once the postseason begins. Ty Gibbs picked up his fourth top-two finish in eight starts. JR Motorsports teammates Justin Allgaier and Noah Gragson finished third and fourth, with AJ Allmendinger coming home fifth. Daniel Hemric rebounded from the penalties to finish sixth. Brandon Jones, Jeb Burton, Josh Berry, and Myatt Snider rounded out the top 10.
What's Next for Xfinity
The Xfinity Series is going from three turns to 14 turns next weekend. Road America will host the Henry 180 on Saturday, July 3 at 2:30 p.m. ET on NBC, MRN, and SiriusXM NASCAR Radio Channel 90. Austin Cindric won at Road America last season after leading 19 of 45 laps. Can anyone knock him off? Tune in to find out!
Written by Nicholas Sterling
Be sure to follow us on Twitter
Be sure to follow the writer on Twitter
Photo Credit to Tim Nwachukwu/Getty Images for NASCAR