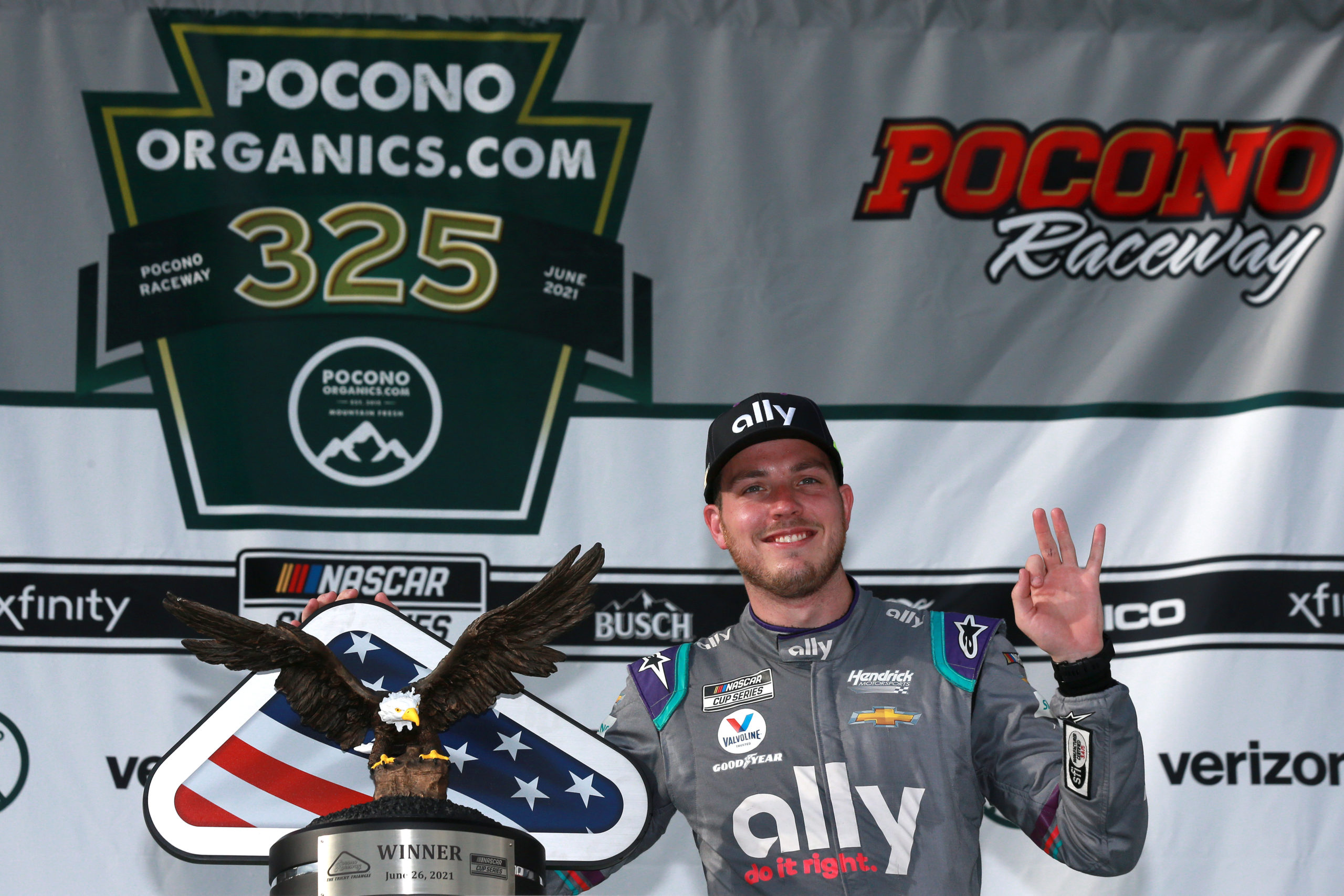 Alex Bowman Gets Around Kyle Larson on Final Turn in Pocono
LONG POND, Pa – Alex Bowman wins the first race of NASCAR's Pocono Raceway doubleheader weekend in a shocking fashion. Late in the race, Bowman passed Kyle Busch for the lead but was tasked with holding off teammate Kyle Larson, who'd been on a streak of three-straight victories.
Larson was able to get around the No. 48 car with just 4 laps to go, but blew a tire heading into turn 3 on the final lap of the event. This allowed Bowman to get around the heavily wounded No. 5 and coast to Pocono victory lane after a shocking turn of events.
"I hate to win one that way," Alex Bowman said after climbing from his car. "But hell yeah, I'll take it! Super proud of this Ally 48 team. Man, we gave the lead away, were on two tires and just super tight trying to hold him off as hard as I could. But, can't say enough about everyone at Team Hendrick right now. From top to bottom, everyone's just putting great race cars on the race track."
"Greg and all the guys did a really good job," Alex continued. "Man, we didn't run that great all day so I'm kind of in shock. I don't even know what to say to you guys…Heck yeah, I'll take it! Bad luck Bowman had some luck there."
Kyle Larson Nearly Reaches the Checkered Flag but Instead Reaches Defeat
"I guess disbelief still," Kyle Larson said after being asked of his emotions. "Hate that we didn't get another win, just wasn't meant to be today I guess. I felt something in the middle of the tunnel (turn) and wasn't sure what it was yet but then it finally shredded halfway through the short chute there and couldn't turn. Hate that we didn't get the win, but cool that Alex still did with another Hendrick car. Cool to keep Mr. H's streak going. We'll try and start another streak tomorrow."
Kyle Larson was credited with a 9th place finish and will resort to a backup car for tomorrow's event.
Kyle Busch – Second Place Finish:
"It was just impossible to pass," Kyle Busch said after finishing runner-up. "We were a tick slower than Larson and we were able to hold him off and then the 48 held him off forever there. Finally, the 5 got by and drove away by 20 lengths or so in two laps and I was just dying tight behind those guys. Just could not do anything in traffic… Had a fast car from the start. Good handling race car, just felt good…That's all we had to run with those Hendrick cars. Best in class. We'll go get them again tomorrow."
William Byron – Third Place Finish:
"Our Axalta Chevy was good, especially at the beginning," Byron said post-race. "It was on the splitter but we had the lead there and then lost it. Wasn't quite able to pass the top-two guys. Just part of it. Luckily, we'll get a chance to work on those things again. First time for Rudy and I here so good run for us finishing third and we'll go try to win tomorrow."
Denny Hamlin – Fourth Place Finish:
"I didn't want the caution to come out because I started to run the 18 and 5 back down," Denny Hamlin said. "Then we got that caution and didn't get a good restart. Our car wouldn't really go on restarts at all. Just really frustrating but the car was fast so that's the good news. We'll make it a little bit better, come back tomorrow and give it a shot."
Where To Find Tomorrow's Race:
Tomorrow the NASCAR stars are back at it in Pocono for race #2 of the doubleheader weekend. With a top-20 invert, Chris Buescher will roll off first with Michael McDowell second. A few drivers will go to the rear as they pull out backup cars from today's incidents. Those drivers include Cole Custer, Ryan Newman, Kyle Larson, Ryan Preece, Ross Chastain, Corey LaJoie, and Anthony Alfredo.
The NASCAR Xfinity Series kicks off action at 12 p.m. ET and then Cup gets back on track at 3:30 p.m. ET. Both of these races can be found on NBCSN, MRN, and SiriusXM NASCAR Radio Channel 90.
Written by Noah Lewis
Be sure to follow us on Twitter.
Be sure to follow the writer on Twitter.
Photo credit to Sean Gardner/Getty Images via NASCARMedia.