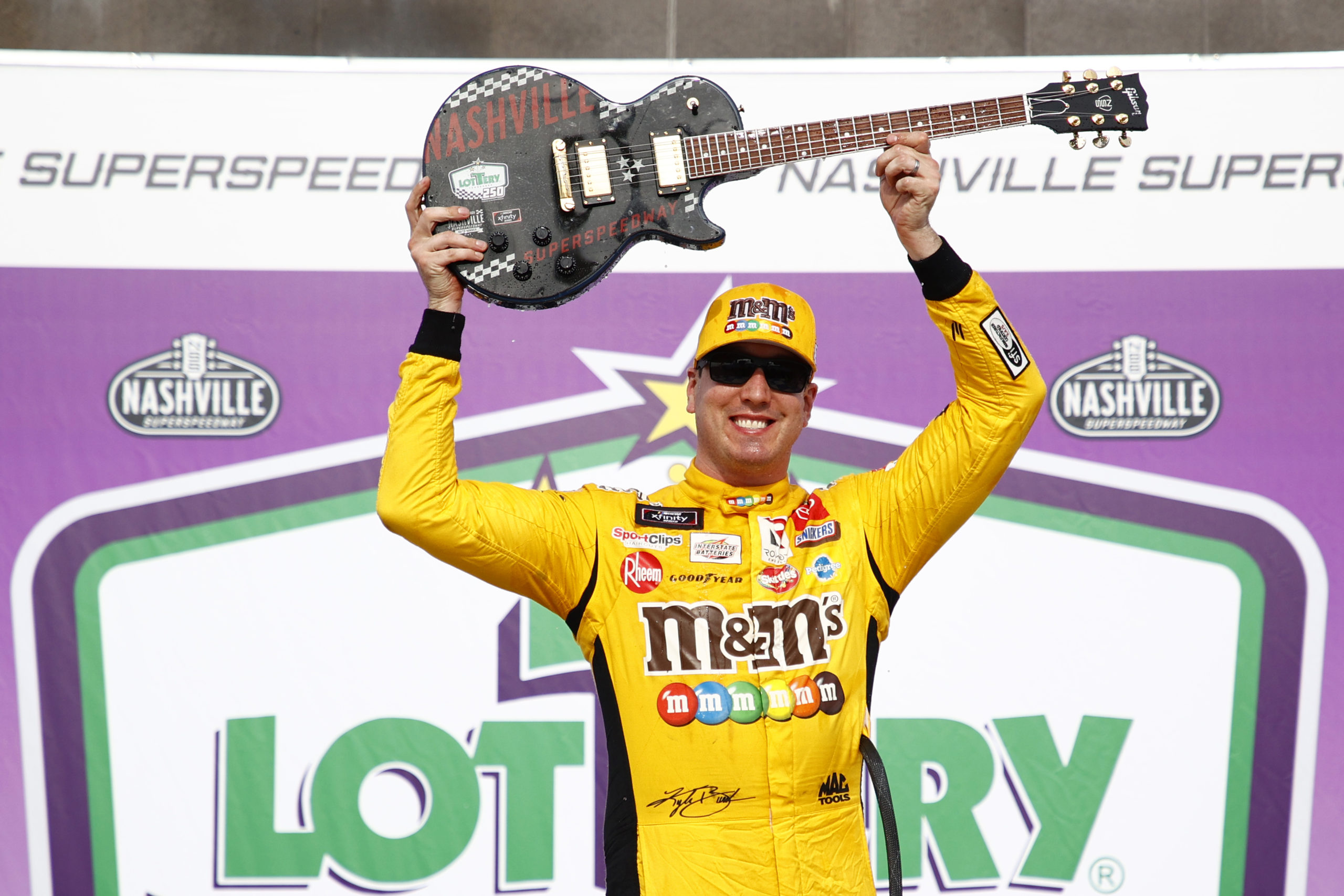 Kyle Busch Picks Up Win No. 100 at Nashville Superspeedway
LEBANON, Tenn. – Kyle Busch claimed his 100th career NASCAR Xfinity Series victory at Nashville Superspeedway. This is the second victory for Busch at the Tennessee track with his previous win coming back in 2009. Kyle Busch adds to a now five consecutive top-three streak in the series at Nashville.
"No, not really," Kyle said when asked if he ever imagined reaching 100 career wins in the Xfinity Series. "That wasn't the thought. I remember growing up as a kid and watching Mark Martin win every week in that 60 car. You just look at the domination that he had."
"Just phenomenal years of being able to have such association with Joe Gibbs Racing and Toyota," Busch added. "It's so cool to have M&M's on board for my 100th win in the Xfinity Series. They've been my longest and best sports sponsor there is in my opinion…Lot of people that have been our supporters over the years. Pretty awesome day for Rowdy Nation. Going to go rehydrate with Rowdy Energy and get ready for tomorrow."
Will Rowdy Now Retire From Xfinity Series Competition?
One thing Kyle Busch has frequently brought up over the last few years is his desire to retire from Xfinity Series competition once reaching that 100th career win. So now that he has done it, do we say goodbye to the well-known sight of Busch in Xfinity Series victory lane? Not so fast race fans, Rowdy isn't quite done yet. In fact, he may be around next season too.
"I've said before, if they need me to come back and run a race here or there then I would do it to help Joe (Gibbs) out if he needed to evaluate his equipment or help the team in any way," Busch told media recently. "Joe has some things sold for me already for 2022, so we'll talk about that and see what happens."
Justin Allgaier Stuck in Second Again
For the second weekend in a row, the one person that could mix things up with Kyle Busch was Justin Allgaier. Allgaier was able to steal the lead from Busch on a few restarts, leading a total of 11 laps on the day. However, similar to last week, as the late cautions fell and overtime came, Allgaier just couldn't get around the No. 54 car and finished runner-up.
"Running second sucks, I'm not going to lie to you," Allgaier said after climbing from his car. "Just really proud of all these guys, JR Motorsports, our No. 7 team…When we took the lead from Kyle I thought we were good. We were able to drive away there and then with all those restarts at the end he just held me down really hard in (turns) 3 & 4. We got loose and I think that was really the difference-maker after that. Just didn't have the speed after that."
"Again, just proud of our guys," Allgaier continued. "To bring two fast race cars two weeks in a row and have a shot at it is a big deal. We'll keep digging, we'll move on to next week and we'll have some fun."
Where Can You Find The Next Race?
Next up on the NASCAR Xfinity Series schedule is Pocono Raceway. As all three series head to the Tricky Triangle, the Xfinity Series will battle it out Sunday, June 27th at 12 p.m. ET on NBCSN. There's no doubt Justin Allgaier will be looking to finally break back into victory lane after two close weekends.
Before we head to Pocono, we have to wrap things in Nashville. Tomorrow NASCAR's Cup Series will make its return to the Nashville area for the first time in decades. This will also mark the series debut at the Superspeedway. After his win today, Kyle Busch has to be one to watch.
Tune in to NBCSN, MRN, and SiriusXM NASCAR Radio Channel 90 to catch all the action. Also, follow along with TSJSports reporter Peter Stratta (@PeterStratta on Twitter) as he brings LIVE updated coverage from the track's infield.
Written by Noah Lewis
Be sure to follow us on Twitter.
Be sure to follow the writer on Twitter.
Photo credit to Jared C. Tilton/Getty Images via NASCARMedia.