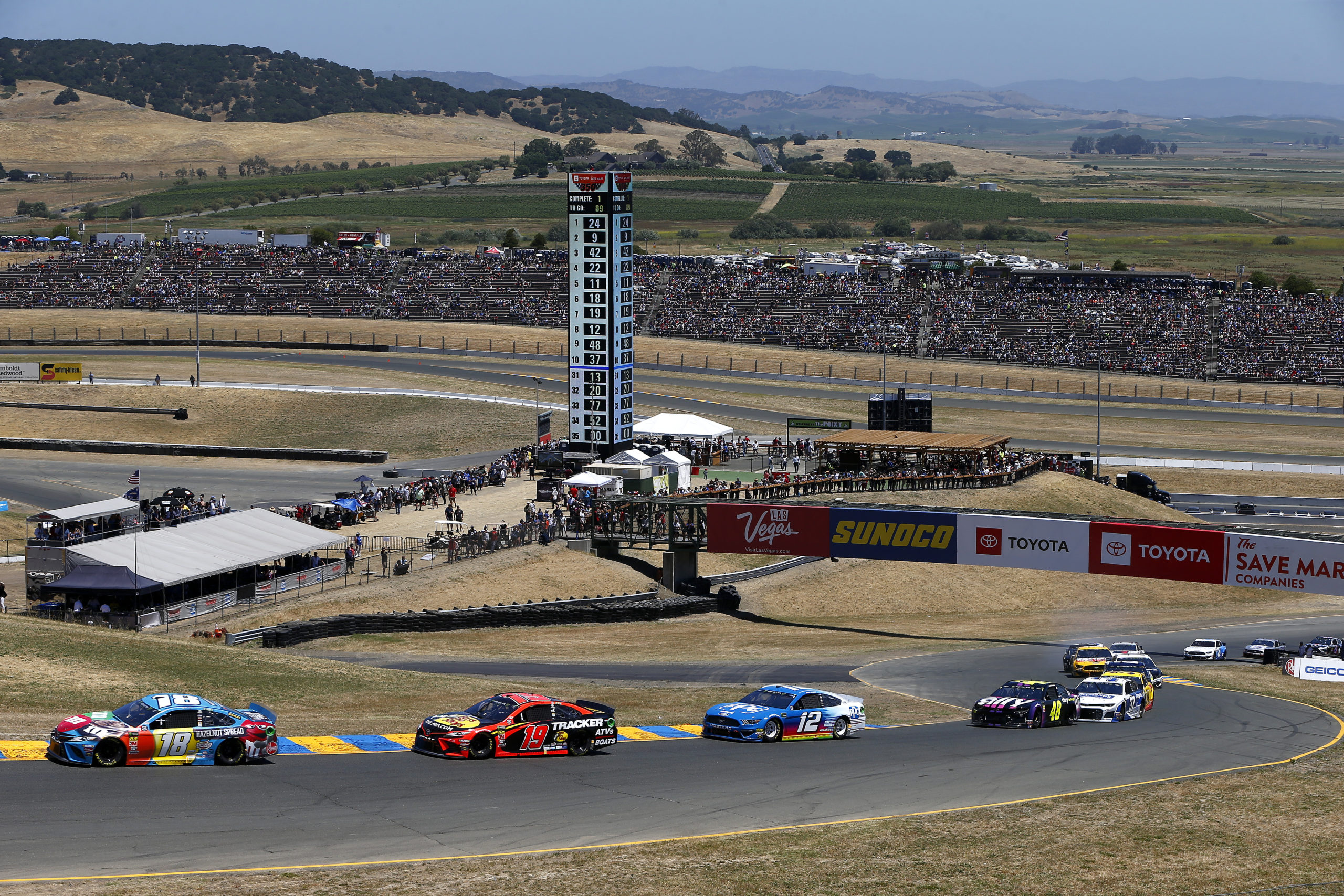 Who Will Win NASCAR's Return to Sonoma Raceway?
SONOMA, Calif. – For the first time in two years, the NASCAR Cup Series returns to northern California. Sonoma Raceway is home to Sunday's Toyota/Save Mart 350. This race was canceled a year ago due to the pandemic, so Sunday marks Sonoma's first race since 2019.
While Chase Elliott has become NASCAR's road course ace in recent years, the Napa driver is still winless in Napa Valley. With Hendrick's recent strength though, can that change this weekend? Elliott is one of a few favorites entering Sunday, but who will conquer all of Sonoma's twists and turns?
Martin Truex, Jr.
By far the most prolific driver in recent years at Sonoma is Martin Truex, Jr. MTJ has three career wins in northern California, including the last two races. Truex's first Sonoma win came with Michael Waltrip Racing in 2013, at the time only his second career victory. Since then, driver No. 19 has won in both 2018 and 2019 here. Aside from the three wins though, the last seven Sonoma races have only yielded one other top 10 for MTJ.
"Our team is definitely looking forward to going back to Sonoma," Truex said. "It's a place we have a lot of confidence going to, regardless of the track layout or the aero package. We've been fortunate to have had some good races there the last few times and been able to get to victory lane. We'll have our work cut out for us on Sunday, but we feel like it's a place we should run up front and have a shot to win at."
Truex will have an uphill battle this weekend though. Due to a dismal race in the Coke 600, the 19 will roll off from 19th. It may take an alternate strategy from the start for the 19 to regain so much ground. If Truex is to earn a Sonoma hat trick, a win from starting 19th would be a most impressive feat.
Kyle Busch
The only other driver with multiple Sonoma wins, Kyle Busch raised the wine goblet in 2008 and 2015. Since that most recent win, the 18 has not finished worse than seventh here, a six-year streak.
"Sonoma has been a really solid track for us in the past," Busch said. "I love that area of the country. It's a cool place and a fun track. There's a lot of character to that place. Since we didn't race there last year, it will be interesting going back there with a completely new downforce package and no practice time. We'll give it our best with our Sport Clips Camry and see if we can go back out there and get another win."
Busch was the lone car not from Hendrick Motorsports to score a top five in the Coke 600, so he will start fifth in Sonoma. The last Sonoma race was a back-and-forth fight between Busch and Truex, expect the 18 to be strong again.
Kevin Harvick
The Cup Series' best average finish at Sonoma belongs to Kevin Harvick. However, the Bakersfield native only won on the road course in his 17th try in 2017. That win is part of seven top-10s in the last nine trips here. Harvick has 10 top-10s, 95 laps led, and an average finish of 12.7 in 19 Sonoma starts. Harvick's 2017 victory was also his first win with Ford. Similar to Busch, Harvick also has a top 10 in the last five Sonoma races.
The last road course race at COTA did not go in Harvick's favor. Driver No. 4 believes though that Sonoma will be similar to COTA in a few key areas. "I think COTA and Sonoma are going to be more similar than a lot of people think," Harvick said. "I know that Sonoma doesn't have a big, long straightaway with a bunch of elevation changes into a fast corner, but Sonoma does have a lot of elevation change, it's just a much slower pace of racetrack just because of the fact that you have so many corners. With all the sharp corners and all the little timing sections you have through the esses at COTA, it's more similar to Sonoma than anywhere else."
Harvick will go for his second Sonoma win from the eighth starting spot. Harvick will hope to better his 10th-place run from the Coke 600.
Chase Elliott
Whether at Watkins Glen, the Charlotte Roval, the Daytona Road Course, or COTA, Chase Elliott has become NASCAR's road course king. However, Elliott has yet to find similar success in Sonoma. Four career starts at the California track have resulted in two top-10s for Elliott, with a best result of fourth. 2019 saw Elliott DNF here with an engine issue. That 37th-place result has brought Elliott's Sonoma average finish down to 17.5. Despite the poor finish, Elliott enters this weekend with high confidence.
"Sonoma has been a place that I haven't done a very good job at in the past," Elliott said. "It's been a pretty big challenge for me. It's been a couple years since we've been there, so it's been a while. When we were there in 2019, I felt like we were doing a great job and in a good position before we had our mechanical issue, so I'm looking forward to getting back and having another shot at it."
Can the road course king reign with Napa colors in Napa Valley? After a runner-up result in Charlotte, Elliott will start second in Sonoma.
Kurt Busch
One of the most quietly consistent drivers at Sonoma is 2011 winner Kurt Busch. Since that win a decade ago, Busch has not finished worse than 13th in wine country. This streak includes starts with four different teams, as well as seven top-10s. Busch also boasts 198 laps led, an average finish of 13.6, and 0 DNFs in wine country.
Recent weeks have not been kind to Kurt Busch and the No. 1 Chip Ganassi Racing team. After finishing last in the Coke 600, Busch will start 30th in Sonoma. Busch is hoping to turn his season around on the road course, as he is currently 19th in points.
Kyle Larson
The hometown driver, Coke 600 winner, and polesitter, Kyle Larson should enter Sonoma will all the confidence in the world. However, Larson admitted after his Charlotte win that Sonoma has not been the best track for him in the past. Now with Hendrick Motorsports though, that could change.
"I'm going to come out early and kind of spend it as a vacation a little bit and then race on Sunday," Larson said. "Yeah, I'm excited to get out there and drink some good wine. I haven't really had wine in a while. I get to go do that, eat some good food and hang out with friends, see some of my family. Yeah, Sonoma is a fun place, fun racetrack, a track where I've honestly struggled. I've qualified really well there but struggled in the races. Yeah, I hope that'll be a different story now being with HMS."
In six career Sonoma starts, Larson has three poles, but only one top 10 finish. The Elk Grove native has actually never started worse than fifth at his home circuit, but typically always falls back in the race. Starting from the pole for the fourth-straight Sonoma race, expect the 5 to remain a contender all race long. With the strength out of all of HMS, they should have four great chances to win again in wine country.
William Byron
While William Byron's Sonoma stats may be lacking, they do not tell just how strong the 24 has been here. Byron has two Sonoma starts, with 25th and 19th-place results. In 2019 however, the 24 started second and led for the entirety of Stage 1. In an effort for max points, Byron capitalized only to get shuffled way back. When the 24 was out front in the most recent Sonoma race, he was untouchable. Very similar to Larson or Elliott, Byron has to be seen as a favorite entering Sunday.
"Sonoma is probably the most different out of all the road courses we go to on the circuit," Byron said. "It has more of a short track feel almost because there's no big braking zones; you're more so always turning. It's all about how you turn and navigate the apex of the corners and get a good run off the corner. It's not as much about braking and high speed, it's more about finesse and exiting the low speed corners. Just a different challenge and you set up your car differently because of it. I'm excited for it, though. I think we have a good package this year and I feel like I've really done my homework for this weekend."
With a top 10 in 12 of the last 13 races, William Byron will go for win number two on the year from third. If Byron is to win Sonoma, he will likely have to overcome his teammates starting ahead of him.
Denny Hamlin
In 14 career Sonoma starts, Denny Hamlin has seemingly done everything but find victory lane. Many will remember Hamlin as being knocked out of the way for Tony Stewart's final career win at Sonoma in 2016. That frantic and dramatic last lap was the closest the 11 has been to winning in California. Since finishing second that day though, Hamlin has not been worse than 10th in wine country. This streak marks four of Hamlin's six career Sonoma top-10s.
Hamlin's Stellar Season to-date
Hamlin's 2021 season has seen the 11 with a stranglehold on the points lead, despite being locked out of victory lane. Hamlin also has a top 10 in all but three races this year, coming off a seventh-place run in Charlotte. Driver No. 11 is still optimistic for the season as a whole and for Sonoma's challenges.
"We have a talented squad and some things just haven't gone our way," Hamlin said. "Looking at Charlotte, our FedEx Camry wasn't quite handling the way we needed it to that night. But considering the challenges our team has faced, we have still remained the points leader and are continuing to learn from each race. Road courses are never easy and always tough no matter where you race. But JGR has a strong road course program, and I will be preparing myself to handle the conditions so I can give our team the best chance to win."
The Fedex No. 11 will be the highest-starting car not from Hendrick Motorsports on Sunday, as Hamlin will take the green from the fourth spot.
This year also marks only the second race back on the full 2.52-mile layout at Sonoma, featuring the turn six carousel. This longer circuit returned to NASCAR competition for Sonoma's 50th anniversary in 2019, and once again is making a comeback. Based on recent performance, Sunday is shaping up to be a Hendrick vs. Gibbs battle at Sonoma. Will a Hendrick driver make it four-straight wins for the superteam, or will another driver play upset? Tune into FS1 Sunday at 4:00 p.m. ET to see who raises the wine goblet high in victory lane.
Written by Peter Stratta
Be sure to follow us on Twitter
Be sure to follow the writer on Twitter
Photo Credit to Johnathan Ferrey/Getty Images for NASCAR