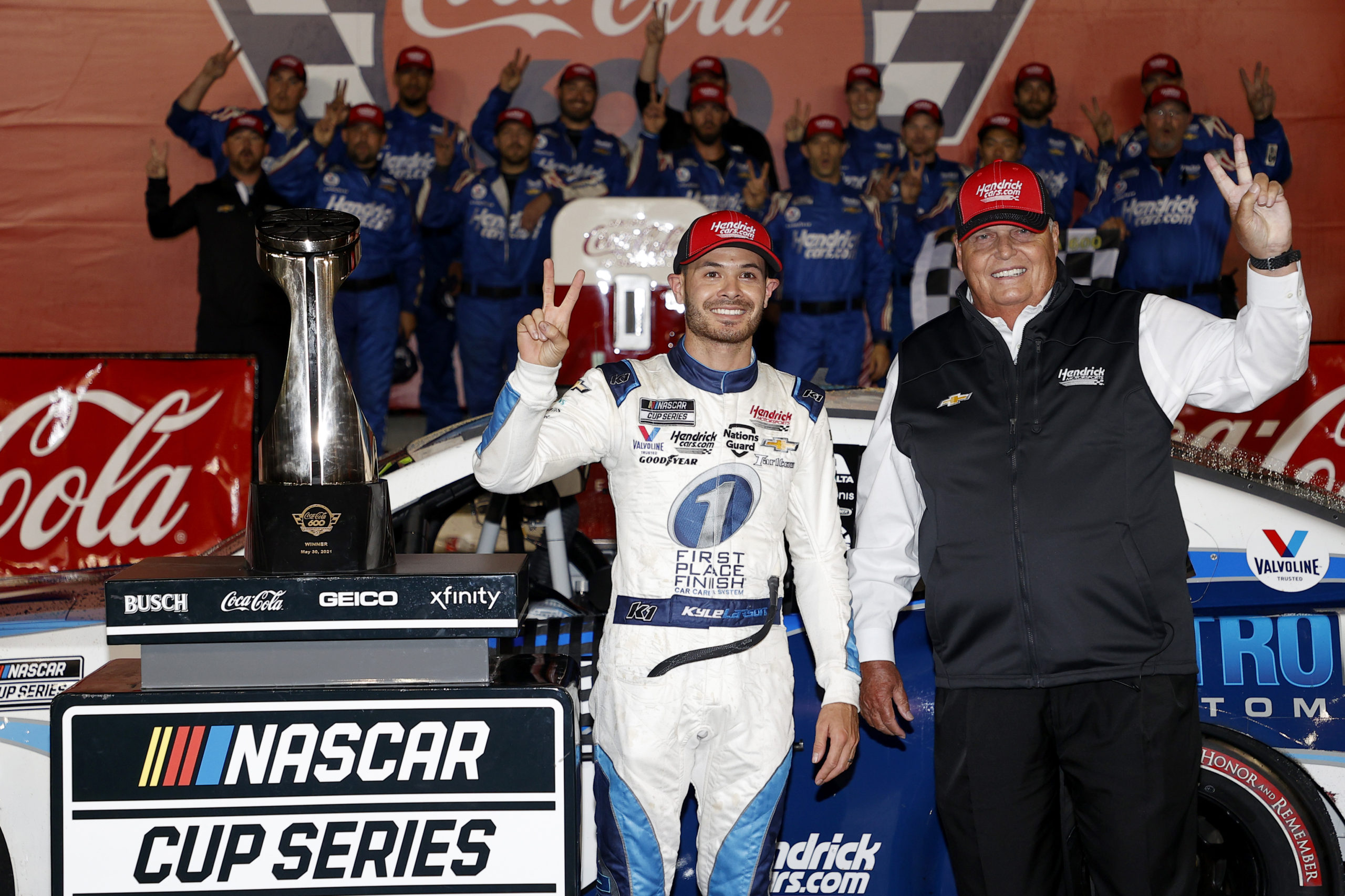 Kyle Larson Dominates Coke 600, Earns Hendrick Motorsports' 269th Win
CONCORD, N.C. – After three second-place finishes, Kyle Larson left it all on the track in the Coca-Cola 600. In a stage-sweeping night that saw the 5 lead 327 of 400 laps, Larson also set a NASCAR record that may never be touched. Hendrick Motorsports is now the all-time winningest race team, passing Petty Enterprises with 269 Cup Series victories. It took 61 years to break this record, so we truly witnessed a seminal moment in NASCAR history at Charlotte.
Clean and Green for Stage 1
By a mere seven-thousandths of a second on Saturday, Kyle Larson took the pole from Ricky Stenhouse, Jr. From the drop of the green flag, the 5 took off. Both Chase Elliott and William Byron quickly made it a Hendrick 1-2-3, as they all wanted the winningest team record. Aside from a midway cycle of green flag pit stops, the top three remained unchanged for Stage 1. Through the opening 100-lap stint, Kyle Busch had also raced his way from 20th up to sixth. The 18 seemed to be the lone car to contend against the Hendrick juggernaut.
Stage 2 Setback for Larson
Much like Stage 1, the 5 rocketed off to start Stage 2. However Elliott did keep Larson in his sights, and passed the 5 on lap 131. Elliott made a daring three-wide move between Larson and a lapped car to take command. The 9 would only lose ground on pit stops, where he cycled back to third behind Larson and Byron.
Stage 2 would be halted by a caution when Kurt Busch's engine expired. Busch did initially take his No. 1 Chevrolet to the garage with a broken oil pump belt. After fixing the issue, the 1 returned to the race only to blow up a lap later. With this early retirement, Busch would leave the Coca-Cola 600 in last place. Joining him at the bottom of the grid was teammate Ross Chastain, who also faced mechanical issues all night. This Memorial Day weekend was not one to remember for Chip Ganassi Racing, leaving Charlotte in 37th and 38th.
Under caution, all of the leader came to pit road. By virtue of only taking two tires, the new top three were Alex Bowman, Denny Hamlin, and also Joey Logano. Both the 48 and the 11 spent a little time out front, but Elliott and Larson each retook the lead. After passing the 9 with 13 to go in the Stage, Larson held on for the win. On their alternate two-tire gamble, Bowman and Hamlin both faded to seventh and ninth, respectively.
Moment of Remembrance for the Fallen
NASCAR and Charlotte Motor Speedway in particular always put an added significance on honoring our troops. Memorial Day is a time to salute the fallen servicemen and women who sacrificed all for our country. To help reflect these values, the Coca-Cola 600 has developed a new tradition of a halfway moment of silence. After Stage 2, the entire field was brought down pit road and all engines were shut off. The eerie silence and resulting applause from the fans truly exemplified how much NASCAR appreciates the military and also showed the sport's patriotic roots.
Always love when NASCAR pauses for a moment of silence in this event.

The roar of the crowd after truly represents the love and thankfulness we have to those who have lost their lives fighting for ours. #NASCAR #CocaCola600 pic.twitter.com/SXp9aHi3XH

— Noah Lewis (NASCAR) (@Noah_Lewis1) May 31, 2021
Once the race resumed for Stage 3, Larson retained the lead but had a new challenger. William Byron would not let Larson escape his grasp. After hounding the 5 for multiple laps, the 24 made the pass for the lead on lap 231. Byron would pace the field at his home track until his mid-stage pit stop. After things cycled out, Larson had leapfrogged the 24 by about a second. As laps wound down in Stage 3 though, Byron was closing in on Larson. However the Stage would end prematurely. Ryan Newman's right front tire went flat and the 6 pounded the turn three wall. This caution gave Larson his third Stage win of the night, as he had also surpassed 200 laps led. The lone car not from Hendrick in the top five for Stage 3 was the 18 of Kyle Busch.
Busch would gain on pit road under this yellow, as he came out second behind Larson. Busch gave Larson everything he had in trying to wrestle the lead away, but the 5 charged hard around the outside to retake command. The 18 quickly fell all the way back to fourth though, as Elliott and Byron got by.
Truex Faces Adversity
The final cycle of pit stops went mostly uneventful, except for one team. Martin Truex, Jr. pitted with a flat left front tire, and his team could not remove the wheel. Nine laps later, the 19 would return to the track. Coming home in 29th, Martin Truex, Jr. fell far short of a third Coca-Cola 600 win.
After pit stops were complete, Larson was back on point with under 50 to go. Intense racing throughout lapped traffic allowed Larson to only extend his lead over Elliott and others. One moment between Busch and Byron was especially hairy with a few cars several laps down.
Larson Untouchable Over Final Run
Over the final 50 laps, Larson's lead exponentially grew from one second to 10 seconds. Larson eclipsed 300 laps led, a new single-race career high for him. With no caution, nobody had any hopes of catching the 5, as he cruised to his second win of the year. Larson's lights-out performance in the 600 also carried the added historical significance of win number 269 for Hendrick Motorsports. HMS took the title of all-time winningest NASCAR team in their backyard, as their campus is less than two miles from Charlotte Motor Speedway. It is only proper that Hendrick broke this record with a #5 car, as the first win for Team Hendrick came in 1984 at Martinsville with Geoffrey Bodine also piloting a 5 car.
Larson's Winning Reaction
"Yeah, it feels good. It was not easy," Larson said. "I felt like I had to fight off William and Chase a lot. It kind of worked out there in that last run. The No. 43 had to pit and pulled out in front of me, and I just towed with him for a while and stretched my lead out. We had a good car there in that last run."
Larson was emphatic on his win's importance to the Hendrick organization. "Awesome! It feels great to be the guy to help Mr. Hendrick break that record, finally. This is awesome. We haven't seen this many fans in forever. Thanks to all you guys for coming out. I hope we put on a good show. Thanks to Metro Tech, Chevrolet, HendrickCars.com, and everybody who allows me to drive this No. 5 car. And thanks to my No. 5 team tonight, too. They were great tonight. My pit crew did awesome. We had awesome pit stops, especially on the green flag stops, too. That really allowed us to get the win tonight."
Hendrick's Thoughts on Record-Breaking Night
"You work hard, you hope you can pull that off and all the cars be fairly close and run the race together," Rick Hendrick said. "Boy, I don't know what turned it on all of a sudden. All the hard work and the cars are fast, the guys are doing a great job. Pit crews are doing well. It feels good. I can't believe we got 269. It was kind of neat to — I want any one of them to win, but the first one was 5 and this one was the number 5. I just remember how close it was not to finishing out the first year. You work towards having this kind of communication and the cars running that way all together, but it's just hard to do."
A total of 20 different drivers have won a race for Hendrick Motorsports. This includes five different drivers who also went on to Cup Series championships. HMS' 269 wins are also headlined by Jeff Gordon (93) and Jimmie Johnson (83). Now the question becomes just how quickly can HMS get to win 300?
Coke 600 Top 10 Results
A distant 10 seconds behind Larson at the finish was Chase Elliott. The 9 team backed up their COTA win with a strong runner-up day, also in their first race with a new spotter. Kyle Busch was the best of the rest, as he was the only car not from Hendrick to place in the top five. William Byron and Alex Bowman were fourth and fifth. The rest of the top 10 were Austin Dillon, Denny Hamlin, Chris Buescher, Tyler Reddick, and Kevin Harvick.
What's Next for Cup
The next stop for the NASCAR Cup Series is the winding hills of northern California. For the first time in two years, NASCAR will visit Sonoma Raceway for the Toyota/Save Mart 350. Coverage will be live on Sunday, June 6 at 4 p.m. ET on FS1, PRN, and SiriusXM NASCAR Radio Channel 90. Although Chase Elliott is king of the NASCAR road courses, he has been snakebitten in Sonoma. Can three-time Napa valley winner Martin Truex, Jr. raise the goblet high in victory lane again?
Written by Peter Stratta
Be sure to follow us on Twitter
Be sure to follow the writer on Twitter
Photo Credit to Maddie Meyer/Getty Images for NASCAR