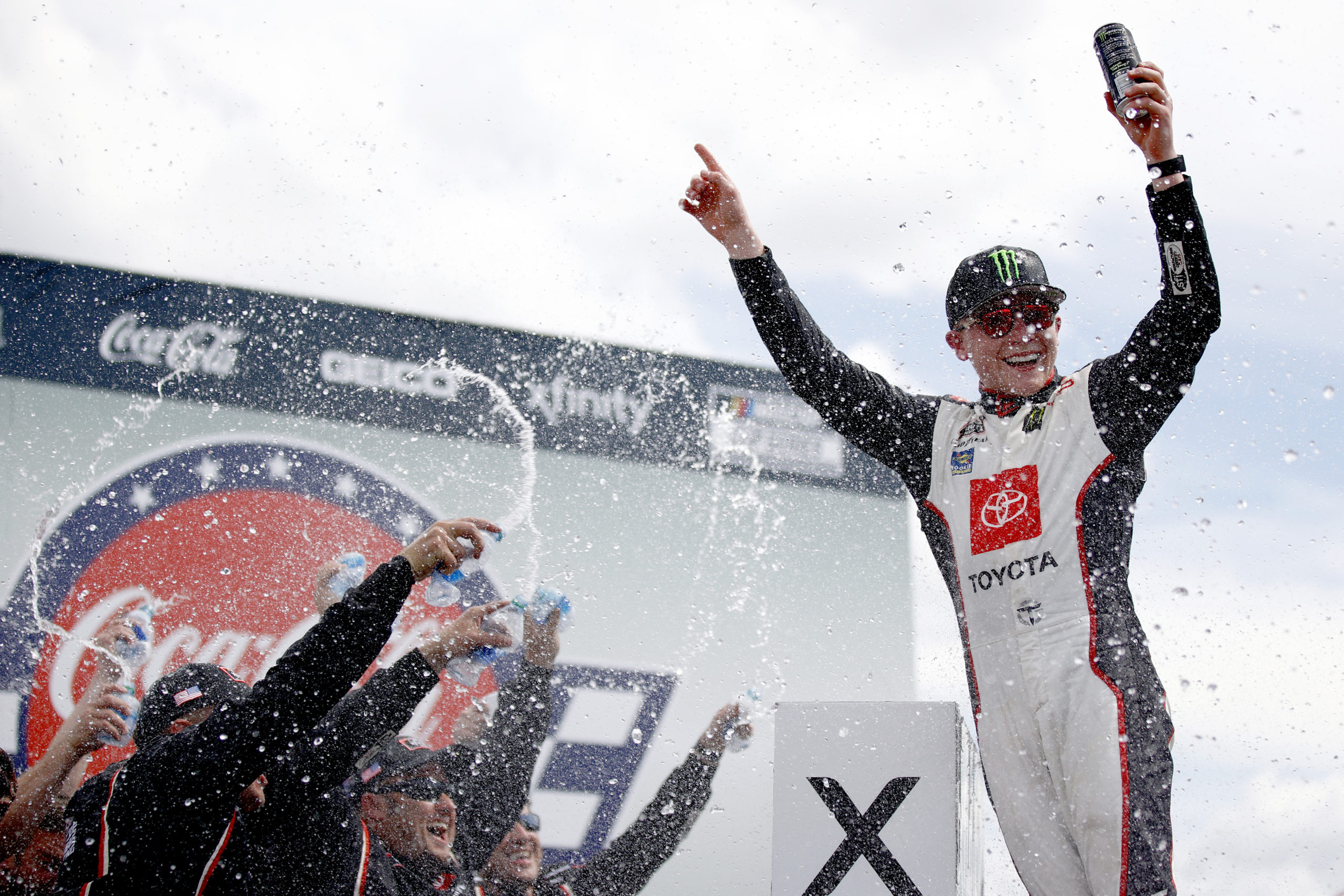 Gibbs Takes Over Late to Win at Charlotte
CONCORD, N.C. – Ty Gibbs recovered from an early spin to win the Alsco Uniforms 300 at Charlotte Motor Speedway. Gibbs spun on the final lap of Stage 2, but he didn't let that hold him back. He methodically worked his way back to the front in Stage 3 and took the lead with 19 laps to go. The win is Gibbs' second of the season and career.
Daniel Hemric Cruises to Stage 1 Win
Riley Herbst blew everyone away Saturday morning by posting the fastest time in qualifying. His time was nearly 0.4 seconds better than second place, Daniel Hemric. Herbst led the first seven laps before Hemric powered around him for the lead.
There were just two cautions in Stage 1. The first being a competition caution on lap 20. Grant Enfinger then brought out the second caution just a lap after the restart. Enfinger, making his Xfinity Series debut, came up on Chad Finchum, sending himself into the outside wall. Enfinger couldn't continue in the race and finished in last place. Meanwhile, Hemric didn't have any pressure from the other competitors as he cruised to his fourth Stage win of the season.
Hemric Makes it Look Easy in Stage 2
Hemric kept the lead off pit road with Ty Gibbs and AJ Allmendinger coming out behind. Like Stage 1, Hemric didn't have much pressure from the other cars as he pulled away from the field. The Stage mostly ran event-free with Hemric winning it over Allmendinger and Noah Gragson. Hemric swept the first two stages of a race for the first time in his career
Ty Gibbs was in position to finish in the top 10 in Stage 2 when his car got loose coming off turn four. He spun through the front stretch, but because there was synthetic turf instead of grass, Gibbs didn't have any damage.
Chase Briscoe Surprises Everyone Early in Stage 3
Once again, Hemric's pit crew got him off pit road with the lead. The first run lasted just a few laps, as a spin by Matt Mills quickly brought out the caution. Mills made contact with Jeffrey Earnhardt, sending Mills into the inside wall on the backstretch.
Once the race got back going, everyone assumed Hemric would continue his dominance, but that wouldn't be the case. Chase Briscoe, who had been running in the top 10 all day, saw his car come to life and made the move around Hemric to take the lead with 86 laps to go.
Hemric's Pit Road Penalty Puts Him in a Hole
The caution came out again a few laps later for a Jeb Burton spin. Briscoe held the lead off pit road, but it was a disaster for Hemric. He had to back up before leaving his pit stall, dropping him from second to 10th. The team had a pit road penalty to top things off, which sent him to the rear.
Briscoe Controls the Race Before Chaos Strikes
Briscoe continued to lead while AJ Allmendinger had a brake issue while running in the second position. The issue sent him to the garage and also ended his day prematurely. A promising day ended in a 33rd-place finish for the 16. Hemric did a nice job of working his way back into the top 10 with just over 50 laps to go.
A debris caution brought everyone down pit road for their final set of fresh tires. Ryan Sieg and Brandon Brown opted for fuel only in hopes they could use their last set of fresh tires later. Sieg won the race off pit road with Brown coming out sixth.
Strategy Call Sets Up Big Wreck
Sieg inherited the lead with the fuel-only call, but that lasted one turn. Sieg's car got loose in the corner underneath Chase Briscoe. Sieg nearly saved it but the car overcorrected, sending him back up the track, right in front of Josh Berry and Brett Moffitt. The lack of grip from old tires is likely why Sieg couldn't hold it underneath another car. The crash ended Sieg and Berry's day, while Moffitt was able to continue.
The race resumed with 40 laps to go with Briscoe being out front. Ty Gibbs began to make his run for the lead and got to the back bumper of Briscoe with 20 laps to go. Coming off turn two with 19 to go, Gibbs got to Briscoe's left rear corner. The air from Gibbs' car sent Briscoe spinning down the backstretch. He did a good job of not hitting anything, however, he lost a lot of track position.
Because nearly everyone had used all four sets of their fresh tires, most of the leaders stayed out. The only exception was Brandon Brown, who took fuel only on the last pit stop. The team came down pit road for the fresh tires. The stop meant he would restart in 21st place.
Huge Pileup Takes Out Contenders
With 13 laps to go, everyone knew the restart would be intense. No one was giving anyone an inch and that led to a pileup. There was contact between Brandon Jones and Daniel Hemric, sending Hemric into the outside wall, collecting Noah Gragson, Justin Haley, Michael Annett, and others. These drivers were all running inside the top 10 when the crash happened. On the other hand though, Brandon Brown passed all the wrecked cars and would restart 10th.
Gibbs Holds Off the Field to Win the Race
The inside was the preferred line on the restart all day. Gibbs continued that trend as he controlled the race with a great restart and pulled away from Austin Cindric and Harrison Burton to capture his second career Xfinity Series win. Brown's fresh tires allowed him to drive all the way up to fourth.
Top 10 Results
Gibbs' win gives him five top-five finishes in six races this season. Cindric and Burton each earned their third consecutive top-six finish. Brown's fourth-place finish gave him his second top-five finish of the season as well. Tyler Reddick also finished top 10 for the second-straight race. Chase Briscoe, Ty Dillon, Brandon Jones, Jeb Burton, and Jeremy Clements rounded out the top 10.
What's Next
The Xfinity Series heads to Mid-Ohio Sports Car Course for the Series' third road course race of the season. The B&L Transport 170 will be Saturday, June 5 at 1 p.m. ET on FS1, MRN, and SiriusXM NASCAR Radio Channel 90. Austin Cindric and AJ Allmendinger are the ones to watch out for next week. They both have a win at Mid-Ohio and should be strong again.
Written by Nicholas Sterling

Be sure to follow us on Twitter

Be sure to follow the writer on Twitter
Photo Credit to Jared C. Tilton/Getty Images for NASCAR