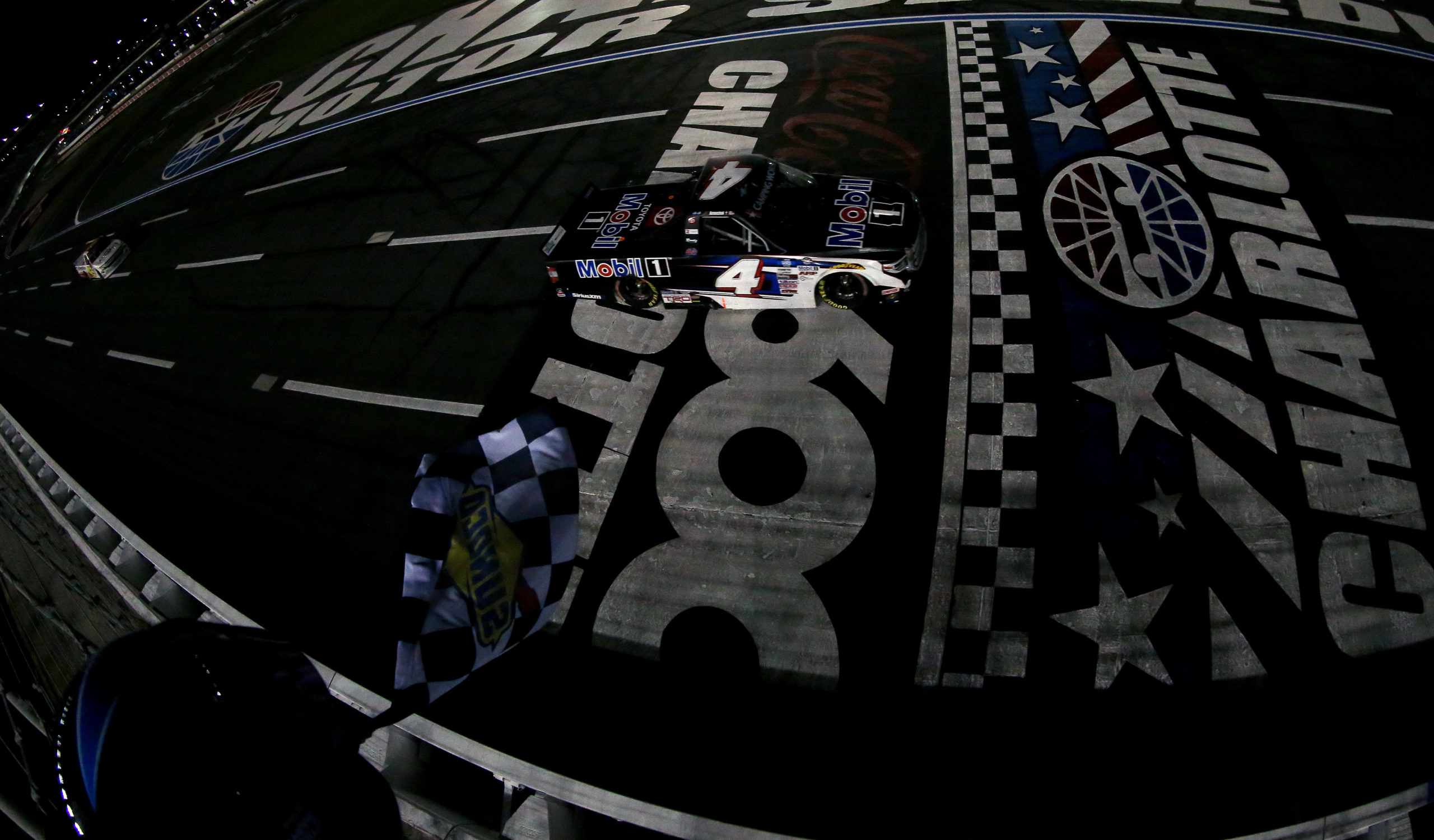 John Hunter Nemechek Dominates Charlotte for Third Win of Season
CONCORD, N.C. – Kyle Busch may not have been in the field for this year's Charlotte Truck race, but he still won it as an owner. John Hunter Nemechek led 71 laps en route to his third win of 2021. Kyle Busch Motorsports this year is undefeated on 1.5-mile tracks, as Busch and Nemechek have proven to be unbeatable. In addition, Nemechek also won a nice bonus payday thanks to Camping World.
Creed Leads Early, Crashes Out
Stage 1 was perfection for defending Truck Series champion Sheldon Creed. The 2 started second and led wire-to-wire in the opening 30-lap segment. Amazingly, this only marked Creed's first Stage win of 2021.
Things only went south for Creed in Stage 2 though, as a restart went awry for the 2. Creed crowded Todd Gilliland on the outside, sucking the 38 around into the 2. Creed then went spinning into the path of Chase Purdy. Despite the lights-out Stage win, Creed left Charlotte in 35th. A one-lap dash to close out Stage 2 would give the Stage win to Zane Smith.
With Creed sidelined for the remainder of the race, John Hunter Nemechek rose to the occasion in the final Stage. While running third, Nemechek pulled off a divebomb three-wide move to take the lead away from Stewart Friesen and Christian Eckes.
Scary Moment for Sauter
Nearing the finish on lap 116, a catastrophic incident occurred out of turn four. Trey Hutchens had a flat tire, pounded the outside wall, and then came to a stop. With nowhere to go, Johnny Sauter slammed into Hutchens' stopped vehicle at nearly full speed. The contact shredded the right side of Sauter's No. 13 like a can opener. Thankfully, Sauter and Hutchens were both able to walk away. Nemechek did also get some damage in this incident as the leader, but thankfully the damage was not enough to force him to pit.
For the duration of the last Stage, Nemechek only yielded the lead for a final pit stop. By the last lap, the 4 had a lead of half a second. 71 of the 134 laps from Charlotte would be led by Nemechek, in another dominant win. Three wins leads the Truck Series, as Nemechek is simply #Here4Wins. In addition to the win, Charlotte marked the third race in the Triple Truck Challenge. Driver No. 4 will take home a $50,000 bonus thanks to Camping World.
Nemechek's Winning Reaction
"I think we only ran 10 laps in practice, so hats off to all my guys," Nemechek said. "Eric Phillips (crew chief), all of my guys that work on this thing, everyone at KBM, the chassis shop, the fab shop, just everyone and all of their effort. Mobil 1, TRD, Toyota, Kyle for this opportunity. Just so thankful, so blessed to be in this spot. How about this crowd? It's awesome to have all of you back."
"The pit crew pretty much won the race tonight I feel like on pit road. We were able to jump some guys there after the first stage. It was so hard to pass. It was amazing. Eric did a great job making adjustments all night and I was telling him what we needed. This was our baby truck, this one has won three races for me this year and sadly it's going to have to get fixed with that crazy crash."
Top 10 Results from Charlotte
Coming in a career-best second place was rookie Carson Hocevar. Ben Rhodes, Stewart Friesen, and Todd Gilliland rounded out the top five. The rest of the top 10 were Chandler Smith, Ty Majeski, Derek Kraus, Austin Hill, and Zane Smith.
What's Next for Trucks
After an off week, the Truck Series will head to Texas Motor Speedway on June 12. Coverage of the SpeedyCash.com 220 will be live at 1:00 p.m. ET on FS1, MRN, and SiriusXM NASCAR Radio Channel 90. Can Kyle Busch Motorsports remain undefeated on 1.5-mile tracks, and can Nemechek grab another win?
Written by Peter Stratta
Be sure to follow us on Twitter
Be sure to follow the writer on Twitter
Photo by Brian Lawdermilk/Getty Images for NASCAR