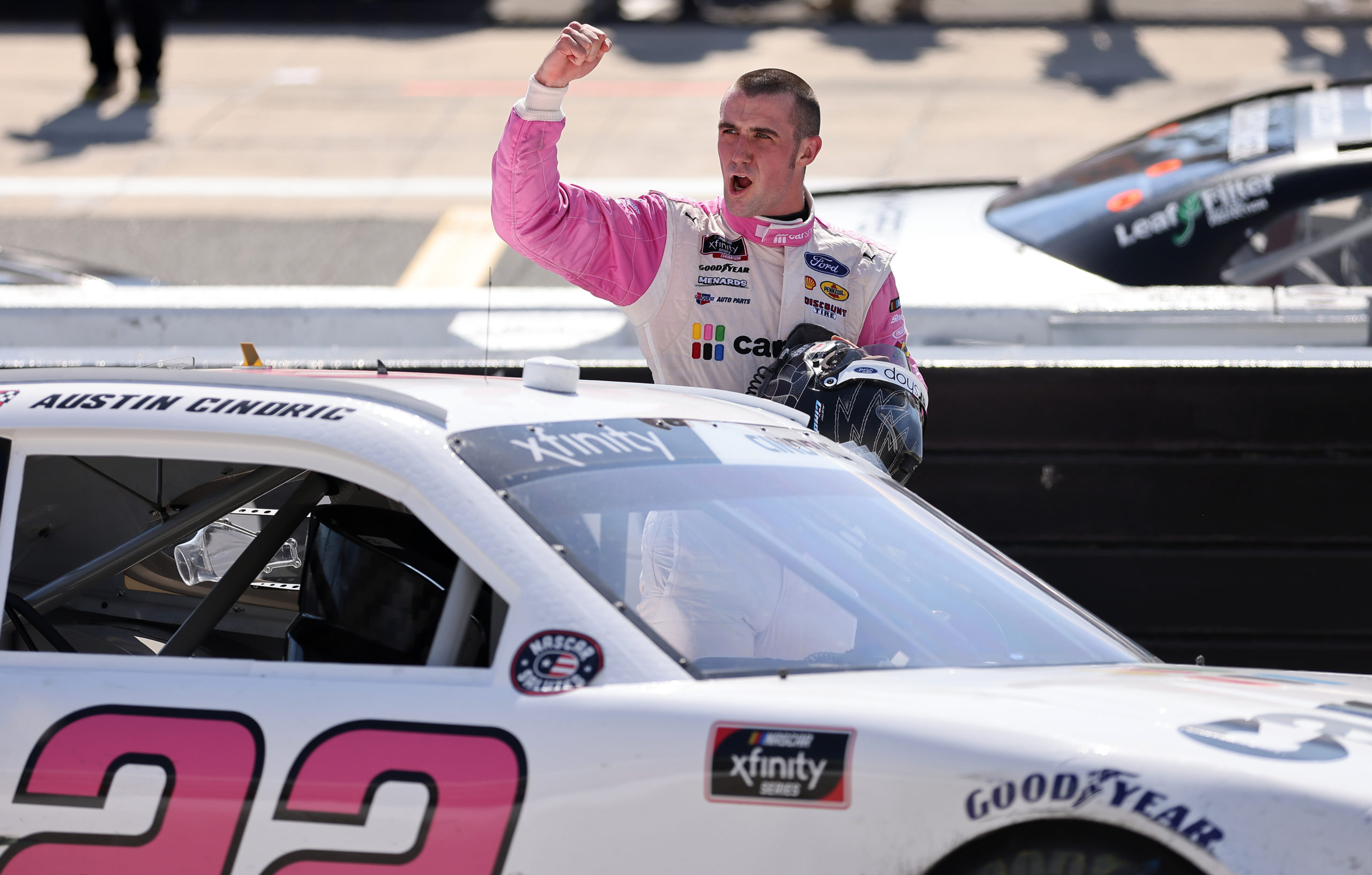 Cindric Takes Late Lead to Steal Dover Victory
DOVER, Del. – For much of the day Saturday, it looked like the battle for the win would come down to teammates Justin Allgaier and Josh Berry. Austin Cindric had other plans though as he surged by Allgaier with 51 to go and never looked back. The Penske driver laid claim to the Drydene 200 at Dover International Speedway. Cindric's win makes him the only driver with more than two wins this season.
Allgaier Cruises to Stage 1 Win
Justin Allgaier started second alongside polesitter Daniel Hemric. Allgaier took all of two laps to take the lead and set sail. He stretched his lead out to a second and a half before the competition caution on lap 20.
Zane Smith was forced to start for the rear after subbing for Justin Haley, who was out due to COVID-19 protocols. However, Smith worked his way up 20 positions in the first 20 laps. John Hunter Nemechek, making his first Xfinity start of the season, also went from 30th to 16th.
All the leaders stayed out under the competition caution. Allgaier wasted no time as he built up another big lead before a Riley Herbst spin brought out the caution with 14 to go in Stage 1. Herbst had some help from Nemechek going into turn four. Allgaier was challenged by teammate Josh Berry in the closing laps but he ultimately held him off to claim his first Stage win of the season.
Austin Cindric had a big moment coming to the final lap of Stage 1. Ty Gibbs made contact with Cindric's left rear, sending him sideways on the front stretch but he amazingly saved it.
Big Crash Starts Off Stage 2
Tommy Joe Martins and Riley Herbst stayed out after pitting late in Stage 1. Allgaier quickly recovered though, as he went three-wide on the outside in turn 1 and had the lead coming off turn 2.
After just four green flag laps, a big wreck on the backstretch involving Jesse Little, Josh Williams, and Matt Jaskol brought out the red flag. The three drivers spun into the inside wall, with Jaskol's car going on top of Little's. Thankfully, all drivers were okay.
No Brakes Takes Out Two Contenders
After the red flag, the drivers had another brief four lap green flag run before another caution. Zane Smith went into turn 1 and had his brake pedal go straight to the floor. The lack of brakes caused him to go up into Brandon Jones, sending them both into the outside wall. It has been such an up-and-down season for Jones. In 10 races, he has five top-five finishes, but also five finishes outside the top 30. They've got to clean up those incidents if they want to be championship contenders.
Josh Berry Steps Up Late in Stage 2
The outside was the preferred lane on the restart all day. Like usual, Allgaier took the outside with Josh Berry on the inside. Berry held his own on the bottom and put enough pressure on Allgaier to make him loose on the outside. This led to Berry taking the lead. Berry began to put some distance between himself and Allgaier before the caution came out with six to go in the Stage. NASCAR was unable to finish clean-up before the end of the stage, giving Berry the Stage win under caution.
Allgaier and Berry Swap the Lead Early in Final Stage
Justin Allgaier was able to regain the lead on pit road to begin Stage 3. That lead lasted 22 laps before Josh Berry worked his way back to the lead. His lead lasted for 31 laps before the final caution of the day came out with just over 50 laps to go. John Hunter Nemechek had a trackbar issue and was dropping fluid. It was an unfortunate event as he was running in the top 10 in his maiden Xfinity start of the season.
Cindric Comes Alive Late to Steal the Win
Josh Berry held the lead this time off pit road but it didn't take Justin Allgaier long to take it back. But just when it looked like the teammates would duke it out over the final 50 laps, Austin Cindric had his car come to life. He quickly passed Berry and went to work on Allgaier. The two made some contact but Cindric got by and set sail.
Berry did pass Allgaier for second with just under 30 laps to go. It was an important pass because the two drivers were both a part of the Dash4Cash.
That was the final action of the day upfront as Cindric cruised to his third win of the season. He won by over four seconds, beating Berry and Allgaier. Berry won the Dash4Cash for the first time this season. All four Dash4Cash bonuses went to a JR Motorsports driver, as Noah Gragson won the first three.
Top 10 Results
Cindric's third win of the season only strengthens his points lead in his quest for a second-straight championship. Berry's second-place finish also won him the $100,000 bonus. Allgaier led nearly half the race but has just a third-place finish to show for it. AJ Allmendinger and Ty Gibbs quietly ran strong all day, finishing fourth and fifth respectively. Harrison Burton, Michael Annett, Ryan Sieg, Daniel Hemric, and Brandon Brown rounded out the top 10.
What's Next
Potential the most hyped up Xfinity Series race of 2021 is next week. The drivers and crews will travel to Austin, Texas as COTA will host a NASCAR race for the first time ever. The Pit Boss 250 will be live on Saturday, May 22 at 4 p.m. ET on FS1, PRN, and SiriusXM NASCAR Radio Channel 90. Austin Cindric has had tons of success on road courses, so look for him to go back-to-back.
Written by Nicholas Sterling
Be sure to follow us on Twitter.
Be sure to follow the writer on Twitter.
Photo Credit to James Gilbert/Getty Images for NASCAR