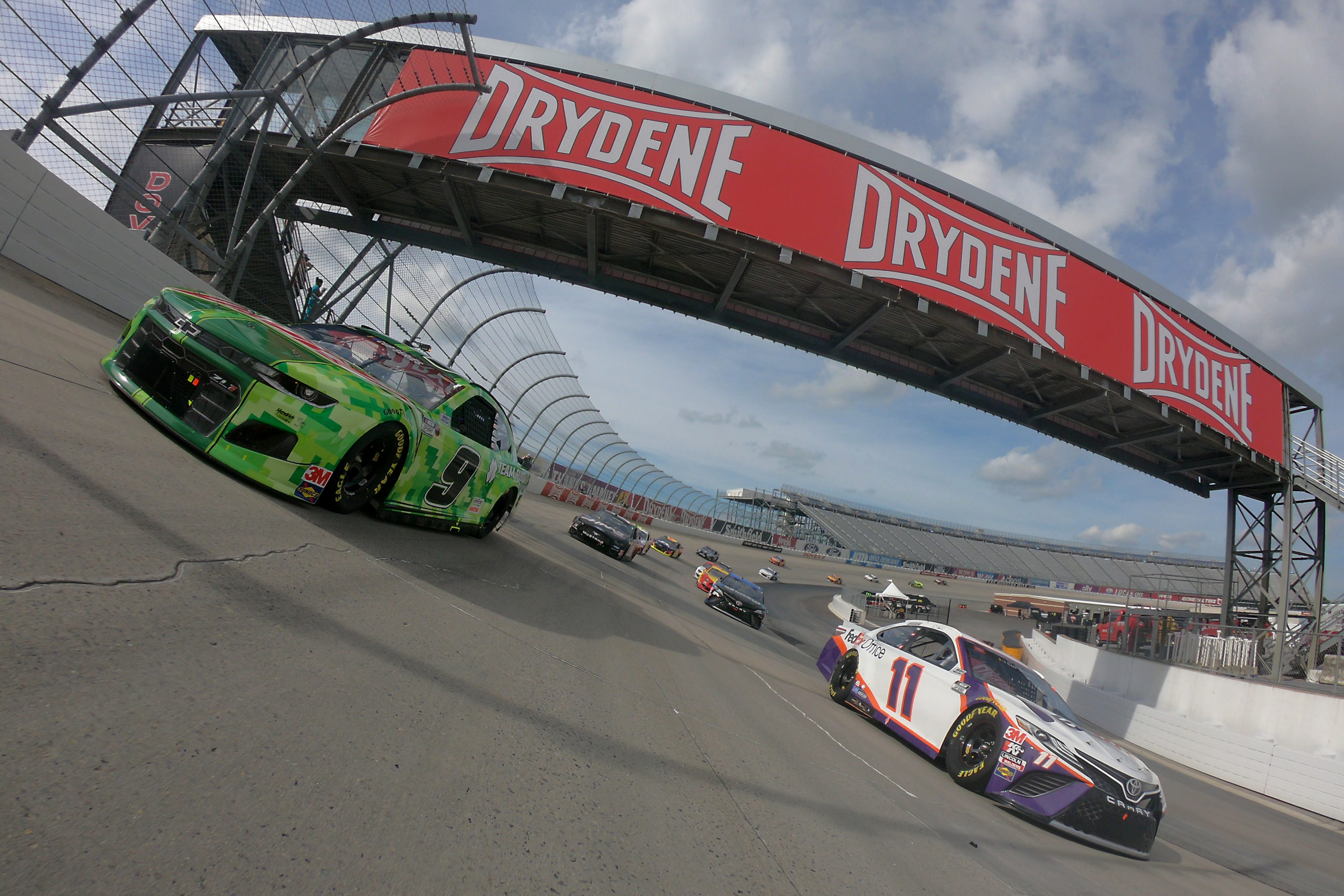 Ones to Watch for in Drydene 400 at Dover
DOVER, Del. – Dover International Speedway will be the site of this weekend's NASCAR Cup Series event. For the first time since 2001, a Dover race will occur without 11-time winner Jimmie Johnson. With the now retired 7-time champion not in the field, who can assert themselves as a master of the Monster Mile? Can another new winner earn their first victory of the year? Recent Dover history does benefit a few who have yet to win in 2021.
Martin Truex, Jr.
Perhaps the hottest competitor in NASCAR today, Martin Truex, Jr. is arguably the best active driver at Dover. The three-time Monster Mile winner earned his first career victory on the concrete mile all the way back in 2007. Since then, MTJ has revisited victory lane at Dover in 2016 and 2019. In addition, Truex has placed second in the last three Dover races. Over 30 career Dover starts, Truex has 18 top-10s, 980 laps led, and an average finish of 11.5.
In 2021, Truex is the lone driver with multiple wins, as a dominant Darlington run was his third victory of the year. With the momentum of last week's win, can Truex go back-to-back in Dover?
"Just ever since I went there the first time, it's a place I really enjoyed going to," Truex said. "It's a unique track where you can use a lot of past history and I think for me when I go there, I don't really worry a whole lot about how fast we are or exactly what the setup is or things like that. I really just kind of go by feel of the car and know what I'm looking for. That's really a key for a lot of places is once you figure it out, if you can duplicate that feel or those certain little tendencies your car has to do well, you can carry that through the years and we've been able to do that there. Hopefully we'll get it feeling the way I like this weekend and get up there and try to win another one."
Thanks to a lights-out win at Darlington a week ago, Truex will go for his fourth Dover win from the pole on Sunday.
Kevin Harvick
Over the last six Dover races, Kevin Harvick boasts a worst finish of sixth and also two wins. One of those wins was the second leg of last year's Dover doubleheader, so the 4 is far from a recent stranger to success here. While Harvick has been admittedly off this season, his last three results of fourth, second, and sixth are reason for optimism.
Over 40 Dover races, Harvick has three wins, 21 top-10s, 1666 laps led and also an average finish of 13.2. Dover has been a strong venue for the 4 recently, and Harvick will go for Dover win number four from the fifth starting spot.
Kyle Busch
Yet another three-time Dover victor, Kyle Busch hopes for his first Monster Mile win since 2017. Since his last victory in the First State, Kyle Busch has four top-10s in six races. Busch also has a Dover average finish of 13.8. With a win already in the bank this year, do not count out the 18 from victory lane this weekend. Busch will take the green flag from sixth.
Brad Keselowski
Although he's only a one-time Dover winner, Brad Keselowski could be a sneaky contender this weekend. Keselowski's lone Monster Mile win came all the way back in 2012, but the last seven trips here have yielded four top-10s for the 2. Keselowski will hope to bounce back from a disappointing run in Darlington, where the 2 faded to 24th after starting on the pole. Due to this lackluster result, BK will start 15th.
Kyle Larson
The last time Kyle Larson competed at Dover, he earned a victory in the fall of 2019. Now at Hendrick Motorsports, the California native hopes to reach Dover's victory lane once again. Aside from the lone win, Larson also has nine top-10s in 12 career Dover starts. In fact, only one of Larson's appearances at Dover has yielded a result worse than 12th. Driver number 5 also has 617 laps led on the Monster Mile, with an average finish of 7.4. This stat is the best all-time average finish of drivers with more than two Dover starts.
"Dover has always been a good track for me," Larson said. "I've led a lot of laps and finished in the top-10 a lot of times there. I'm definitely excited to race at Dover this weekend, and definitely excited to drive a Hendrick Motorsports car there. They've run well there for a long time now. It's a fast track and you have to keep up with the changing track conditions during a run. It's aggressive, so I like it."
In what is the rebranded version of Jimmie Johnson's old team, can Larson find more success at Dover? The 5 will go for their second win of 2021 from the fourth starting position.
Denny Hamlin
Amazingly, Denny Hamlin was winless in his career at Dover until the first leg of last year's doubleheader. Hamlin's first Dover win came in his 29th Monster Mile start, after leading 115 laps. For Hamlin Dover has been feast-or-famine of late, as he has a top 10 in four of the last seven trips here. Dover has not been a historically strong track for the 11 team, but recency bias has them pegged as a favorite. Hamlin's 2021 season is still a very strong campaign, with nine top-fives in the first 12 races. Can Dover be the track where the 11 finally breaks into victory lane? Hamlin knows that winning at Dover is an especially tough challenge.
"Dover is the most physically demanding track for sure – simply because of the speed in the banking, the load that your body takes in the middle of corner," Hamlin explained. "It's a very, very tough track. It's very rough, and there are a lot of elevation changes from corner entry to the middle of the corner. It takes its toll on you. It hasn't always been my favorite or best track during the course of my career, but honestly since being with Chris over these last few years, we've had some really good results there." Hamlin will be gunning for his maiden victory of the season from the second starting spot.
Chase Elliott
In terms of drivers that have yet to win this season, Chase Elliott tops the list alongside Denny Hamlin of weekly favorites. The 9 team's Dover history gives them high odds of victory this weekend. In 10 Monster Mile starts, Elliott's record is one win, seven top-fives, and an average finish of 11.3. However, Elliott has also DNF'd two of the last three races here, so Dover has been costly to the 9 lately. Outside of those two races though, Elliott's worst Dover finish is 12th. Among active drivers, Elliott's average finish trails only his teammate Kyle Larson, so expect the 9 to certainly be in the mix Sunday.
"Last year was unfortunate," Elliott said. "We got caught up in a wreck pretty early and were done for the day, but we have had some good runs at the track in the past. Hendrick has had fast cars at Dover, too, and I know I've said it before but I think Jimmie (Johnson) is one of the biggest reasons for that success. He was so good at Dover and gave all of us such a good baseline to start each race weekend. We look forward to getting back this weekend and, hopefully, having a good run." Elliott will hope to lock up a Playoff spot by way of winning at Dover for the second time. On Sunday his assault on the Monster Mile will begin with the 9 in eighth.
Coverage of the Drydene 400 from Dover will be Sunday, May 16 at 2 p.m. ET on FS1, MRN, and SiriusXM NASCAR Radio Channel 90. Can Martin Truex, Jr. continue his hot streak, or will another new face enter victory lane?
Written by Peter Stratta
Be sure to follow us on Twitter.
Be sure to follow the writer on Twitter.
Photo Credit to Jared C. Tilton/Getty Images for NASCAR