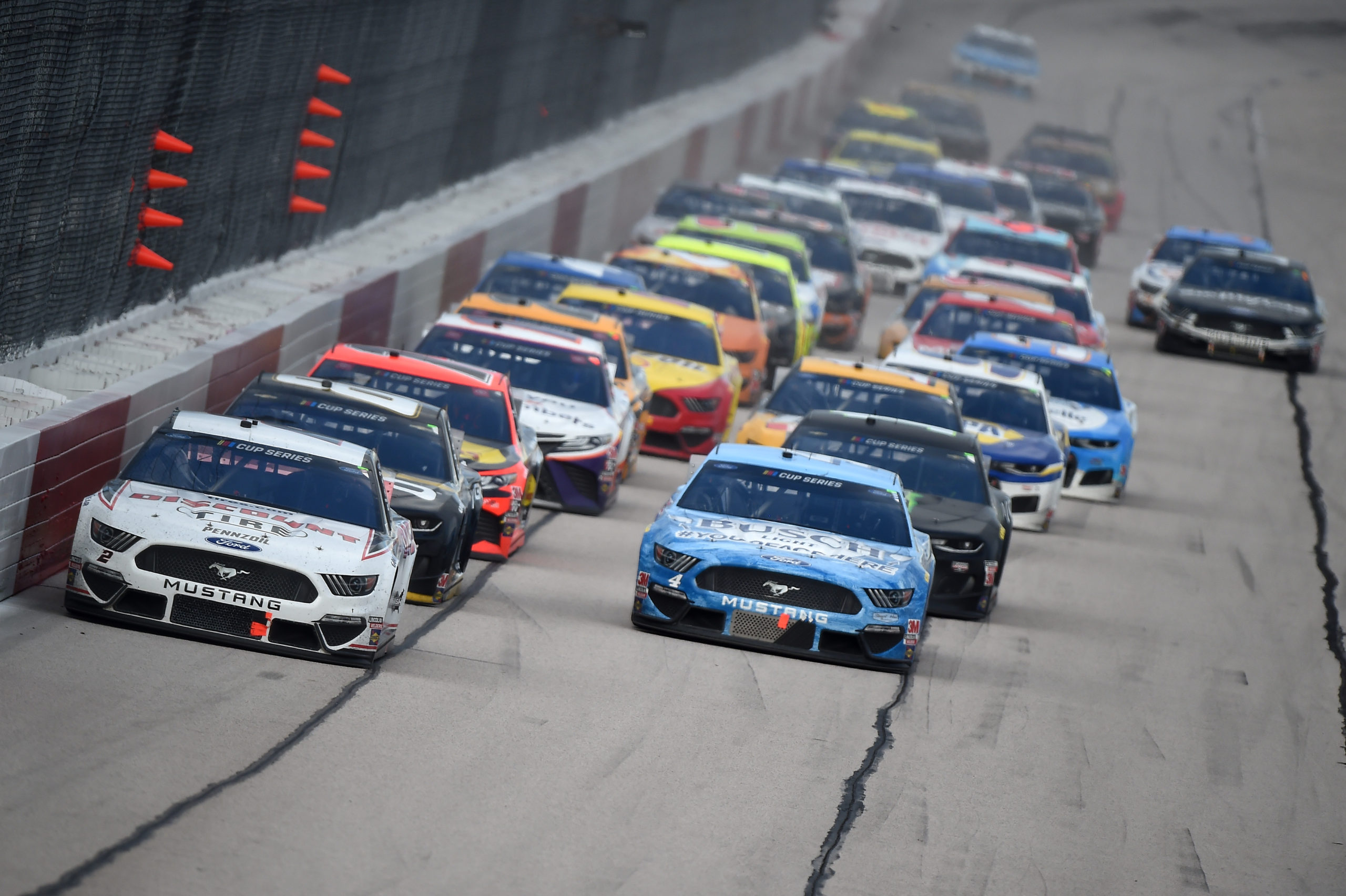 Who are Ones to Watch for in Darlington Goodyear 400?
DARLINGTON, S.C. – The Track Too Tough to Tame stands between one driver and a potentially season-defining win this weekend. Coming into race 12 of the 2021 campaign at Darlington, the Cup Series points leader hopes to capitalize at arguably his best track for his maiden win on the year. However, plenty of veterans hope to keep Denny Hamlin out of the winner's circle. For the first time since 2004, the Cup Series has multiple scheduled races at this most historic venue. Who can capitalize and win big in the Darlington throwback race?
Denny Hamlin
As stated above, Darlington Raceway is one of Denny Hamlin's statistically-best venues. In 17 career starts at the South Carolina track, Hamlin has three wins, 13 top-10s, 593 laps led, and an average finish of 7.5. Hamlin's most recent Darlington triumph came a season ago in the Toyota 500. All three races at The Lady in Black last year saw Hamlin place fifth, win, and then 13th in the fall. Despite still being winless on the year, Hamlin has to be seen as a heavy favorite entering one of his best tracks.
"Darlington has always been one of my favorite tracks," Hamlin said. "It's a special place and we've had some good wins there. Obviously, the last couple of weeks haven't gone the way we've wanted them to, but Darlington is a place where we can bounce back and maybe even get into Victory Lane."
In a throwback scheme to Julius "Slick" Johnson, Denny Hamlin will chase his fourth Darlington victory from the seventh starting position Sunday.
Kevin Harvick
While Denny Hamlin won once at Darlington a year ago, the other two races went to Kevin Harvick. Harvick backed up his Real Heroes 400 win with a clutch victory in the Southern 500 last fall. In the lone race he did not win, Harvick did place third. Despite three career Darlington wins, Harvick's typical pace has been off this year. However, the 4 is coming off of a season-best second-place finish last week in Kansas. With this momentum, can Darlington be another step back towards normalcy for the 4? Harvick celebrated NASCAR's return to racing in the ultimate way last May at Darlington, earning his 50th career win. The 4 will go for career win 59 from the second starting spot.
Brad Keselowski
2018 Southern 500 winner Brad Keselowski hopes to repeat his past Darlington success. The 2 machine will roll off from the pole Sunday, thanks to Keselowski's third-place run last week. Across the three trips to Darlington last year, Keselowski placed 13th, fourth, and 11th. In short, the 2 team has some work to do if they are to return to Darlington victory lane. With prime track position to start though, Keselowski is certainly a favorite to remain up front after 400 miles.
Kyle Busch
The winner last week at Kansas, Kyle Busch's lone Darlington win came all the way back in 2008. Recent trips to South Carolina however have panned out very nicely for the 18 team. In the last 12 Darlington races, Kyle Busch has nine top-10s, including second in last year's Toyota 500. Being out of the same shop as Denny Hamlin, Busch has been close to matching his teammate's impressive Darlington record. With the monkey off his back for winning in 2021, can the floodgates now open for the 18? Busch will go for back-to-back wins rolling off from third.
Martin Truex, Jr.
The 2016 Southern 500 winner, Martin Truex, Jr. has seen very mixed results at Darlington. Since his win, Truex has three top-10s at The Lady in Black. His best finish during this time was sixth in the Real Heroes 400 last year. This season however, Truex is the lone man so far with multiple wins. His consistent speed and performance have him ever-so-close to a third win on the year. With this year's Darlington race featuring the 750-horsepower package though, Truex knows to expect a different race.
"The low-downforce package will definitely change things up quite a bit and put us on edge a little more," Truex said. "I would expect that to help passing compared to what it was with the 550-package the last couple years. But Darlington is always going to be slick and tire management is going to be the biggest thing over the long run. Being a day race and hot outside should make it even slicker, so that will make it a handful and that's what makes Darlington fun."
With the major asset that Denny Hamlin is at Darlington, all four Joe Gibbs Racing Toyotas truly have excellent chances at victory this weekend. MTJ will hope to secure even more Playoff bonus points after starting fourth.
Kyle Larson
Though he is still 0-for-6 at Darlington, Kyle Larson does boast an impressive five top-10s here. Larson's Darlington average finish of 6.7 is also his best of any track. This streak includes the 2018 Southern 500, where Larson led a race-high 284 laps before finishing third. Kansas last week was very reminiscent of Larson's Darlington race from a few years ago. The 5 paced the field for much of the afternoon only to lose it late. After this heartbreaker, Larson should be optimistic for Darlington.
Daniels on Darlington Differences
"There's some notes from last year we're going to try to pull from," said Larson's crew chief Cliff Daniels. "But it's so different with the aero and horsepower package. All three races last year were the high drag, high downforce and low horsepower package. Coming back this weekend with no practice and the low downforce-high horsepower package is a completely different ballgame. There's a fine balance between the drivability and turn you look for at Darlington that we're hoping to achieve. We've dug into some historical notes and the trends from 2018, which is the last time we raced there with this aero and power package. It's such a long race that we'll just have to tune on the car as we progress through it."
Last year at Darlington, the Cliff Daniels-led 48 team finished 38th, eighth, and 18th with Jimmie Johnson. However, do recall that in the Real Heroes 400 Johnson was on his way to winning Stage 1 before a last-lap crash. If the 5 can return with similar performance, the competition should be worried.
After leading for so much of Kansas last week, Larson may be lights-out quick at Darlington. In a scheme paying homage to his first outlaw go kart, Larson will take the green flag from 14th. Do not expect Larson to stay back in the pack for long though.
Chase Elliott
If any one racetrack seemingly owes Chase Elliott, it may just be Darlington. Last year in the Toyota 500, Elliott was racing Denny Hamlin for the lead late. A poorly-timed move by Kyle Busch sent the 9 hard into the inside wall. Elliott responded to this by telling Busch he was No. 1 by way of a hand gesture. Last fall at Darlington was another victory taken away from Elliott. Late contact racing for the lead with Martin Truex, Jr. forced Elliott to finish 20th. This time around, can Elliott find some better luck at Darlington?
"I enjoy Darlington," Elliott said. "I am a performance guy so if it goes well, I probably liked it that trip and if it didn't, then I probably don't. Last year, I feel like we had a solid run and had a shot at it there at the end. Martin and I ended up wrecking coming to the closing 10 laps for the lead. I was definitely playing defense, he was on me and was making a good run. So there's room for improvement, obviously.
"You want to be fast enough where that guy behind you is nowhere close. That's where I want to be and that's how you want to position yourself at the end of those races, if you can. We can definitely be better, but I was pleased with our speed last year. We had some really good runs and were certainly solid, so we have something good to build off of."
Elliott should be quick again this weekend at The Lady in Black. In Alan Kulwicki's 1992 championship-winning colors, Elliott will start the Goodyear 400 from sixth. The 9 hopes to become the 12th different winner of 2021.
Joey Logano
One final potential contender for Darlington also surprisingly has yet to win here. In 14 Darlington starts, Joey Logano has a best finish of second to cap off seven top-10s. Although Logano has not won here, his crew chief Paul Wolfe has before with Brad Keselowski. Can Wolfe recapture the winning strategy with Logano? The 22 team did progressively improve in all three Darlington races last year, placing 18th, sixth, and third. In the livery from Mario Andretti's maiden Formula 1 victory, Joey Logano will start 12th on Sunday.
A new rules package, tire conservation, and 400 miles all prevent Darlington from being an easy-to-predict race. Coverage of the Goodyear 400 will be Sunday, April 9 at 3:30 p.m. ET on FS1, MRN, and SiriusXM NASCAR Radio Channel 90. Will an unprecedented 11th Playoff spot be taken, or will a familiar face grace victory lane at The Track Too Tough To Tame?
Written by Peter Stratta
Be sure to follow us on Twitter.
Be sure to follow the writer on Twitter.
Photo Credit to Jared C. Tilton/Getty Images for NASCAR