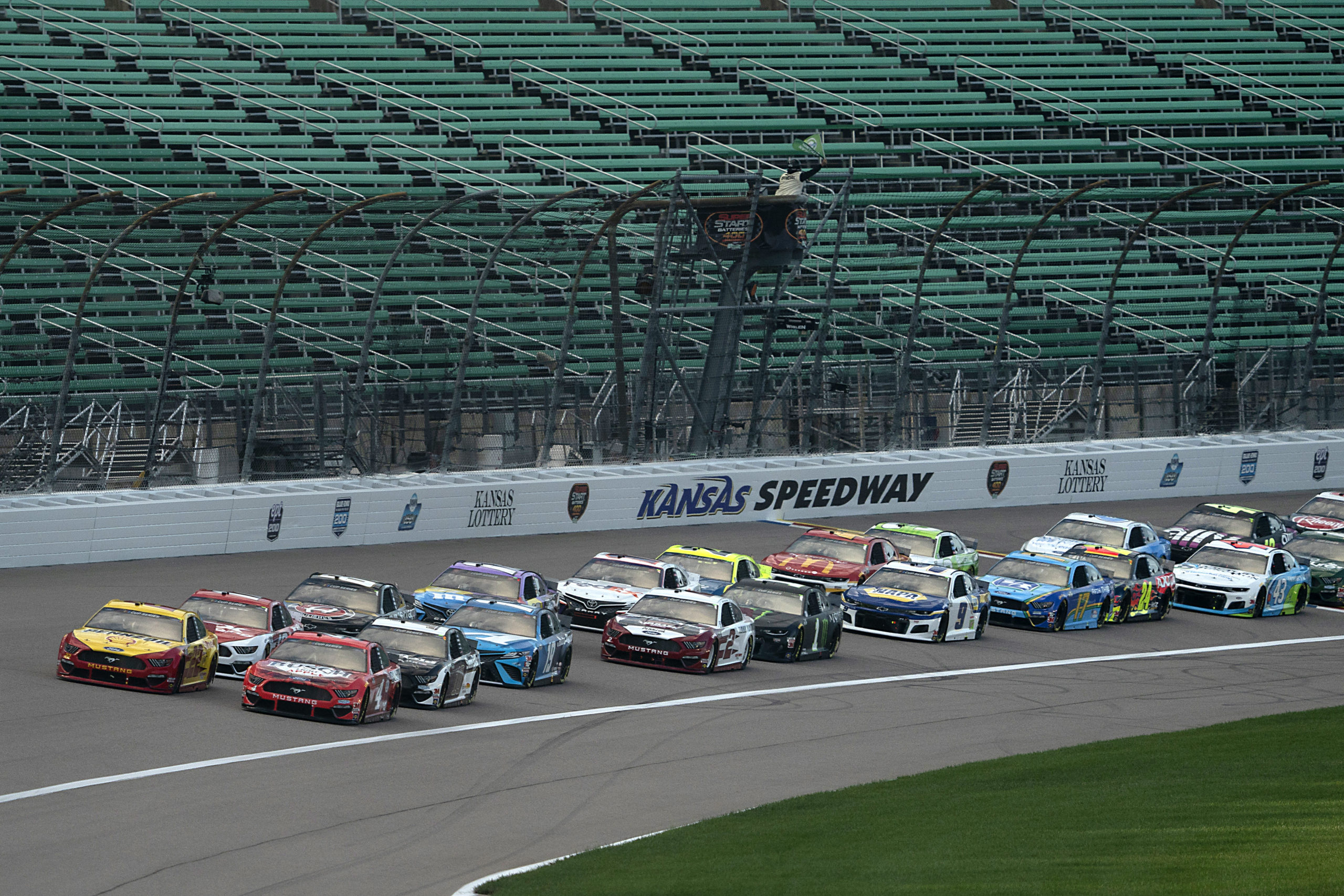 Who Will Follow Yellow Brick Road into Kansas Victory Lane?
KANSAS CITY, Kan. – Coming into round 11 of the 2021 NASCAR Cup Series season at Kansas, many top drivers and teams are still winless. Kansas has been a proving ground for many, as several drivers have multiple heartland victories. Can the 1.5-mile track give us another new winner on the year? Recent history at Kansas Speedway has favored a few drivers in particular.
Denny Hamlin
Last spring's Kansas winner, Denny Hamlin has won two of the last three trips to the heartland. Just a year ago, Hamlin led 57 laps en route to the victory. This time around though, Hamlin has to be seen as a favorite to repeat his past Kansas success. Aside from last week at Talladega, the 11 has six top-fives in the last seven races. Hamlin has also led over 700 laps this year and has a stranglehold on the points lead. The 11 team truly has done everything short of win this year. Kansas has been a strong track for Hamlin of late, with four top-fives in the last seven races here.
After such a dismal result from Talladega, Hamlin already has his eyes set on Kansas. "Talladega is behind us already," Hamlin said. "We're going back to a mile-and-a-half, where we have a little more control over our own destiny than at a superspeedway. We'll be ready to get things back on track and perform the way we have been all year. We have to just keep doing what we've done all season. The wins haven't happened yet, but we've run good races and will continue to do that. Even without a win, I still like where we're at." Hamlin will go for his fourth Kansas Speedway victory from the 20th starting position Sunday.
Kevin Harvick
Another three-time Kansas winner, Kevin Harvick has reason for optimism this weekend. After an uncharacteristically slow start to 2021, the 4 team has shown better performance in recent weeks. Harvick ran in the top 10 for much of the day at Richmond before a late crash, and finished fourth last week at Talladega.
Harvick's last trip to victory lane in Kansas came in 2018, and since then he has three top-10s. Last fall in Kansas, Harvick was utterly close to the victory but could not get around Joey Logano over the closing run. Harvick will hope to be one spot better this time, as the 4 will roll off from the fourth spot.
Joey Logano
The one who held off Harvick for last fall's win, Joey Logano's third Kansas win punched his ticket to the 2020 Championship 4. Just over six months later, Logano hopes for his second win of the season and also second-straight at Kansas. However, Kansas has been very feast-or-famine for the 22 crew in recent history. Last fall's win was only Logano's third top 10 in the last eight Kansas races. The other five races in that span were all finishes of 15th or worse. When Logano is on at Kansas, he's lights-out, but when he's off, he is far from his usual form. Logano will take the green flag from 29th on Sunday, do not expect him to stay back there long.
Brad Keselowski
2021's most recent new winner, Brad Keselowski also has a pair of victories at Kansas. His most recent triumph came in this race two years ago, for his 30th career victory. Aside from the 2019 win though, Keselowski has three finishes of sixth or better in the last five Kansas races. Recent history has been kind for the 2 at Kansas, so BK's chances at getting a second-consecutive win are high. The 2 will roll off from the pole Sunday by virtue of last week's win.
Martin Truex, Jr.
The only driver with multiple wins this season, can Martin Truex, Jr. make it three wins on the year at Kansas? MTJ's heartland stats are stout, with a season-sweep of both races here in 2017. Since then, he only has one finish outside of the top 10. The current dynamic at Joe Gibbs Racing is certainly puzzling; Denny Hamlin is leading loads of laps, while Truex has the most victories. Both of Truex's wins came at tracks that hold a pivotal spot in the Playoffs-the last two races. With Kansas also being a Round of 8 track, does MTJ put added significance on performing here?
"Every race is important," Truex said. "But obviously this is one you really want to run good at to give yourself that bit of confidence when we come back in the Playoffs. A lot will change between now and then, so just because you are good here this time doesn't guarantee that you will have success in the fall. But definitely running well and continuing to build a notebook for the Playoffs is important and that's what we want to do everywhere we go." Mile-and-a-half Martin will be chasing his third Kansas win after starting 15th on Sunday.
Chase Elliott
Similar to Denny Hamlin, Chase Elliott and the 9 team have done everything but win in 2021. The first 10 races feature four top-10s and two second-place finishes for the defending champion. Can Kansas be where Elliott turns his season around? This track has been favorable for Hendrick cars in recent years, with Elliott winning the 2018 Kansas Playoff race. Other than that, the 9 boasts six top-10s here, including in four of the last five. This streak leads the Cup Series in consistency at Kanas, as Elliott also has a series-best 5.0 average finish here over that span. Elliott knows that he is more than capable of Kansas success, as he is looking forward to this weekend.
"We had a pretty good run at Kansas last fall," Elliott said. "So we should have some notes that we can bring back this weekend. Kansas is a track, to me, that just feels different compared to other mile-and-a-half tracks. With the way the corners are shaped and with it being progressively banked, the top side is going to become dominant and, in my opinion, those tracks typically put on good shows." The defending Cup Series Champion will be digging in for his second Kansas win after starting 17th.
Kyle Busch
For many years, Kansas seemed to be Kryptonite for Kyle Busch. It was not until 2016 when the 18 finally won here, after 16 starts. Since that lone win though, Busch has been pretty consistent in Kansas. The past nine races feature seven top-10s for Rowdy, including fifth here in the fall. Busch is another driver hoping to turn his year around with an elusive first win, as recent history has him as one to watch at Kansas. The 18 will start ninth.
Ryan Newman
While far from a favorite for the Kansas win, Ryan Newman does have a victory here from back in 2003. However, Newman will hit a special milestone this weekend with career start number 700. Newman is only the third active driver to reach this milestone, behind Kevin Harvick and Kurt Busch. This milestone also ties Newman with his racing mentor, Buddy Baker, who also had 700 career Cup Series starts. Overall, Newman is obliged to reach this mark and honored to tie Baker.
"Seven-hundred starts means I'm old and that's okay, but it's a milestone no doubt," Newman said. "It just shows that I'm experienced, lost more than I've won just like everybody else in this sport, and it's pretty cool to still be doing something this long that I'm so passionate about."
"I didn't know Buddy Baker had 700 starts and that I'd tie him, but him being my mentor and driving coach (when I started) makes it even better. That's the most special part to me of reaching that number with having something in common with my hero in Buddy." Newman will be only the 19th driver to eclipse 700 Cup Series starts, as the 6 will roll off 14th in Kansas.
Who will outlast the competition to take the checkered flag in the Buschy McBusch Race 400 from Kansas? Coverage begins Sunday, May 2 at 3:00 p.m. ET on FS1, MRN, and SiriusXM NASCAR Radio Channel 90. The likes of Logano and Keselowski will make it tough for a new winner, but Hamlin, Elliott, or others could give us the 10th different winner in only 11 races.
Written by Peter Stratta
Be sure to follow us on Twitter.
Be sure to follow the writer on Twitter.
Photo Credit to Kyle Rivas/Getty Images for NASCAR