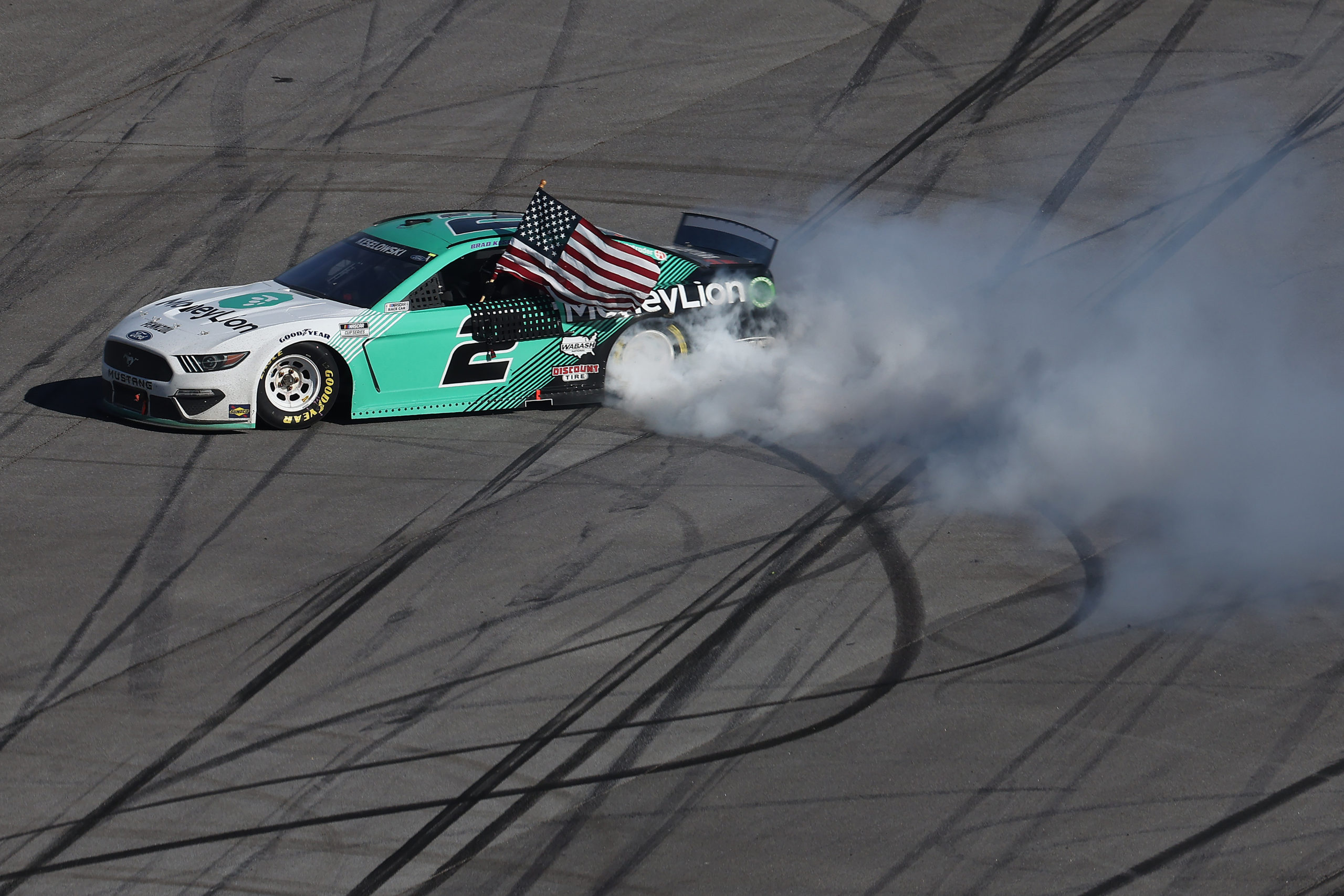 Brad Keselowski Earns Sixth Talladega Victory in Clutch Style
TALLADEGA, Ala. – After leading only the last lap, Brad Keselowski is now a six-time victor at Talladega Superspeedway. This ties him for second-most all time wins on the Alabama track alongside both Dale Earnhardt, Jr. and Jeff Gordon. While Keselowski was not up front for much of the day, lots of drama unfolded among the pack throughout 500 miles. The day appeared as if it belonged to fan-favorite Matt DiBenedetto. In the end however, it would be the 2 crew returning to Talladega victory lane for the first time since 2017.
To kick off the day's action from Talladega, Stage 1 remained largely clean and green. Through the lap 30 competition caution, there were five different leaders. This would include Bubba Wallace, who had to start last due to an illegal A-post. This issue befell every Toyota prerace except for the 18 of Kyle Busch. Once the race started though, this was of little issue, as Hamlin, Wallace, and the other Toyotas were up in the mix quickly.
Carnage to End Stage 1
Coming to the end of Stage 1, the intensity had ratcheted up with valuable points on the line. On the last lap, three Penske cars led the way with Matt DiBenedetto ahead of Ryan Blaney and Joey Logano. Entering turn three, Denny Hamlin just barely made contact with Logano, sending him sideways ahead of the field.
Amazingly, everyone scattered to avoid the 22, aside from a brief touch by Ricky Stenhouse, Jr. This touch was just enough to send Logano skyward, as the 22 flipped and landed on its roof. After sliding off the banking, Logano would end up back on his wheels but done for the day. Thankfully Logano was not injured in this blow over, but he did not mince words after having such a strong car.
Logano's Emotions Post-Flip
"I guess I don't know exactly what to think," Logano said after the crash. "It's a product of this racing. On the one hand I'm so proud to drive a Cup car that is so safe, that can go through a crash like that and get out and speak about it. I'm just happy to be alive. On the other hand I just think when are we going to stop? This is dangerous, doing what we're doing, I got a roll bar in my head. That is not okay. I am one hit away from the same situation Ryan Newman just went through. I just don't feel like that is acceptable. A lot of it is the big spoiler and the big runs and all the pushing.
"It is nobody's fault. Denny (Hamlin) is trying to go and the 47 is trying to go. It is a product of this racing. We have to fix it though. Someone already got hurt and we are still doing it, so that's not real smart. At the same time, I am appreciative of driving a car that is this safe and what Team Penske has done for the safety of these cars so that I can live to talk about it and go again. I got lucky that I didn't get hit while I was in the air." Logano would leave Talladega in a very dismal 39th-place.
Stage 1 a Success for Ford
The Stage 1 win did end up going to Matt DiBenedetto, marking the first Stage win of his career. As the 21 tries to dig out of their major points deficit from early in the year, a Talladega Stage win did wonders for their Playoff push.
Logano's car did make slight contact while airborne with the roof of Bubba Wallace. Due to heavy roof damage himself, Logano was not able to continue. The same could not be said of Wallace though, as the 23 still had a lot of speed. Also involved in this incident to end Stage 1 were Brad Keselowski and Chase Briscoe.
Hamlin's Self-Inflicted Penalties
Once Stage 2 got underway, Denny Hamlin showed his strength out front, but this would not last for long. On the first round of green flag pit stops, the 11 was speeding on pit road. To make matters even worse, Hamlin sped again while serving his pass-through penalty. Now a lap down, Hamlin's day became a lot tougher after back-to-back forced errors.
This opening stint of Stage 2 would only be slowed by one caution for fluid from Kurt Busch. Busch would go to the garage for repairs and return to the race several laps down.
More Trouble to End Stage 2
As laps wound down in Stage 2, it would be the 23 of Wallace leading the field. In the best showing to date for 23XI Racing, Wallace hoped to pick up his first-ever Stage win. This honor would be gifted to him when another crash forced a premature end to the Stage.
Denny Hamlin would be turned off the bumper of Martin Truex, Jr. hard into the outside wall. This forced the pack apart, sending William Byron down into his teammates Alex Bowman and Chase Elliott. Hamlin was trying to get back on the lead lap in any way possible, but instead ended up wrecked. What instigated this incident was a big block on Hamlin from Keselowski. Far from the win many expected, Hamlin would have to settle for a 32nd-place result.
Through two Stages so far at Talladega, we had witnessed two first-time Stage winners, both yearning for their first career win as well. With 60 laps remaining, it would be anyone's race to the checkers.
Intensity Brews in Final Stage
Much of this late run was spent in single-file formation up against the outside wall. Initially Ryan Blaney's 12 led this train, but grille debris forced Blaney to cede the top spot to Aric Almirola. Once the bottom lane reformed, Ross Chastain and Kevin Harvick swapped the lead back and forth. With one more round of pits stops left though, the race up front was still wide open.
A late caution for Quin Houff hitting the wall would set up a 12-lap dash to the checkers. Erik jones led in the 43 at the time of caution, but quickly got swallowed up by Matt DiBenedetto in the 21. As laps wound down, DiBenedetto looked closer and closer to his maiden victory. However, another restart stood between him and victory lane. An Overtime caution came out for a tire carcass from Truex.
Overtime Leaves Keselowski Smiling, DiBenedetto Yearning
On the Overtime restart, DiBenedetto and Keselowski were the front row. At the white flag, the 21 jumped up to block a big run from the outside lane, but this line fell apart behind him. This gave Keselowski down low all the momentum in the world. The 2 cleared the 21 for the lead down the backstretch, and held on all the way to the checkers. Keselowski just narrowly edged out both William Byron and Michael McDowell in a drag race back to the line. Meanwhile, DiBenedetto would fade to fifth at the finish.
After having the race in hand until the final two miles of competition, many hearts ached for DiBenedetto's crushing defeat. However, the Wood Brothers Racing driver remained optimistic after climbing out of his car. "Our day will come," DiBenedetto said. "I'm just lucky to drive this thing and have the support from everybody. The fans, they are so awesome. Driving for the Wood Brothers is really a dream come true.  Gosh, it's hard to come so close to so many of these things."
Keselowski's Winning Reaction
"What an awesome day today to bring the Money Lion Ford Mustang into Victory Lane," Keselowski said. "The whole race I had a couple opportunities to take the lead, but I just kept thinking, 'Man, keep your car in one piece.' We've been so close here and it just didn't seem to want to come together here the last few years and I've been on kind of a four-year drought here, but it's nice to get number six. I would have never dreamed I'd tie Jeff Gordon and Dale Earnhardt, Jr. here. That's something. Those guys are really legends.
"I'm just really proud of my team. We had an accident there early and they recovered and got it fixed up to where I could keep running. My crew chief, Jeremy Bullins, had a lot of confidence. I told him, 'I want to come in and put four tires on this thing,' and he said, 'Yep, go ahead.'  And that really helped a bunch at the end. Other than that, I'm just so excited. My daughters and my wife are here. They're in the motorhome lot. I don't know if they'll get to come to Victory Lane, but if not, they got to see daddy win, so that's pretty cool."
Keselowski on Frantic Last Lap
"If you're gonna lead 187 and not lead the last one, that's not so good. I think I'll take the last one and that's exactly how it worked out, leading the last one. It opened up, the lane did. Matt went to block the 12 and I just barely got inside of him with a huge run. I got a great push from Michael McDowell, which was really helpful and appreciated, so just a big day."
Top 10 Results from Talladega
Just behind Keselowski at the line would be William Byron, earning his best finish since winning at Homestead. Byron has yet to finish worse than eighth since then, a streak of eight-straight top-10s. This is the longest top 10 streak for any Hendrick driver in eight years.
Backing up his Daytona 500 win in third was Michael McDowell. Ever crafty at earning strong results on superspeedways, the 34 now has four top-10s this season. Fellow Fords Kevin Harvick and Matt DiBenedetto would round out the top five. The remainder of the top 10 went to Kaz Grala, Tyler Reddick, Austin Dillon, Ryan Blaney, and Cole Custer.
Numerology Behind Keselowski's Win
Talladega marked career win number 35 for Brad Keselowski, 24th-most all-time. Victory number six at Talladega also ties Jeff Gordon and Dale Earnhardt, Jr. for second-most all time. Keselowski now only trails Dale Earnhardt's impressive win total (10) at the Alabama track. For 11-straight years now, the 2 has won at lest one race, as this locks him into his 10th career Playoffs. Keselowski also pulled off a Talladega sweep of sorts, as he won Wednesday night's iRacing event at the virtual superspeedway. Keselowski is also the ninth different winner through 10 races in 2021.
What's Next for Cup
Up next for the NASCAR Cup Series is a return to the mile-and-a-half at Kansas Speedway. Can the Buschy McBusch Race 400 from Kansas provide a 10th different winner for 2021? Find out on Sunday, May 2 at 3:00 p.m. ET on FS1, MRN, and SiriusXM NASCAR Radio Channel 90. This race a year ago saw Denny Hamlin be lights-out dominant, while the fall race saw Joey Logano hold off Kevin Harvick.
Written by Peter Stratta
Be sure to follow us on Twitter.
Be sure to follow the writer on Twitter.
Photo Credit to James Gilbert/Getty Images for NASCAR