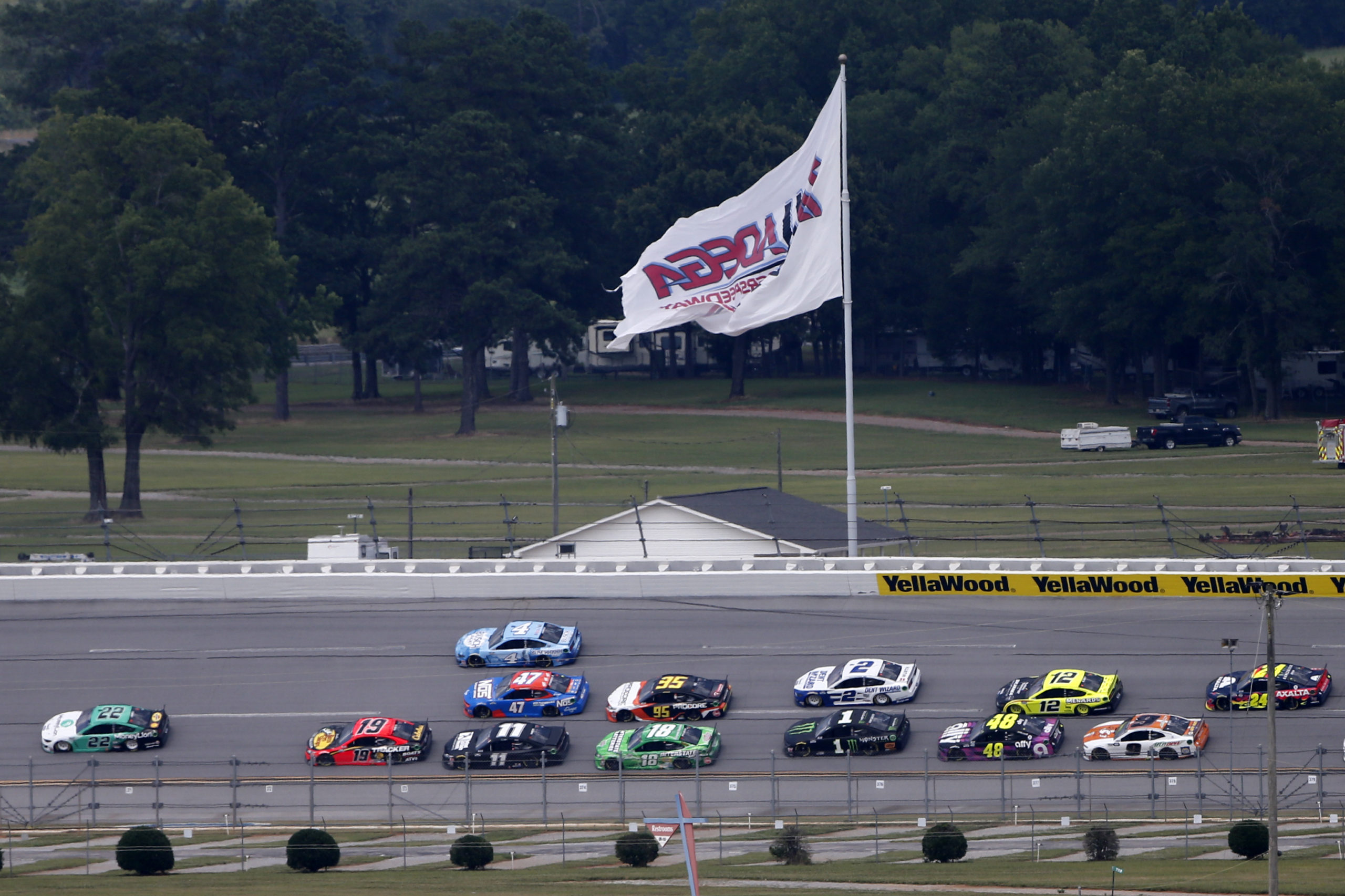 The Art of the Draft: Can Talladega Provide Another New Winner in 2021?
TALLADEGA, Ala. – Coming into Talladega, the 2021 NASCAR Cup Series season has eight different winners through nine races. As long as the regular season winners do not top 16, half of the Playoff field is already set. With the Alabama superspeedway being so prone to upset winners, the odds of a new driver pulling into victory lane are high. Of the nine active Talladega winners, seven have yet to win so far in 2021. Sunday at the 2.66-mile facility could be the site of one driver's breakout win of the year.
Brad Keselowski
A five-time Talladega victor, Brad Keselowski should enter this weekend with high confidence. Two months ago in the Daytona 500, Keselowski was a mile away from winning on Talladega's sister track. Penske cars are historically very competitive at both superspeedways, especially Talladega. One of The Captain's cars has won eight of the last 13 Cup races at Talladega. This span includes multiple wins for both Joey Logano and Ryan Blaney as well. However, the 2 crew has not finished better than 13th in Alabama since winning in 2017.
"I'm looking forward to this weekend," Keselowski said. "I think Talladega's a lot different than the Daytona 500, there's a lot more room to race. A lot of other things that go on. The way the cars drive is significantly different. I don't really think I have a lot of concerns, to be quite honest."
Keselowski also has a little added confidence after winning Wednesday night's eNASCAR Pro Invitational Series race from Talladega. The 2 machine will roll off 10th on Sunday.
Denny Hamlin
All that Denny Hamlin has yet to do this season is be first to the checkers. The Fedex 11 Toyota team have led nearly 700 laps, have nine top-fives, and a commanding points lead. However, what will it take for Hamlin to close out a race? Talladega may be exactly the venue the 11 team is hoping for.
"Yeah, there's frustration, for sure," Hamlin said of not winning. "But it doesn't change my attitude or work ethic. I'm going to work just as hard to win next week and the week after that. You're a competitor, you want to win. Especially when you have a great opportunity to win." A two-time Talladega winner, Hamlin won at the Alabama track just six months ago in the Playoffs. Oddly enough, that is his most recent trip to victory lane. Starting from the pole, Hamlin has to enter Talladega as a favorite. The 11 team has been firing on all cylinders this season, it is only a matter of time until they score another win.
Kevin Harvick
Although the most recent of his two Talladega wins came way back in 2010, Kevin Harvick could be a sleeper this weekend. The 4 has been off of their usual dominant pace this year, but Richmond was a glimmer of hope. Harvick ran well inside the top 10 for much of the afternoon, until a late flat tire relegated him to a dismal 24th at the finish. With Harvick's veteran experience and knowledge of the draft, he could pull off a bit of an upset at Talladega. Amazingly, the Stewart-Haas 4 team has yet to win on a superspeedway, this could all change in a matter of hours. Do not forget that Harvick did finish an impressive fourth at the Daytona 500.
The 4 is not quite a heavy favorite entering Talladega, but Harvick is certainly has the comprehension to be out front after 500 miles. Will his Ford teammates push him to the win?
Chase Elliott
2019 spring Talladega winner Chase Elliott is still searching for his first win as defending Champion. The 9 team has been close multiple times this season, but much like Hamlin have yet to seal the deal. After finishing runner-up to Michael McDowell in the Daytona 500, could Elliott be one position higher at Talladega? Elliott is more than aware that you need friends in the pack to assist in moving forward, and Hendrick appears to have their inter-team relationships scienced out.
Helping Hands at Hendrick
"It's definitely nice to have friends at certain points in the race," Elliott said. "Always the tough question for everyone is, 'When do the gloves come off? When can everyone go after it?' Our mentality, I feel like, has been really fluid over the years. We've developed a good relationship amongst ourselves and our three Hendrick Motorsports teammates in knowing how we can help each other and how we can all benefit and get all of us into a position to have a shot.
"Then from there, we can go race and do what we need to do. It's such a fluid thing. It changes throughout the race, but I think the biggest piece of that whole puzzle is pitting together and getting on and off pit road really well. Maximizing your time there can position you in the best place to be up toward the front after everything cycles through. That's the biggest area I think we can help each other, and I think we've done a good job doing that in the past."
On paper, the Fords have the numbers entering Sunday and may have the advantage in alliances. However, we saw just two years ago a couple Hendrick cars lead Chase Elliott to the Talladega win. Can the 9 pull one off after going winless for nine races? Elliott will take the green flag in eighth.
Ricky Stenhouse, Jr.
2017 Talladega winner Ricky Stenhouse, Jr. has had a very intriguing start to 2021. Through the first nine races, the 47 has not finished worse than 18th, and has a best finish of second at Bristol dirt. This currently has him 14th in points. With his superspeedway aggression and prowess, Stenhouse is a wildcard driver this weekend who could end up winning or wrecking out.
Since his first career win in this race four years ago, Stenhouse has four top-fives here, including a runner-up here last year. A season ago the 47 just barely got beat by Ryan Blaney, falling 0.07 seconds short of the win. Can Stenhouse reverse his fortunes this time around? Being in the thick of the Playoff points battle, Stenhouse's strategy this weekend must be more calculated, as he is hunting for every possible point.
Points versus Aggression
"For us, it's just to go out and try to get a win and get some Stage points," Stenhouse said. "We came up short at Daytona, just the way things played out, where we were in the pack coming down the stretch at some of those Stages, we didn't get the Stage points that we got last year and it kind of put us behind a little bit. But I feel like we've been making up for that with the end results, the finishing results. So, we'd like to get some more Stage points.
"We know our NOS Energy Drink Camaro is going to be really fast. It always is. The guys have been massaging on it and working on it hard. When we've got it ready to go, we've just got to be one spot better than what we were at this race last year. All in all, it's just really about trying to get to the checkered flag and making sure that we have a chance for the win."
One thing is for certain, Stenhouse will be a show to watch on Sunday, as he is always one to mix it up on the superspeedways. With a Playoff spot dangling in front of him, nothing may separate the No. 47 Chevrolet from the checkered flag.
Aric Almirola
Much like Stenhouse, Aric Almirola also had his most recent win at Talladega, in the fall of 2018. The 10 team's start to 2021 had been absolutely horrendous, until last week in Richmond. After a very clean and mistake-free day, Almirola came home in sixth, his first top 10 of the year. With this bit of momentum, the 10 hopes to continue their strong results into Talladega.
"I think pointing our way in from here is a long shot for sure," Almirola said. "Especially just because we haven't scored a lot of Stage points anyway and our cars have been off, so a good day for us is similar to what we ran at Richmond. We flirt with the top 10, you score a few Stage points and get a top 10 finish. That's what we've been capable of lately. I know the guys at the shop are working hard to get our cars back to where they need to be to go compete for wins every week, but that's something I've thought a lot about. I don't know that we'll be able to point our way in.
Almirola Eyeing the Checkers
"We're gonna need to win, and Talladega is a great opportunity for us to do that, but we can't do that if we're on a wrecker. So I think it is important for us to be mindful of that, making sure that we get to the finish so that we have a shot to win the race. I personally think that winning at Talladega is more important than scoring 20 Stage points and two Playoff points from winning both Stages, but ending up in a big wreck. So, if I had to trade one for the other, I would definitely trade the win for any sort of Stage points or bonus points."
At 27th in points, it's looking win-or-bust for Almirola to have any shot at the 2021 Playoffs. Almirola is more than capable of being up front at the end this weekend. Last year in this race the 10 finished third while sliding backwards across the stripe. If Almirola can stay pointed forward this time, then this Ford could end a winless streak of more than two years.
The only definite entering Talladega race weekend is the unpredictability and the entertainment factor. One very deserving driver will stand tall as a Talladega winner after 500 grueling miles on Sunday. Can one of the above mentioned drivers earn their first victory of 2021, or will we see a first-time winner? Be sure to tune into FOX Sunday at 2:00 p.m. ET to catch all of the craziness.
Written by Peter Stratta
Be sure to follow us on Twitter.
Be sure to follow the writer on Twitter.
Photo Credit to Brian Lawdermilk/Getty Images for NASCAR