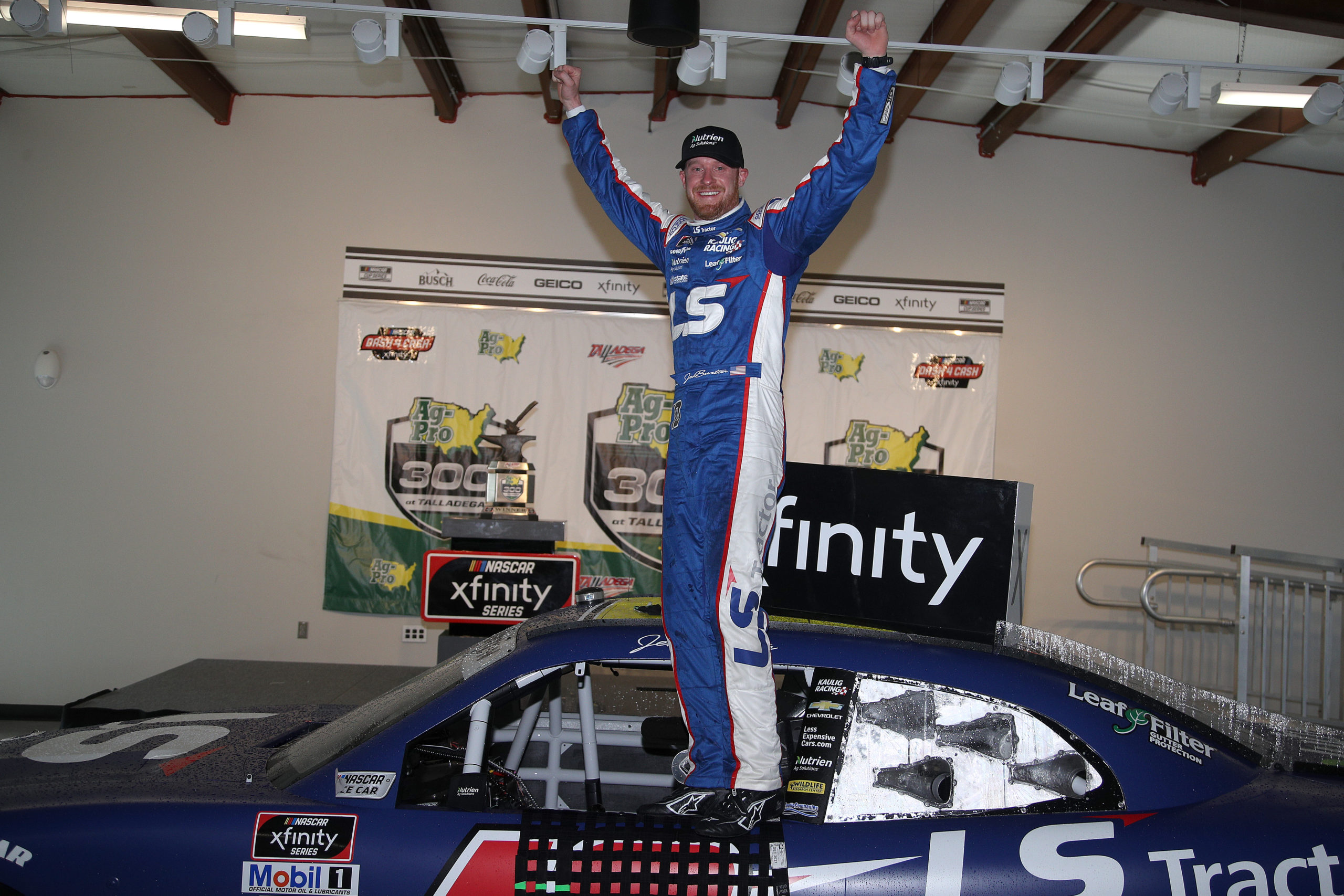 Jeb Burton Wins Rain-Shortened Race at Talladega
TALLADEGA, Ala. – Jeb Burton found himself in the right place at the right time as he was out front when the rain began to fall at Talladega Superspeedway. Track size combined with no lights gave NASCAR no other choice but to call the race with Burton being the winner. The win is Burton's first of his career in the Xfinity Series. It also gives Kaulig Racing their third-straight victory at Talladega.
Justin Haley Takes Late Lead to Win Exciting Stage 1
Austin Cindric started out front but it was Daniel Hemric who took the lead on the outside lane. Hemric spent the first half of Stage 1 fending off runs from both lanes before losing the lead to Noah Gragson on lap 16. These two, along with Cindric took turns leading the race over the next few laps.
Coming to the final lap of Stage 1, leader Gragson went to block Cindric in the top lane, which gave Justin Haley a big run on the bottom lane. Haley surged past both to take the lead and hold on for the Stage win. Haley was going for his third-straight Talladega win after sweeping both races last season. The 11 would take the Stage 1 win after leading only the last lap.
Impending Weather Sets Up Wild Stage 2
For days leading up to Saturday's race, the forecast had been calling for rain. Luckily for drivers and fans, the rain subsided early in the day but there was still a threat later on. The drivers knew rain could hit at any time so they had to make their way to the front.
Jeb Burton started the Stage as the leader with his teammate, Haley, just behind. It took just a few laps for the intensity to ramp up as the field went two and three wide. Austin Cindric got back to the lead about halfway through Stage 2 and did a good job holding off the pack. Unfortunately for Cindric, he had possibly the most aggressive driver behind him in Gragson. Gragson wouldn't be satisfied with second as he used a push from his teammate, Justin Allgaier, to pass Cindric on the final lap to win Stage 2.
Stage 3 Starts Tame but Gets Chaotic
With all the excitement in the first two stages, Stage 3 was sure to be the best of them all, but it didn't start that way. Cindric took the lead from Myatt Snider just two laps after the restart and took the field to the top lane, where they ran single file. It seemed like most drivers just wanted to ride for a little bit after a crazy start to the race.
Ten laps went by with little action before the leaders came down pit road for pit stops. The first wave included Cindric, Gragson, Allgaier, and Josh Berry. A lap later, Harrison Burton, Jeb Burton, Daniel Hemric, Ty Dillon, and others came in.
Just six laps after his pit stop, Berry spun in turn three after losing a tire. A few drivers had yet to pit so they came down for tires and fuel.
First Multi-Car Crash Combined with Rain Ends Day Early
Once the leaders pitted, Harrison Burton cycled back out as the leader with Austin Cindric starting outside him. Jeb Burton worked his way around his cousin, Harrison, on lap 82 in what would turn out to be the pass for the win.
Three laps later, a multi-car crash coming off turn two brought out the caution for the first big incident of the day. Joe Graf, Jr. slid up into Michael Annett and Brandon Jones. Ty Dillon, Joey Gase, and Caesar Bacarella were also involved. It was another disappointing result for Dillon as he's now crashed out of two of his four starts this season.
While under caution, heavy rain began to fall. NASCAR decided to red flag the race on lap 90, just over 20 laps short of the scheduled finish. The decision was quickly made to call the race with Jeb Burton getting the victory.
Jeb Burton's Winning Reaction
For Jeb Burton, Talladega marks his first NASCAR victory in nearly eight years. His first career Xfinity Series win locks him into the Playoffs, and he was definitely emotional after the big breakthrough win.
"Unbelievable, man," said Burton. "It's been a tough road to get to this point. Just an unbelievable race team. Today we had Mother Nature on our side, but we had a fast car anyway. We ran up front all day."
"We've been building and building and building, and I feel like I've kind of been the weak link the last couple of races, and I need to clean some things up. Just the momentum—that's what I needed. I want to win races. I told them (Kaulig Racing) that I wanted to come there and hang banners."
Burton's Talladega win also marks the third-straight on the Alabama track for Kaulig Racing. Two of their three cars are now in the 2021 Xfinity Series Playoffs.
Top 10 Results at Talladega
Burton's win moves him up to fifth in the standings and clinches a Playoff spot. Runner-up Austin Cindric led a race-high 24 laps. Burton's teammate, AJ Allmendinger, ran third, while Riley Herbst and Ryan Sieg rounded out the top five. Herbst has quietly turned the corner after a rough start. He's now finished better than sixth in three of the last four races.
Noah Gragson, Brandon Brown, Justin Haley, Myatt Snider, and Harrison Burton rounded out the top 10. Gragson took home the $100,000 Dash-4-Cash bonus for the second-straight race.
Your Dash 4 Cash drivers for Darlington are Gragson, Burton, Cindric, and Allmendinger.
What's Next for Xfinity
After another off week for the Xfinity Series, they will be back in action in two weeks. Darlington Raceway will host the Steakhouse Elite 200. Coverage will be Saturday, May 8 at 1 p.m. ET on FS1. Last year, both Darlington races produced exhilarating finishes. Hopefully, the theme will carry over to 2021.
Written by Nicholas Sterling
Be sure to follow us on Twitter.
Be sure to follow the writer on Twitter.
Photo by Sean Gardner/Getty Images for NASCAR