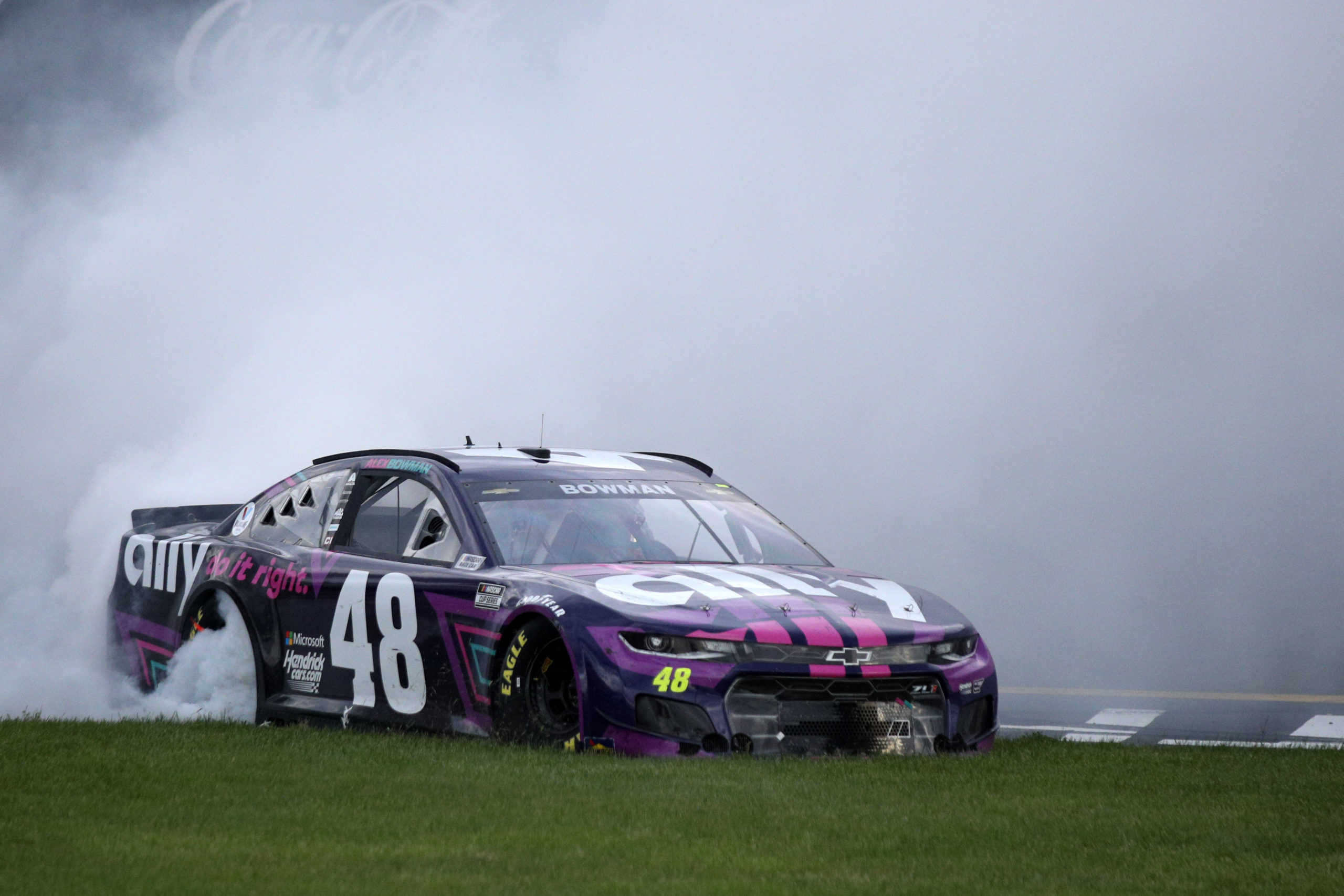 Alex Bowman Capitalizes on Late Race Caution to Win at Richmond
RICHMOND, Va. – Alex Bowman scored the victory after a late-race pass at Richmond Raceway. On a restart with 11 to go, Bowman charged underneath Denny Hamlin from third. The No. 48 made quick work of Hamlin and pulled away, never to be caught. Bowman brings the No. 48 back to victory lane for the first time since June of 2017. He also puts sponsor Ally Financial in victory lane for the first time.
"Greg Ives and all the guys, they gotta deal with me at short tracks," Bowman said after climbing from his car. "I drive these places really wrong and instead of trying to make me figure it out, we went to work on trying to get the race car to where I needed it to be. Greg has done such an amazing job at making that happen…It also means the world to be able to win for Ally. Appreciate the opportunity and we have more races to win this year."
Bowman made many mentions post-race on his lackluster record with short tracks. Today, he went head-to-head with two of the best.
"To be honest with you, we were terrible on short runs. We restarted third and I was like man, if we get out of here with a solid top-five, we'll be good. We'd overcome a lot today. I don't know if Greg pumped the pressures way up or what he did, but that was more grip than I'd ever had in a race car at Richmond. It worked out really well. Getting to race a guy like Denny at a place like this is really cool. I feel like we raced each other really clean, it means a lot."
The 48 Team Finds Victory Lane With Heavy Hearts
In late November 2020, Rowdy Harrell and his wife Blakely were tragically killed in an automobile accident during their honeymoon. Rowdy was a member of the No. 88 (now 48) team for a number of years and was always known for his bright and fun personality. As the team returns to victory lane for the first time, they certainly remember the two they've tragically lost since.
"This one is for Rowdy and his family," Bowman said. "Miss him and Blakley every day. Our group has a lot of personalities…Rowdy was that big outgoing personality that kept the group pumped up in any situation. He was always happy, no matter what the circumstance was. He meant a ton to our race team."
Alex Bowman Had Some Gas Post Race
Post-race, Alex Bowman had enough gas for a burnout and then some. Following his chat with media, Bowman's crew chief Greg Ives sat down in the chair Bowman had just left. As he was taking his place, Bowman yelled out, "I farted in that chair though, so if it's a little warm, I'm sorry." You can see the full funny moment below:
NASCAR's Next Stop:
The traveling circus of NASCAR rolls on to Talladega, Alabama next weekend. Alex Bowman and his crew will look to go back-to-back with a win at NASCAR's biggest oval. You can find the GEICO 500 on FOX, MRN, or SiriusXM NASCAR Radio Channel 90 at 2:00 p.m. ET.
Written by Noah Lewis
Be sure to follow us on Twitter.
Be sure to follow the writer on Twitter.
Photo credit to Sean Gardner/Getty Images via NASCARMedia.