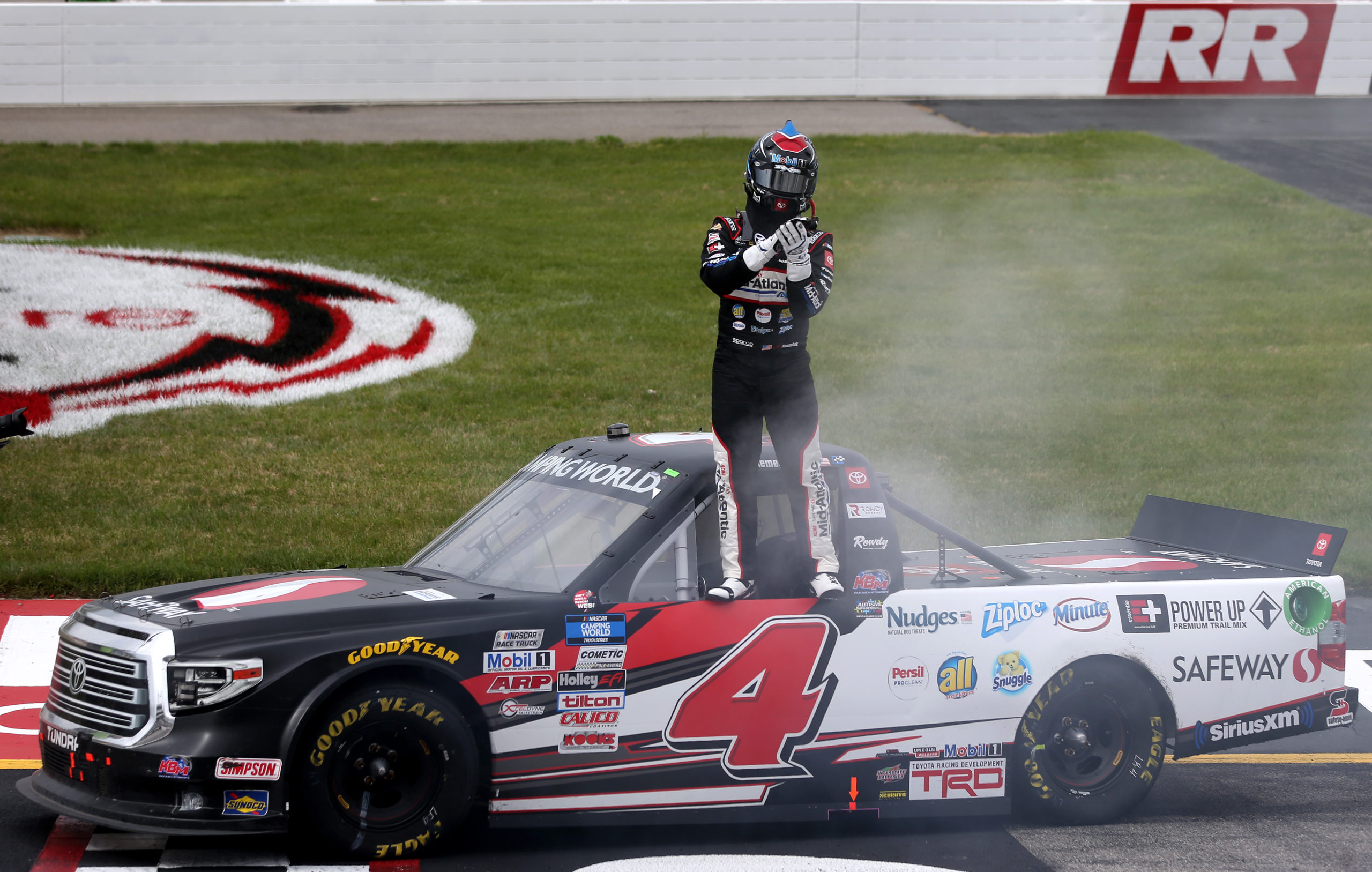 John Hunter Nemechek Scores Second Victory of the Season
RICHMOND, Va. – John Hunter Nemechek scored the victory in Saturday's ToyotaCare250 at Richmond Raceway, leading 114 of 250 laps. The 23-year-old Mooresville, N.C. native grabbed the win ahead of KBM team owner Kyle Busch for the second time this season. This marks the 8th Camping World Truck Series win for Nemechek in 108 starts.
"I just can't thank Kyle and everyone at Toyota, all of our great partners," Nemechek said after climbing from his truck. "It's pretty cool to come out here and do what we did, we had a really fast truck. I'm super proud of all of my guys. Two wins, #Here4Wins, let's go get more!"
Since the last race at Bristol Motor Speedway, Nemechek and his wife Taylor welcomed their daughter Aspen into the world.
. @taylornemechek and I welcomed Aspen Palmer Nemechek into this world on March 31st, 2021. We were so excited to finally meet her! I'm proud of Taylor and thankful that everyone is healthy and well! Excited for the future and can't wait to see what you accomplish Aspen! 🤍 pic.twitter.com/x1MbqSddgq

— John Hunter Nemechek (@JHNemechek) April 3, 2021
Following the race, Nemechek told media that becoming a father has changed his perspective and certainly his typical day-to-day life.
"I definitely feel like I'm a little more tired than I would have been," Nemechek said. "But, at the same time, Taylor and Aspen are here with me this weekend, out in the motorhome. Taylor took the reigns and took care of Aspen last night so I can sleep, being able to come into this thing fully prepared to try and get a win. I can't thank her enough for everything.
There was a little bit of crying last night but it wasn't too bad. I got up once early this morning, made her a bottle, and actually fed her. So, I didn't get to sleep fully through the night, but it's nice to wake up having Aspen in the bus and Taylor as well."
Kyle Busch Happy with KBM Success
While Kyle Busch may have finished second to his driver John Hunter Nemechek again, the overall picture of his team winning four races in a row has to excite the Cup Series champion. With each of his drivers having a shot to win late, Busch seemed to be in good spirits post-race.
"It's good man, that's what we set out to do each and every year," Busch said when asked about four straight victories. "John Hunter is living it up and doing a good job. I feel like getting Chandler back in the game and having him run strong today, hopefully, that can keep going. When we get Drew Dollar and some of the other guys back into the 51 truck, it's going to be about carrying it through."
Where You Can Find the Next Truck Series Race
The Camping World Truck Series will next hit the track at Kansas Speedway on May 1st. John Hunter Nemechek will look to go back-to-back at a place he's had strong runs before. His team, Kyle Busch Motorsports, will look to claim their fifth straight win. You can find all the action on FS1 at 7:30 p.m. ET.
Written by Noah Lewis
Be sure to follow us on Twitter.
Be sure to follow the writer on Twitter.
Photo credit to Brian Lawdermilk/Getty Images via NASCARMedia.