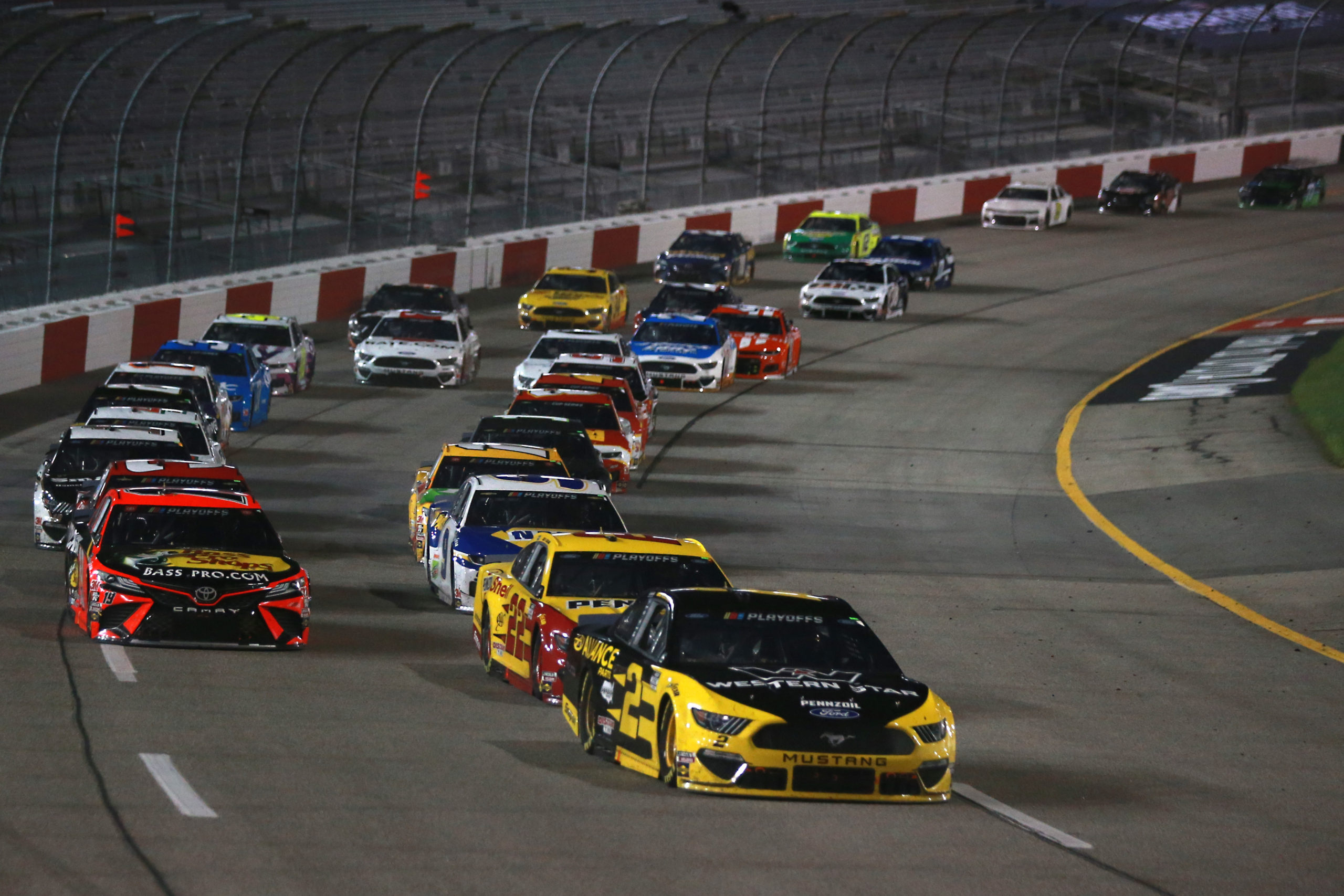 Several Past Richmond Winners Still Winless in 2021
Coming into Sunday's Toyota Owners 400 at Richmond Raceway, many high-profile drivers are 0-for-8 in 2021. Of these winless drivers, a few in particular are especially strong at Richmond. These include past champions and some of the best driving talent on track today. The different winners streak to open the year did end last week at Martinsville. However, one of these Richmond ringers could become the next new winner of 2021.
Denny Hamlin
Currently the points leader by a wide margin, Denny Hamlin's 2021 so far has been quite puzzling. The Fedex 11 has a top five in all but one race, but has yet to win. Last week in particular was an especially tough loss for Hamlin; after leading 276 laps at Martinsville, Hamlin faded late to third. Being the most consistent driver all year, Hamlin hopes to earn his first victory of the year at his home track.
"It's always great getting to race at my hometown track," Hamlin said. "I've been fortunate to have had success at Richmond in my career, and I know my team and I are excited for the challenge ahead this weekend to hopefully get a win."
Hamlin went on to describe just how close he has been to winning so far this year. "We can win any given week. We just keep getting beat by one or two cars that have a little bit better balance. But we're getting closer. There's nothing saying we can't win the next three races."
Hamlin's Richmond career is highlighted by three wins, most recently the 2016 fall race. Since then, the 11 has five top-fives in seven Richmond races. After being denied after such a dominant run last week, expect Hamlin to be a heavy favorite this weekend.
Kyle Busch
On paper, Richmond Raceway is one of Kyle Busch's best venues on the circuit. Driver No. 18 has six wins at the Virginia short track, most recently a sweep of both 2018 races. However, Busch also won four-straight spring races from 2009-2012. In fact, 2018 was his first time winning the fall Richmond race.
For whichever reason, Busch is usually especially stout in the spring Richmond race. In four of the past six early-season trips to Richmond, Busch has finishes of eighth or better, including three podium results. Busch's 2021 stats have been a bit across the board, but the 18 could be banking on Richmond for a turnaround result.
After being involved in the big lap 387 pileup last week at Martinsville, Busch gutted it out for a 10th-place result. Far from Busch's typical short track dominance, could this blue collar top 10 give the 18 momentum for Richmond? Busch is hoping for his fifth top 10 of the year at The Action Track.
Kevin Harvick
Although Stewart-Haas Racing as a whole is in a bad slump, do not count out Kevin Harvick for a strong Richmond finish. While Harvick is a three-time Richmond winner, his last victory came in 2013. The 4 team is 0-for-13 at Richmond, but in the past five trips here they have a worst finish of seventh.
Harvick has been admittedly off so far in 2021, but a very tenacious run in Martinsville ended with the 4 placing ninth. Throughout much of the race, Harvick ran around the teens but slowly and methodically worked his way ahead towards the finish. Can a similar result fall the 4's way in Richmond? The 4 has work to do to find their way back towards domination, the first step in the right direction for Kevin Harvick can come this weekend.
Brad Keselowski
Last fall's Richmond winner, Brad Keselowski is hoping for a similar fortune this time around. Just seven months ago in the Richmond Playoff race, Keselowski was lights-out dominant. The 2 led an astounding 192 of 400 laps, en route to his second career Richmond win. With such a strong run last fall, Keselowski has to be seen as a favorite right alongside Hamlin this weekend.
Aside from last year's win, Keselowski is riding a streak of five-straight top-10s at Richmond. The Penske 2 team in particular loves flat short tracks, so Keselowski enters this weekend with high confidence.
Kurt Busch
A very hot-or-cold driver at Richmond is two-time winner Kurt Busch. Although his last Richmond victory was in 2015, the 2004 champion has had promising moments since then. The last nine Richmond races have yielded four top-10s for Busch, but none since 2017. The Ganassi 1 team are far from favorites entering the Toyota Owners 400. Do not be surprised however to see this Camaro end up in the top 10.
So far this year Busch has a pair of top-10s, but not since Homestead has he finished up front. Much like with Stewart-Haas, 2021 has been a bit of a struggle for Ganassi.
The Toyota Owners 400 will go green shortly after 3 p.m. ET on Sunday, April 18. Coverage will be on FOX, MRN, and SiriusXM NASCAR Radio Channel 90. The third-straight short track race should be quite the show, as tempers may boil over from Martinsville. Can one of the above winless drivers finally break into victory lane, or will we see a familiar face win at Richmond?
Written by Peter Stratta
Be sure to follow us on Twitter.
Be sure to follow the writer on Twitter.
Photo Credit to Sean Gardner/Getty Images for NASCAR