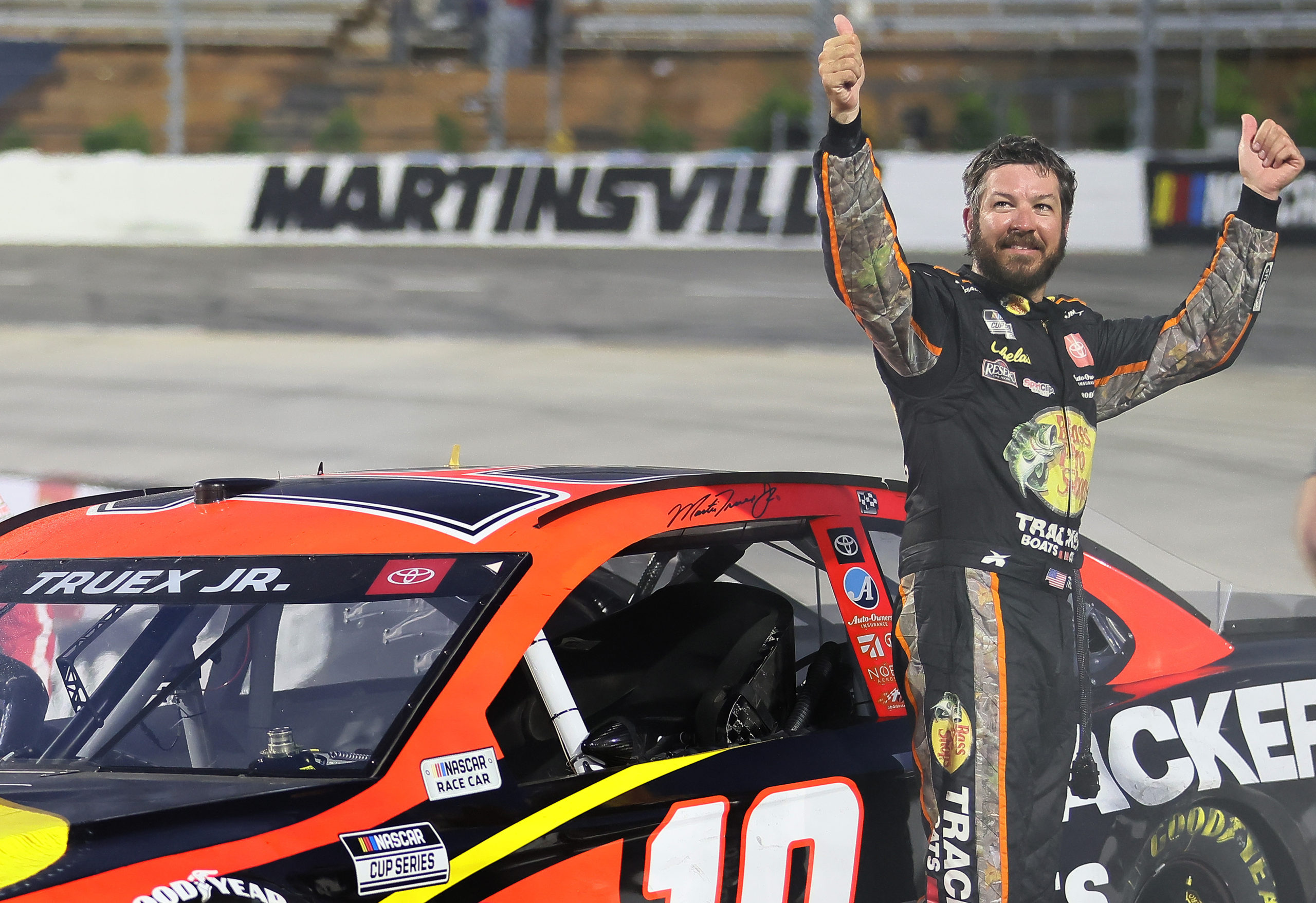 Martin Truex, Jr. Comes in Clutch for Third Victory at Martinsville
RIDGEWAY, Va. – 2021's streak of different winners to open the NASCAR Cup Series season ended on Sunday. After passing teammate Denny Hamlin late, Martin Truex, Jr. drove off to his second win of the year and third of his career at Martinsville. The Virginia half-mile is very appropriately named, as it has certainly been Martin's-ville in recent years.
Although Truex was the victor Sunday, he only led 20 laps. Throughout the 500 laps though, several other drivers held command. In the end though, it was tenacity, patience, and grit that delivered Truex his second win of the year.
Blaney Dominates Opening Stages
With harsh weather as a constant threat, Martinsville did initially start on Saturday night just after 9 p.m. ET. However, the rain would only hold off for 42 laps, pushing the remainder of the race to Sunday afternoon. These opening 42 circuits were dominated by Denny Hamlin, who was hunting his sixth Martinsville win and also his first victory of the year.
Once the race resumed on Sunday though, Hamlin was quickly passed by Ryan Blaney. Blaney took the lead on lap 75 and did not look back, taking the Stage 1 win handedly. Stage 2 would be much of the same for the 12, as Hamlin's short run car fired off strong, but Blaney's long run car paid off in the end. In a max-points effort, Blaney would sweep both Stages at Martinsville. Team 12 came into Martinsville confident, after finishing second twice here a year ago. Both of the opening Stages would be halted by two cautions apiece for minor spins, but otherwise remained clean and green. The same could not be said of the final Stage, where chaos began to ensue.
Hamlin Takes Over
Hamlin would be on point again for the start of the final Stage, as the 11 appeared unbeatable on restarts. However an ill-timed caution for Cody Ware spinning would set up a split strategy among the leaders. Six drivers stayed on track, setting Hamlin back for the restart. William Byron, who restarted behind Hamlin on the same tire strategy, took the lead away from Bubba Wallace. A caution for a Kyle Busch spin though allowed Hamlin to retake command on pit road.
As the race passed 150 laps to go, Hamlin was in his element. Nobody could touch the 11 on restart after restart, as Hamlin showed his Martinsville prowess. Hamlin was seemingly on his way to a sixth grandfather clock after such a strong showing, as the laps continued to tick by.
The Big One… at Martinsville?
After spinning to bring out the lap 322 caution earlier, Kyle Busch was not having a strong day. While running mid-pack with Chris Buescher, the 18 made contact out of turn two. This sent both cars sideways in front of the pack, causing a big pileup on the backstretch. This carnage resulted in a red flag for cleanup, which lasted over 20 minutes.
This crash would be the end of the day for many drivers, including Daniel Suarez. The Trackhouse No. 99 would have to park a turn one as flames engulfed the racecar. After Suarez exited the burning machine, he showed his displeasure to William Byron by throwing a water bottle at the 24.
Suarez later said of Byron that "We made a lot of mistakes today. The 24 was the reason I was in that position. He'll have one coming." Tempers certainly flared on the short track, as this major crash involved 13 cars total.
With just over 100 laps left, Hamlin would restart alongside Blaney yet again. After dominating both Stages, Blaney had been buried in the pack until this point. With a shot at grabbing the lead, the 12 was aggressive on the restart but it would not pay off. Hamlin cleared Blaney with ease, but did not drive off from the 12. Blaney was keeping Hamlin on his toes from just a few car-lengths back.
Tough Break for Blaney
The final caution of the afternoon would fly just inside of 50 laps left when Chase Briscoe spun in turn three. Pit stops here would be crucial for the leaders, and one of them would fumble. Ryan Blaney exited pit road in fifth, but got penalized for dragging his air gun out of his pit box. After leading 157 laps and winning both Stages, the 12 would have to settle for 11th at the finish.
A new contender was up front now among the leaders, Chase Elliott. Once racing resumed, it was the trio of Hamlin-Truex-Elliott. Truex, who initially restarted as the leader, quickly got passed by Hamlin, but did not fade from the 11's rear bumper. Their tight racing allowed the 9 of Elliott to close in heavily over the final laps.
As the laps wound down, the top three drove away from the field. It would not be until lap 485 when Truex finally got the edge on Hamlin. The 19 passed the 11 cleanly and began to drive off. Elliott also got by the 11, but it was too little too late. After making a timely pass on Hamlin, Truex led the final 16 laps to win at Martinsville. Over the past four Martinsville races now, Truex has won three of them. After being winless on short tracks until 2019, is MTJ the new short track king?
Top 10 From Martinsville
Behind Truex, Elliott ties his best finish of the year in second. Elliott said that it was "Nice to just have a smooth day. We need to build off this." Hamlin faded late to third behind Elliott, after leading a race-high 276 laps. Hendrick teammates William Byron and Kyle Larson were also fourth and fifth. The rest of the top 10 went to Joey Logano, Tyler Reddick, Christopher Bell, Kevin Harvick, and Kyle Busch.
Truex's Winning Reaction
"It was pretty incredible there at the end," Truex said. "The Bass Pro Toyota – James (Small, crew chief) and the guys really hung with me all day. We never could get quite where we wanted it. It started getting dark and she came to life.
We got so many people that help us out. I can't believe we won here again after not having the dominate car here today for sure. That was a lot of fun there racing at the end with Denny (Hamlin). We raced clean and we were able to come out on top.
This is unbelievable. This place has become a playground for us I guess. We didn't have the best car all day, but we just kept working on it and never quit on it. We came on at the end and that's when it counts. There's something about when the lights come on here, we're really good so that was cool."
Truex went on to describe the closing laps battle. "It was good, hard, clean hard racing. He (Denny Hamlin) was getting tight. I couldn't get the power down so we kind of had opposite things going on there. I could get inside of him, but I couldn't clear him, he could get the power down on me. It was a fun battle and it was a clean battle. Coach (Joe Gibbs, team owner) will be happy tomorrow. We didn't make each other mad or do anything stupid."
What's Next in Cup
Up next for the NASCAR Cup Series is another short track at Richmond Raceway. Coverage of the Toyota Owners 400 will be Sunday, April 18 at 3 p.m. ET on FOX, MRN, and SiriusXM NASCAR Radio Channel 90. Can Truex go back-to-back and get his third win both at Richmond and of the year? He will certainly be a heavy favorite heading into Sunday.
Written by Peter Stratta
Be sure to follow us on Twitter.
Be sure to follow the writer on Twitter.
Photo Credit to James Gilbert/Getty Images for NASCAR