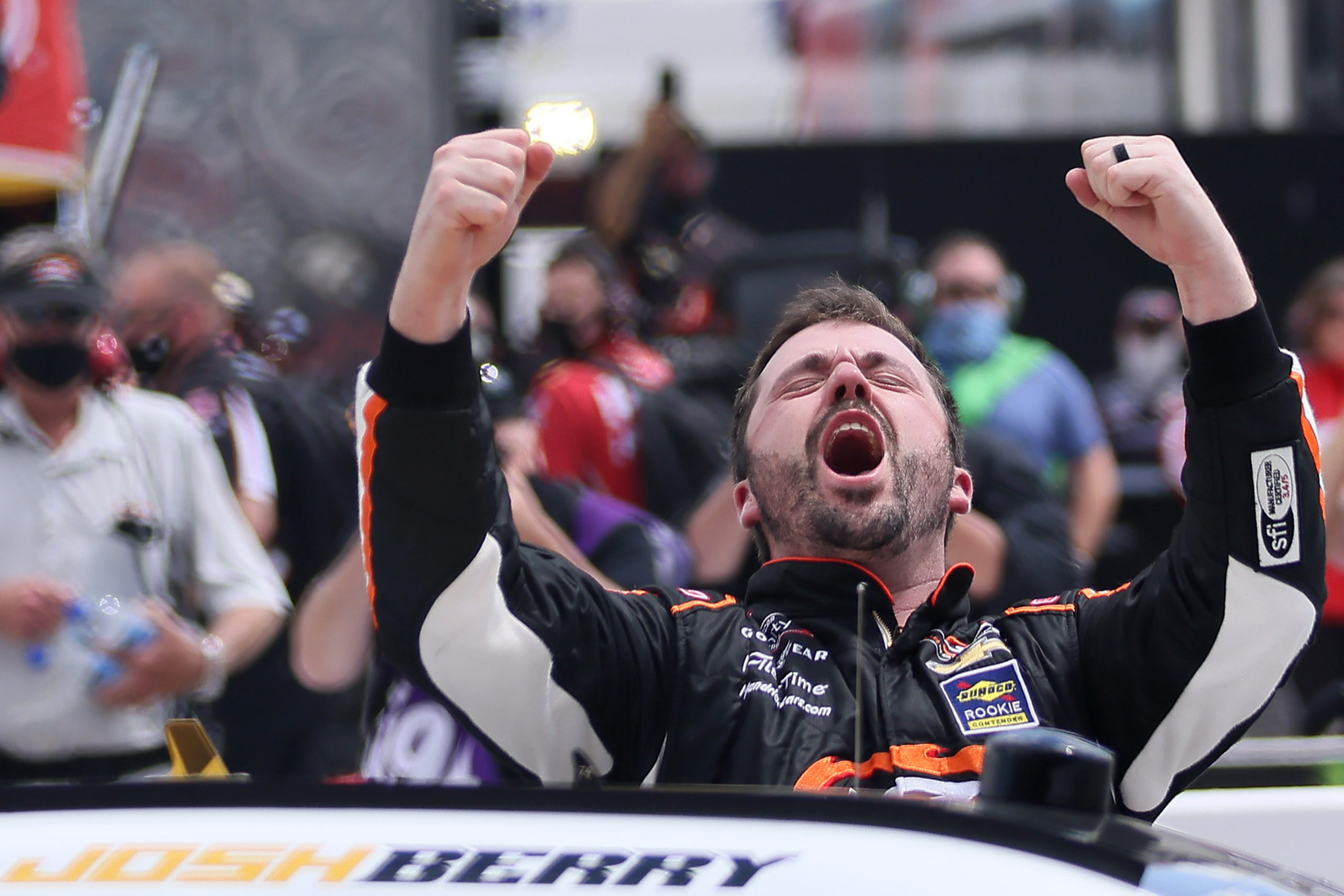 Josh Berry Pulls Away Late for Maiden Win at Martinsville
RIDGEWAY, Va. – Josh Berry passed Ty Gibbs with 29 laps to go and pulled away from teammate Noah Gragson to win the Cook Out 250 at Martinsville Speedway. Berry led 95 of 250 laps to score his first career NASCAR victory. Gragson's second-place finish won him the Dash 4 Cash bonus, awarding him a $100,000 check. All in all, Martinsville was a very strong race for JR Motorsports.
Daniel Hemric Takes Over After the Delay
The race resumed Sunday afternoon after rain delayed the race on Friday night with 91 laps complete. Brandon Jones led the race when it was halted but he was quickly passed by Daniel Hemric when the race resumed. Josh Williams spun to bring out the caution with just 15 to go in Stage 2. AJ Allmendinger also finally got back on the lead lap after having suspension problems Friday night.
Brandon Jones would lead several drivers down pit road late in Stage 2. Hemric, Noah Gragson, and 14 others opted to stay out however. Hemric held on for the final few laps to win Stage 2 over Gragson. Considering the fight two weeks ago in Atlanta, of course it was Hemric and Gragson battling for the Stage 2 win.
Pit Strategy Gets Berry to the Front
Under the Stage break, Hemric, Gragson, and others who stayed out late in Stage 2 came down pit road. Tommy Joe Martins stayed on track, along many more cars. Hemric and Gragson both would have to restart outside the top 20. Berry and Justin Haley quickly passed Martins as his tires were much older.
Three cautions flew over the next 50 laps with issues for Colby Howard, Brandon Gdovic, Joe Graf, Jr. and Blaine Perkins. Gray Gaulding and Graf Jr had a disagreement after the race. It appeared Gaulding caused the crash that involved Graf and Perkins.
Riley Herbst also had a flat tire while running inside the top 10. It was another unlucky break for Herbst, who has seemed to run into bad luck all season. Not much changed upfront during that span with Berry holding the lead.
Berry and Ty Gibbs Swap the Lead Late in the Race
The final pit stops of the day came with 75 laps to go. Josh Berry won the race off pit road with Austin Cindric and Ty Gibbs just behind. Six drivers stayed out with Bayley Currey inheriting the lead. That lead didn't last as Berry got back out front with Gibbs close behind. Cindric fell back to 10th after getting stuck in the outside lane.
Berry led for just seven laps before Gibbs passed him to take the lead for the first time. Gibbs was looking to pick up his third top-two finish in as many starts. Berry stayed close and got back under Gibbs about 20 laps later. However an Alex Labbe spin brought out the final caution of the day with 46 laps to go.
Berry Takes Command for Martinsville Win
It didn't take long for Josh Berry to pass Ty Gibbs on the final green-flag run to take the lead. Gibbs faded back to fourth after being passed by Noah Gragson and eventually Daniel Hemric. Hemric consistently had the fastest car on the track, but he just didn't have enough time to get to the leader. He got to Gragson's bumper in the final 10 laps but he couldn't do anything with him.
The 2019 Valley Star Credit Union 300 winner would also add the 2021 Cook Out 250 to his win column, as Josh Berry took the checkered flag. This marks the first career Xfinity Series win for the talented short track driver, as well as the first win for the JRM No. 8 car.
Top 10 Results from Martinsville
Because Josh Berry is running a partial schedule, he is not eligible for the Playoffs. As a result sadly, his win will not qualify him for the postseason. Noah Gragson earned a season-best second, while Daniel Hemric scored his fourth top-three finish of the season. Ty Gibbs' impressive streak continues with a fourth-place finish. Brandon Jones led 16 laps en route to a fifth-place finish. Jones has been very hit or miss this season with four top-five finishes but three finishes outside the top 30. Austin Cindric, Harrison Burton, Justin Haley, Justin Allgaier, and Michael Annett rounded out the top 10.
What's Next for the Xfinity Series
The Xfinity Series will have another off week before returning to action at the always exciting Talladega Superspeedway. Coverage of the Ag-Pro 300 will begin at 4 p.m. on FOX. Justin Haley swept both races there last season and is looking to pick up his first top-five finish of 2021. Kaulig Racing as a company proved to be unbeatable at Talladega last year, can their trio dominate once again?
Written by Nicholas Sterling

Be sure to follow us on Twitter.

Be sure to follow the writer on Twitter.
Photo Credit to James Gilbert/Getty Images for NASCAR