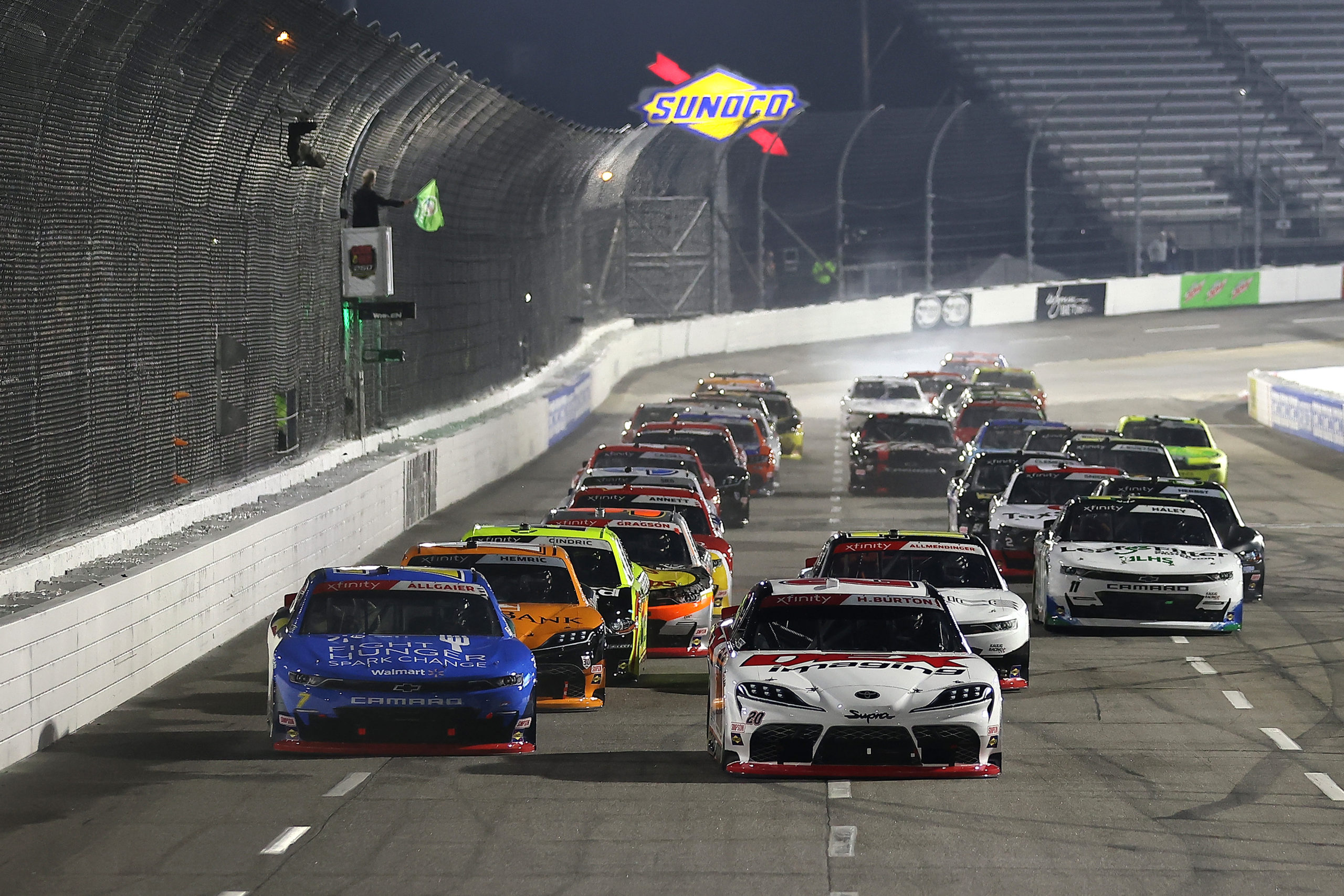 Xfinity Series Cook Out 250 From Martinsville Postponed for Rain
RIDGEWAY, Va. – Friday night at Martinsville Speedway saw the NASCAR Xfinity Series get one Stage complete before rain moved in. After waiting several hours, NASCAR deemed that the Cook Out 250 will resume Sunday afternoon at 12 p.m. ET. With one Stage in the books though, many drivers already looked stout, and much chaos ensued on the Half-Mile of Mayhem.
Early Problems for AJ Allmendinger
Rolling off third, AJ Allmendinger entered this week as one of the favorites. He led 68 laps in last fall's race before a flat tire took him out of contention. Allmendinger looked to be a contender once again after battling for the lead on lap five. He was to the inside of polesitter Harrison Burton right as the first caution came out.
On the restart, Allmendinger's car looked off as it swayed around the track. It took about two laps for Allmendinger to sense the problem and hit pit road. He initially thought it was a flat tire but it was later revealed to a suspension issue. Multiple pit stops left him two laps down. He currently runs 39th, one lap down.
A Flurry of Cautions Break up Stage 1
The lap five caution came from a spin for Jade Buford. The race ran without incident until the competition caution on lap 25. Stefan Parsons then went for a spin in turn three with just under 20 to go in Stage 1. Just a few laps later, Michael Annett wheel-hopped going into turn one and spun to trigger another caution.
With 11 to go in the Stage, leader Harrison Burton made the decision to pit for tires. Until this point, the 20 was putting on a clinic, as he looked unbeatable out front. With few laps left in Stage 1 though, new faces would be leading.
Noah Gragson, who was running second before the caution, inherited the lead. Just before Stage 1 ended, Riley Herbst was tagged going into turn one, sending him around. The incident also collected Alex Labbe. This marked the fifth caution in the 60-lap opening stage. Gragson picked up his first Stage win of the season, beating Austin Cindric and Justin Haley.
Pit Strategy Jumbles the Running Order
Brett Moffitt was one of many to stay out during the caution. Austin Cindric, the first one off pit road, would restart 14th. Moffitt's tires were about 25 laps older than that of Brandon Jones and Josh Berry. Jones needed just a few laps to take the lead with Berry following him to second. Jones led for about seven laps before Berry made his way to the lead. It looked like Berry would pull away, but Jones stayed close behind him and even passed him. Rain began to fall to bring out the red flag on lap 91.
Ever since this red flag, the race failed to resume. After waiting in excess of three hours and multiple track drying attempts, NASCAR made the postponement call. The Cook Out 250 will resume on Sunday, April 11 at noon on FS1, MRN, and SiriusXM NASCAR Radio Channel 90. Harrison Burton looked incredibly strong while out front, but how will a duel against Noah Gragson end? Plenty more drivers are race-winning contenders, as Martinsville Xfinity will be a can't-miss race.
Written by Nicholas Sterling
Be sure to follow us on Twitter.
Be sure to follow the writer on Twitter.
Photo Credit to James Gilbert/Getty Images for NASCAR