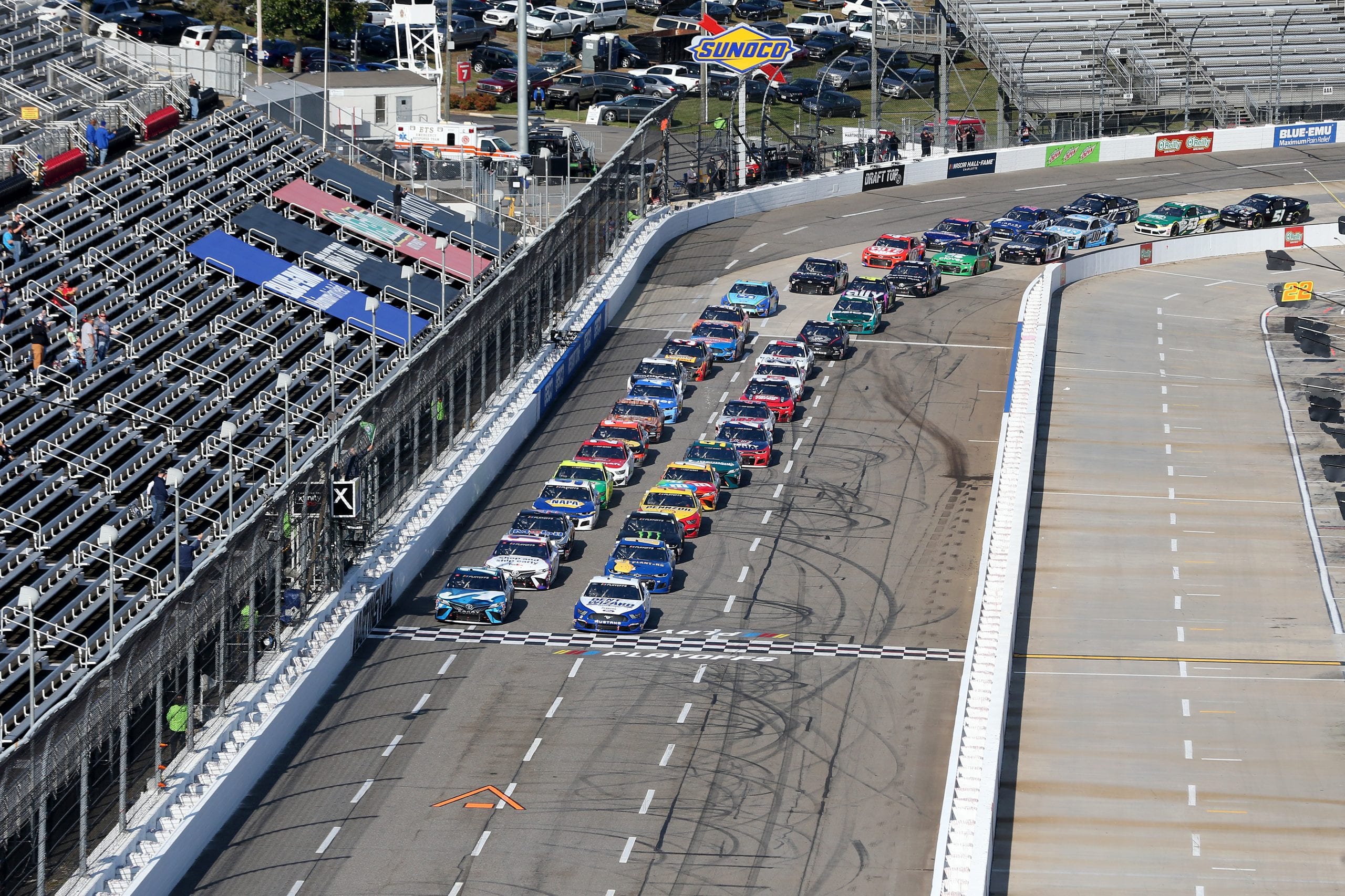 Will 2021's Streak of Different Winners Continue at Martinsville?
RIDEGEWAY, Va. – 2021 has certainly been a unique season so far for the NASCAR Cup Series. Through seven races there has yet to be a repeat winner, which includes two first-time victors. A streak of so many different faces in victory lane begs one overarching question. Coming into week eight at Martinsville Speedway, can this run of parity stay strong? Lots of Martinsville masters have yet to win in 2021, let's take a look at a few of them and their chances at taking home another Grandfather clock.
Denny Hamlin
Despite leading the points standings and six top-10s through seven races, Denny Hamlin amazingly has yet to win this season. While the Fedex 11 has not shown the same domination from a year ago, their worst finish this season was 11th at Homestead. Having a top 10 in almost every race so far this year, it appears Hamlin's wins are on the very-near horizon.
The Chesterfield, Va. native knows a thing or two about getting around the half-mile at Martinsville. Hamlin has five past Martinsville victories, which includes a run of three-straight in 2009-2010. However, Hamlin has not won on the Half-Mile of Mayhem since 2015. Despite a dry spell here of more than five years, Hamlin enters Saturday night as a favorite.
"We're obviously on a strong run with all the top-fives we have," Hamlin said. "So we're doing a lot of things right. It's just a matter of time before we get ourselves up front at the checkers."
Hamlin's recent Martinsville results are a bit hit-or-miss. Coming into this race a year ago, the 11 had three-straight top fives at the Virginia half-mile. Across both 2020 races though, Hamlin finished 24th and 11th. Last June's Martinsville race was a rare whiff for the 11 car, as he went a lap down in Stage 1. Hamlin never truly recovered in this odd showing at his home track. With his consistency this season though, expect Hamlin to be hunting for the victory.
Brad Keselowski
A more recent contender at Martinsville, Brad Keselowski has won two of the last four spring races here. The Penske 2 has been quick at times this year, with three top-fives. However, Keselowski lacks in laps led so far this season. With Martinsville being especially strong for Keselowski in recent history, The Paperclip could be where the 2 crew turns their season around.
"I think [Martinsville] is a really hard track to practice at," Keselowski said. "Even more so because we can't practice. But even when you could practice there it was really hard to get anything out of it because the track is so much different in practice than it is in the race. That was something that I struggled with very early at Martinsville a lot. We would be really fast in practice, we'd be kind of patting ourselves on the back and then we'd go to racing and it was just meh racing where we'd run 10th-15th. I think in that sense it was frustrating but not awful and you try to learn from that. It's just a really hard track to implement continuous improvement towards. I think a lot of it comes from confidence. It's a track that requires a lot of confidence."
Keselowski on Short Track Rhythm
"You find a technique that works and you stick with it. But those techniques only work when you have a car that's good enough. What ultimately happens a lot at Martinsville is you get a technique, you get a good car and you get in a rhythm and someone starts to dominate and vice versa. If you never find that technique and you never have a car that works well, you get lost."
The past two races this year have seen both of Keselowski's teammates win. Can Brad make it 3-for-3 for Penske at Martinsville? He absolutely can get it done here. Keselowski is no stranger to leading lots of laps at Martinsville; his 2019 spring win saw the 2 pace the field for 446 of 500 circuits. The 2 will be tough to beat if he is up front in the waning laps on Saturday.
Chase Elliott
Recency bias would say that Chase Elliott is all but a lock for another Martinsville win. En route to his championship run at Phoenix last fall, the 9 had to win his way into the finale with a clutch Martinsville victory. After passing Martin Truex, Jr. late in that race, Elliott drove off to the win. Can Elliott repeat this performance to earn his first victory as the defending Cup Series Champion? The 9 will surely be stout, as he has come awfully close before in the Martinsville spring race.
The past four spring dates at Martinsville have seen Elliott place third, ninth, second, and fifth. However, only two of those races have seen Elliott lead multiple laps. With confidence as the most recent Martinsville winner though, Elliott enters this weekend eyeing the victory.
Elliott Not Resting on Past Laurels
"Last year's win at Martinsville was huge for us," Elliott said. "It's great to know that we've had some good runs there, but you always have to keep in mind that your past success doesn't equal success in the future. It never has and I don't think it ever will – that's just racing. So, I think for us, we will have some good information from last year and I look forward to getting to Martinsville this weekend and seeing what we can do."
Elliott has been close to multiple wins so far in 2021. The 9 car was a close second in the Daytona 500, followed up by a breakout run the next week at the Daytona Road Course. Since then, Elliott placed fifth at Phoenix and tenth two weeks ago on the Bristol Dirt. Elliott is also a near-constant fixture up front at Martinsville, so the 9 should be a contender on Saturday.
Kurt Busch
A two-time Martinsville winner, Kurt Busch could be a quiet threat for the win. Although Busch has not won at the Virginia half-mile since 2014, the 2004 champion has been sneakily good here. Four of the last five Martinsville races have seen Kurt Busch finish ninth or better, including fifth last fall.
While the Monster 1 car may not enter this weekend as a favorite, Kurt Busch could upset with a breakout run. So far in 2021, the 1 has a pair of top-10s, with a fourth-place effort on the Daytona Road Course. Ganassi as a company has lacked in speed throughout this year. With Kurt Busch's experience at Martinsville though, he could find a groove to carry himself forward and potentially into victory lane.
Kyle Busch
Just like his brother, Kyle Busch has a pair of Martinsville wins. The 18's Martinsville prowess has been a relatively new development though, with both of Kyle's wins coming in 2016 and 2017. Dating back to 2015 though, the younger Busch has a top 10 in all but two trips to Martinsville.
Still adjusting to Ben Beshore as crew chief, Busch has been very hit-or-miss so far this year. The 18 has three top-10s in 2021, with a best result of third at Las Vegas. Busch likely will not lead a ton of laps this weekend, but he could pounce late if the strategy falls into his favor.
Kevin Harvick
Although Martinsville has seemingly been Kevin Harvick's kryptonite recently, do not count the 4 car out of an upset win this weekend. All of Stewart-Haas Racing has been admittedly off on speed this year, especially the 4 team. The team that won nine times a season ago only has five top-10s so far this year. If opportunity presents itself for an off-strategy pit call, expect Rodney Childers to put Harvick in a position to capitalize. A two-tire call on a late race caution could be the chance the 4 needs to win big at the track that has been a thorn in their side.
Martinsville Marked Harvick's 2020 Low Point
Many will remember last fall's Martinsville race where Harvick was eliminated from the Playoffs. After trying to move Kyle Busch for one valuable point, the 4 ended up in the wall just shy of the finish line. Harvick has been anything but happy in recent trips to Martinsville, but he does have a top 10 in five of the last seven races here.
The 4 is far from a favorite for the win, but with Harvick's experience persistence may just pay off big for the 4. After a career-high win total last year, it is truly puzzling that the 4 has not been one of the seven winners so far in 2021.
Be sure to not miss a lap of action in the Blue Emu 500 this Saturday night on FS1. Coming off of the Bristol Dirt race, Martinsville marks the first traditional short track race of the year, and the first Saturday night show. The odds are high that one of the above mentioned drivers will continue the 2021 different winners streak. Can this parity trend extend to eight weeks? Yes it can, as many drivers hope to win their way into the Playoffs at the Half-Mile of Mayhem.
Written by Peter Stratta
Be sure to follow us on Twitter.
Be sure to follow the writer on Twitter.
Photo Credit to Brian Lawdermilk/Getty Images for NASCAR