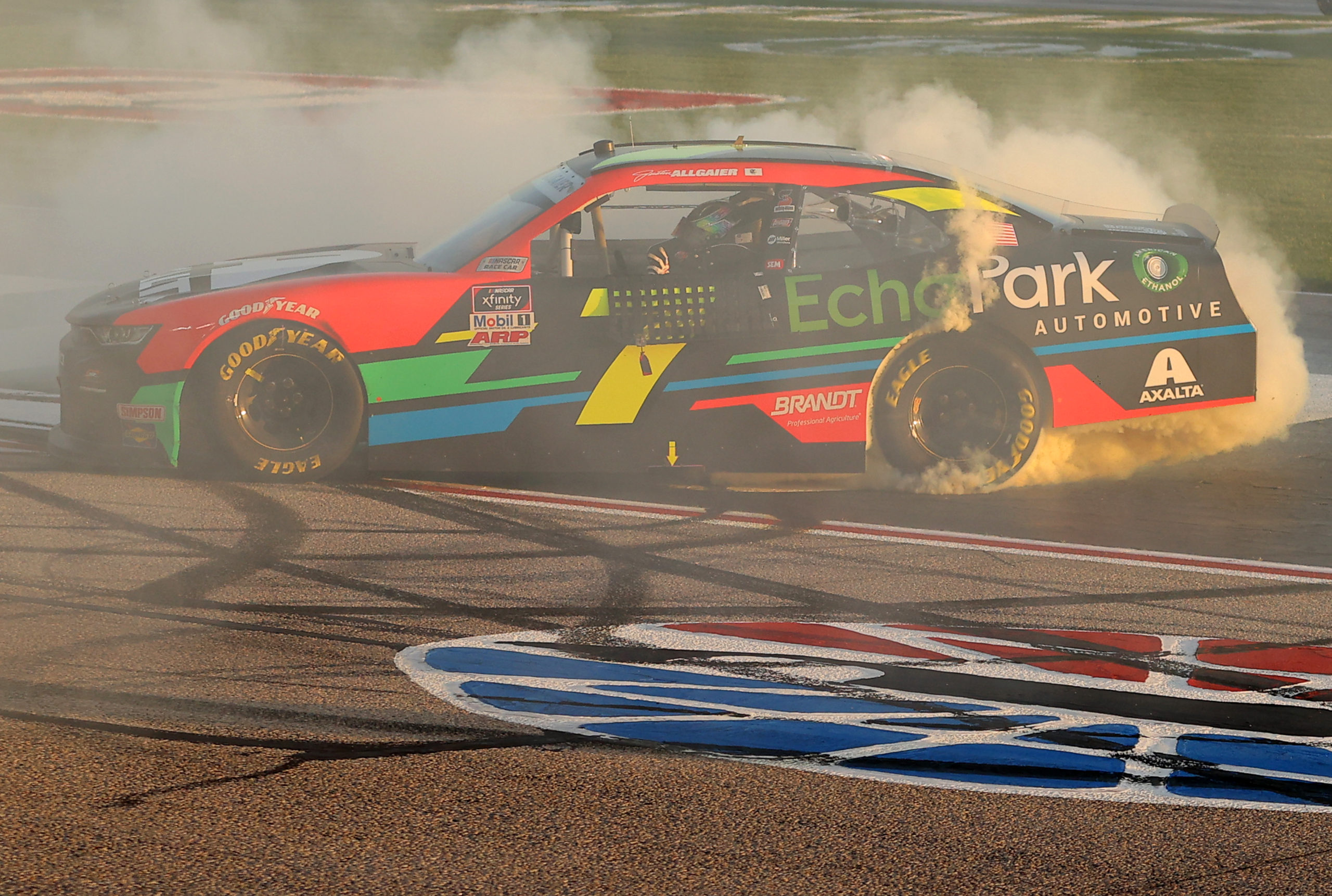 Justin Allgaier Picks Up First Win of 2021 in Atlanta
HAMPTON, Ga. – Justin Allgaier held off a hard-charging Martin Truex, Jr. to win the EchoPark 250 at Atlanta Motor Speedway. Truex, who was making his first Xfinity start since 2010, had the dominant car of the day. The 54 would pace the field for 103 of the first 113 laps. Unfortunately, a pit road penalty put him back to 25th with 50 laps to go. His late charge came up just short, finishing runner-up to Allgaier. For Allgaier, Atlanta marks his first win of the season.
Truex Jr. Flies to the Front in Stage 1
Austin Cindric started on the pole and led the first seven laps. Martin Truex, Jr. spent those seven laps driving through the field from his starting position of 18th. On lap seven, he passed Cindric to take the lead. Truex stretched out his lead to two seconds over Harrison Burton before the competition caution came out on lap 20. Cindric had fallen back to fifth. AJ Allmendinger and Noah Gragson both started deep in the field and worked their into the top 20 by the caution.
Truex continued his domination after the caution and he was on his way to an easy Stage win. A caution with five laps to go meant there would be a one-lap shootout. The majority of the field stayed out, with only Riley Herbst, Myatt Snider, Brandon Brown, and Tommy Joe Martins electing to pit.
Big Pileup Ends Stage 1
Stage 1 would come down to a one-lap shootout. Brett Moffitt and Brandon Jones made contact on the backstretch, sending Jones towards the inside wall. Jones tried to correct his car but turned back to the outside and in front of the pack. Top contenders like Allmendinger, Gragson, and Austin Cindric all suffered damage. The crash would end Moffitt's day. Everyone else continued on, but Jones was too slow to compete, finishing 37th, 31 laps down. Truex would win the Stage over Harrison Burton and Justin Allgaier.
Truex Continues Dominance in Stage 2
The four drivers who pitted late in Stage 1 stayed out to start Stage 2 while the rest of the field pitted. Truex would restart fourth, but took the lead from Brandon Brown coming off turn two. Justin Allgaier eventually worked his way to second late in the stage, but he was no match for Truex Jr. Snider and Brown both held onto top 10 finishes in the Stage, despite being on older tires.
Costly Speeding Penalty Opens the Door for Allgaier
Truex would keep the lead coming off pit road with Justin Allgaier just behind. Allgaier briefly got alongside the 54 but couldn't do anything with him. Truex Jr. steadily increased his lead over a 25 lap green flag run. A spin by Mason Massey brought out the fifth caution with 50 laps to go. Everyone pitted with Truex Jr. winning the race off pit road, but a speeding penalty sent him all the way back to 25th.
Justin Allgaier inherited the lead after Truex Jr's. penalty. On the ensuing restart, Jeremy Clements, who was restarting outside on the front row, spun his tires and dropped back. Going into turn one, Jeb Burton slid up into Clements, sending both cars into the wall.
The caution came back out just nine laps later for Josh Berry. Berry spun off turn four and appeared to be fine after not hitting anything. He tried to avoid pit road and come back on the track when his car hit the grass and dug in, sending the front end into the air. The damage ended his day. He would prematurely finish 38th.
Allgaier Holds Off Truex's Final Charge
Truex made his way into the top 10 when everyone came down pit road for the final time. Allgaier won the race off pit road over Harrison Burton and Truex. The 54 passed Burton with 12 laps to go and went to work on Allgaier. He came from two seconds back to get within three-tenths, but he used up his tires too much to make a move on him. Allgaier pulled back away over the final few laps to pick up his first career win at Atlanta.
Post-Race Drama Between Gragson and Hemric
There were some fireworks after the race between Daniel Hemric and Noah Gragson. Gragson was doing a post-race interview when Hemric grabbed and shoved Gragson. Gragson responded by throwing a punch before crew members got in between the drivers. The feud stemmed from an incident earlier in the race when Hemric drove into Gragson's pit stall. Gragson responded by backing into Hemric during a pit stop. In short, Gragson's backing up put 18 crew members at risk of being hit. Consequently, Hemric's crew scattered to avoid the 9. As a result of this controversial moment, any ensuing penalties are TBD.
Top 10 Results from Atlanta
Allgaier's win locks him into the Playoffs for the sixth-straight year. Truex had the dominant car but he had to settle for second. Harrison Burton scored his second top-five of the season with a third-place finish. Noah Gragson and AJ Allmendinger both recovered from an early crash to finish fourth and fifth, respectively. Riley Herbst, Michael Annett, Justin Haley, Daniel Hemric, and Ryan Sieg rounded out the top 10.
What's Next for Xfinity
The Xfinity Series will be off for the next two weeks. When the action returns, it will be at Martinsville Speedway. It will be the first night race of the season for the Xfinity Series. The race will be run Friday, April 9 at 8 p.m. ET on FS1, MRN, and SiriusXM NASCAR Radio Channel 90. Can Harrison Burton pick up his second-straight win at Martinsville?
Written by Nicholas Sterling
Be sure to follow us on Twitter.
Be sure to follow the writer on Twitter.
Photo Credit to Kevin C. Cox/Getty Images for NASCAR