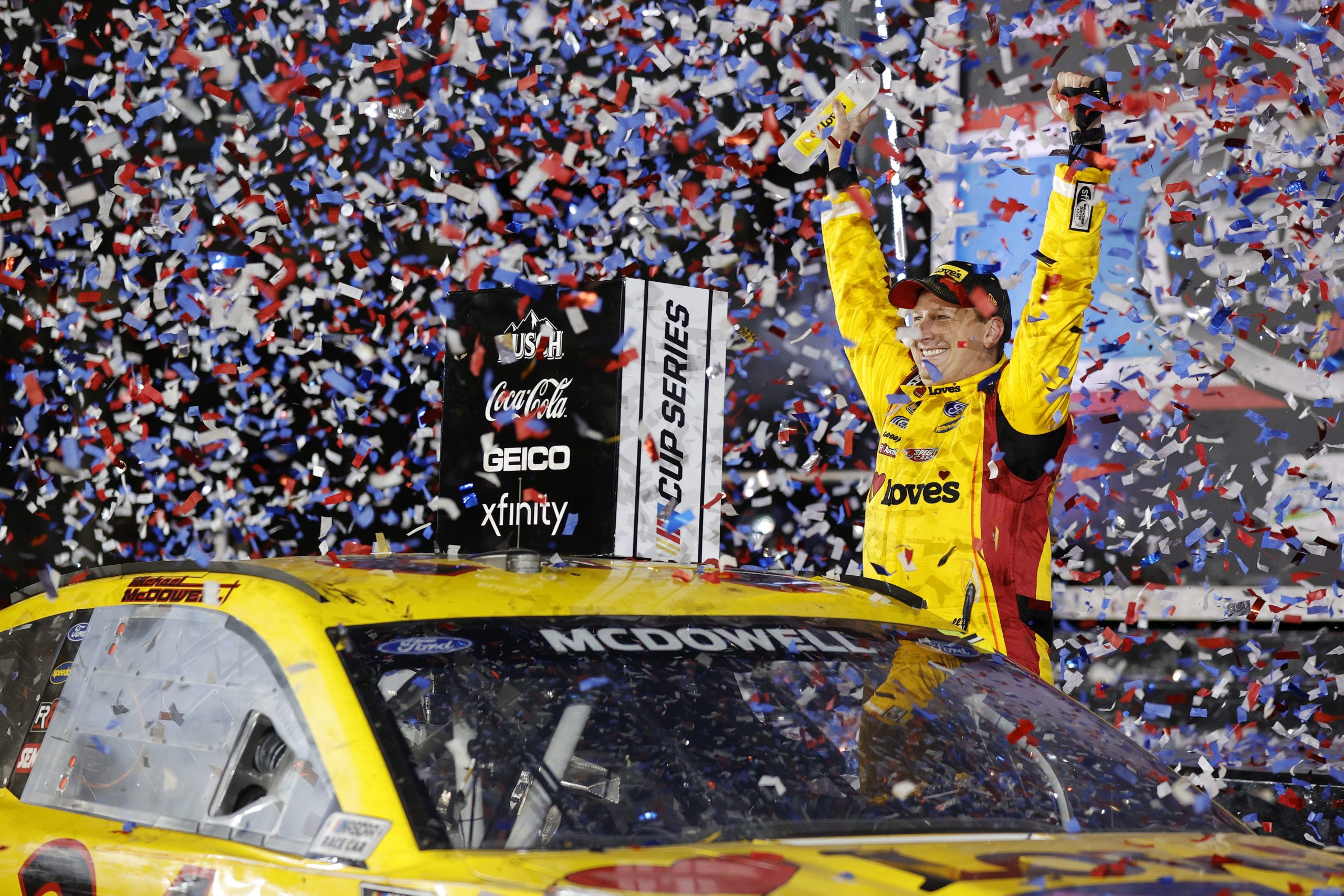 Michael McDowell Wins Daytona 500 After Dramatic Last-Lap
If a week ago one were to say that Michael McDowell would be Daytona 500 Champion, they would have been seen as crazy. However, after a final stage that ran mostly calm, the 34 car was in position to pounce on the last lap. After giving a push to Brad Keselowski that knocked the 2 and leader Joey Logano out of the way, McDowell was ahead at the moment of caution. This is one of the biggest feelgood underdog victories in recent Daytona 500 history, reminiscent of Trevor Bayne's 2011 triumph. McDowell also joins an exclusive list of drivers to earn their first career victory in the Daytona 500.
Early Race Hampered by Major Crash, Rain
Once the race began, it was Alex Bowman's No. 48 Chevrolet on point for the opening two circuits. Lap three saw the Ford of Kevin Harvick take control with a big push from teammate Aric Almirola. Harvick would hold serve out front until a caution that changed the tempo of the entire race.
Going down the backstretch on lap 14, Kyle Busch gave a shot to teammate Christopher Bell. Bell's No. 20 Toyota got sent ahead into Almirola. This major bump sent the 10 around and into the pack. 15 cars in total were collected in the carnage, ending the Daytona 500 for many promising contenders.
Those who saw their day end after this melee included: Ryan Blaney, Chris Buescher, Anthony Alfredo, Matt DiBenedetto, Aric Almirola, Alex Bowman, Daniel Suarez, David Ragan, Ryan Newman and Erik Jones.
During the caution for this cleanup, a lightning strike would halt all action on-track. Rain would also move through the area, dampening the 2.5-mile superspeedway. After nearly six hours, the 63rd Daytona 500 would finally resume.
Rest of Stage 1 Remains Calm
The race would technically restart around 9 p.m. ET on Sunday night. However, over a dozen laps would run under the caution. Once the green flag fell again, it would be Austin Dillon and Cole Custer each leading a lap. Lap 32 however would see the Fedex 11 of Denny Hamlin rocket to the point. Hamlin came into this Daytona 500 as the two-time defending winner, looking for an unprecedented threepeat in The Great American Race. Hamlin would subdue all challengers to win Stage 1. Finishing an impressive second in Stage 1 would be Ryan Preece, who made the field as an Open car.
Hamlin Appears Unbeatable in Stage 2
Hamlin would hold serve at the head of the pack for the start of Stage 2. As the race crossed the halfway threshold though, it would be Hamlin's teammate Christopher Bell pacing the field. Stage 2 would remain calm through a cycle of green flag pit stops. Each manufacturer's cars chose to pit in near-successive laps. After the green flag stops however, one contender's shot at the victory faced a major setback.
While going through turn two, Christopher Bell's No. 20 Toyota lost a left rear tire. This sent the Oklahoma native spinning, clipping Ricky Stenhouse, Jr., Kyle Larson and Chase Elliott. Both Hendrick cars continued, while Bell and Stenhouse would finish at least one lap behind.
The rest of Stage 2 would see intensity ramp up, but a familiar face forced his way to the front. Hamlin would hold them all at bay, blocking both lanes like the Daytona ace he is. With the Stage 2 win, Hamlin scored the victory in four-straight Daytona 500 Stages. With only 70 laps left in this year's race, the chances of a Hamlin threepeat appeared very likely.
Stage 3 Sees Bold Strategy Fall Through
Austin Dillon did beat Hamlin out of the pits under this caution. However, the 11 took back over on the opening lap of the final Stage. With the laps ticking off, the field went single-file, biding their time until the final round of pit stops. This would be kicked off by the Ford Mustangs coming in with 31 to go. They committed to pitting late, surprising the other manufacturers. The next lap would see the Chevrolet bowtie brigade also come in for their final service. It was not until two laps later when the Toyotas came in for their money stop, on a long-pitting strategy play.
With so few Toyotas deciding to pit last, they were largely unorganized coming off pit road. The organized Chevrolets and Fords being in a big pack would zoom on by the helpless Toyotas. With 25 laps left, the top five were the Fords of Logano-Harvick-Custer-Keselowski-McDowell.
The Toyota strategy appeared to fall to shambles without a caution. Denny Hamlin had managed to stay on the tail of the lead draft, but was stuck back around 12th with no helpers. After leading nearly half of the Daytona 500, Hamlin was buried in the field and desperately needed a caution to save him. Up front meanwhile, the five Fords remained single-file, just waiting until the right time to make their move.
Last-Lap Carnage Ensues
As the white flag flew, Joey Logano led teammate Brad Keselowski and Michael McDowell. Going into turn three for the final time, Austin Dillon led a big charge on the inside lane. Outside though, it was McDowell in third giving Keselowski a huge shove. It would turn out to be too big of a shove, as Keselowski was sent spinning into Logano in turn three. Both Penske cars turned back up into traffic, collecting many more in a shower of flames. Keselowski's car got airborne and nearly flipped. Even with as scary as this wreck looked, each driver did climb from their destroyed machines under their own power.
The caution came out immediately, with McDowell's 34 for Front Row Motorsports ahead of Chase Elliott. After what appeared to be another Team Penske 1-2 finish, Michael McDowell is the Cinderella story of Daytona Speedweek 2021.
McDowell On Cloud 9
"I just can't believe it," McDowell said. "I've just got to thank God. So many years just grinding it out and hoping for an opportunity like this.  I've got to thank Love's Travel Stops, Speedco, Bob Jenkins for giving me this opportunity. I'm so thankful. Such a great way to get a first victory — a Daytona 500. Are you kidding me? I just want to say hi to my wife back home. Happy Valentine's Day. I know it's been a tough week. My kids, I love you guys. I wish they could be here with me to celebrate. Maybe NASCAR will send a plane to bring them down here, but we're the Daytona 500 champions. Thank you Doug Yates, Ford. We had our Ford partners at the end and they all crashed, but luckily I was able to make it through. I'm just so thankful. God is good."
McDowell was entering turn three with intentions of helping push another Ford ahead. "My plan was to stick to the 2 car. I knew he would go for a race-winning move and my plan was to let him make that move. Then coming off of four try to get to his outside or inside. I knew I didn't want to make my move too early. So I was committed to the 2 car's bumper and when he made the move, the hole opened up. It's just unbelievable."
Numerology, Exclusivity Behind McDowell Victory
In his 14th season in the NASCAR Cup Series, McDowell's maiden victory came in start number 358. That is the second-longest dry spell for a driver to earn their first win, trailing only Michael Waltrip (463). Waltrip also earned that elusive first win in the Daytona 500, and oddly enough was McDowell's former team owner. Other drivers to earn career win number one in The Great American Race include Tiny Lund, Mario Andretti, Pete Hamilton, Derrike Cope, Sterling Marlin, and Trevor Bayne.
McDowell also scored Front Row Motorsports their third victory as a team. David Ragan at Talladega (2013) and Chris Buescher at Pocono (2016) both won in the No. 34 Ford as well. McDowell's win puts him into the 2021 Cup Series Playoffs, should he remain top-30 in points.
Running on pure adrenaline. Last night was a night that has been a longtime in the making and it still hasn't truly sunk in.

Soaking in every moment! pic.twitter.com/jcLF6Qa6Rt

— Michael McDowell (@Mc_Driver) February 15, 2021
In addition to the above stats, McDowell's Daytona 500 triumph comes 10 years after Trevor Bayne's upset (2011), and also 20 years after Waltrip's first win (2001).
Daytona 500 Top 10 Results
Behind McDowell at the time of caution would be defending Series Champion Chase Elliott. This is Elliott's best finish yet in a Daytona 500 and his first top 10. Austin Dillon would also end a strong Speedweek for the 3 team in third, on the 20-year anniversary of Dale Earnhardt's passing.
Kevin Harvick would bring the Busch Light Mustang home in fourth, his best Daytona 500 finish in five years. Denny Hamlin would round out the top five, far short of the Daytona 500 threepeat. Hamlin did pace the field for 98 laps though.
Ryan Preece, Ross Chastain, Jamie McMurray, Corey Lajoie and Kyle Larson would be the remainder of the top 10. Preece made the most of his opportunity in the 500 as an Open car searching for funding. Spire pitting both of their cars in the top 10 is also a feat that need not go unnoticed. Larson's comeback year to NASCAR also kicks off with a top 10.
What's Next in Cup?
After such a huge kick off for 2021, NASCAR will return to Daytona next week, but this time on the Road Course. Coverage of the O'Reilly Auto Parts 253 will be Sunday, Feb. 21 at 3 p.m. ET on Fox, MRN, and SiriusXM NASCAR Radio Channel 90. The 14-turn layout will heavily favor Chase Elliott, but can anyone topple the road course king?
Written by Peter Stratta
Be sure to follow us on Twitter.
Be sure to follow the writer on Twitter.
Photo credit to NASCARMedia