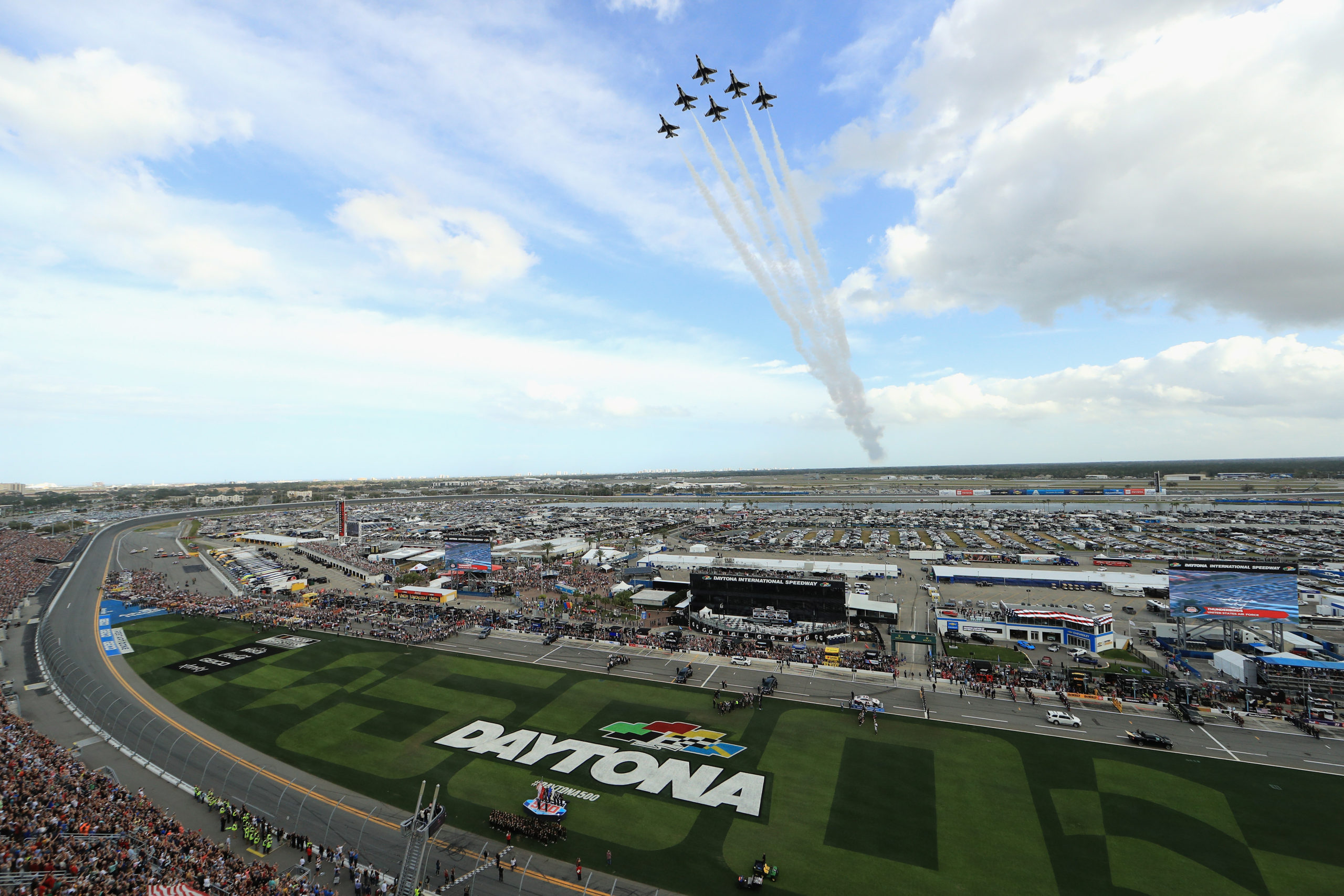 Everything You Need to Know Ahead of the Daytona 500:
Today, the green flag will fall on the 63rd annual Daytona 500. Hendrick Motorsports teammates Alex Bowman and William Byron qualified on the front row, but after an accident in the duel, Byron will fall to the rear. Alex Bowman, who also had issues during his duel, elected to keep his pole position.
Luke Combs Will Perform Pre-Race Concert
Country music superstar Luke Combs will perform the pre-race concert for today's Daytona 500. This will be the first concert in front of a live-audience for Combs in a year. As the Daytona 500 will host the largest crowd since COVID-19 shutdowns began, Combs will have an electric audience to play to.
Combs, a NASCAR fan himself, did share his favorite for today's race. That favorite is none other than defending NASCAR champion, Chase Elliott. You can find the Daytona 500 pre-race concert around 1 p.m. ET on FOX.
Global Star Pitbull Will Give Command
GRAMMY® Award-winning global superstar Armando Christian Pérez, known by his stage name Pitbull, is NASCAR's newest owner. Pitbull, who has paired with Trackhouse Racing, will give the command to fire engines in today's Daytona 500. The Cuban-American who goes by "Mr. Worldwide" is pumped for the opportunity and will certainly impress.
"It's an amazing honor," Pitbull said about the opportunity. "I look forward to it. Like I said, man, it's history in the making, bottom line. You're going to hear me at Daytona!"
Sasha Banks Will Serve As Daytona 500 Honorary Starter
WWE superstar and current SmackDown Women's Champion, Sasha Banks will get the Daytona 500 started by waving today's green flag. The 29-year old Fairfield, CA native is also a reoccurring cast member on the hit Disney+ show, The Mandalorian.
"I am honored to be the official starter of the Daytona 500. I would like to thank NASCAR and our partners at FOX for this opportunity," Sasha Banks told the media. "Can't wait to get out to the track in front of the great fans and find out which driver has what it takes to be a 'Legit Boss'."
Tribute To Dale Earnhardt After 20 Years
On lap 3 of the Daytona 500, a tribute will be on display for the late Dale Earnhardt, 20 years after his tragic accident in the 2001 race. Here are the details:
On Lap 3 of The Great American Race, race fans will stand and salute the seven-time NASCAR Cup Series Champion with "3" fingers in the air, paying tribute to one of the greatest drivers of all time.
As the cars enter Turn 1 on Lap 2, a video tribute will be seen on Daytona's large video screens, culminating with a photo of Earnhardt in Victory Lane. The public address announcer will prompt guests to raise "3" fingers while the video boards (behind pit road along frontstretch) will showcase graphics to honor a beloved hero to so many.
In addition, the giant scoring pylon that towers above the infield will showcase No. "3" from top to bottom, on lap "3."
How To Watch The Daytona 500:
You can catch the 63rd running of the Daytona 500 today at 2:30 p.m. ET on FOX, MRN, and SiriusXM NASCAR Radio Channel 90. TSJSports will provide full coverage from the track all day long.
Written by Noah Lewis
Be sure to follow us on Twitter.
Be sure to follow the writer on Twitter.
Photo credit to NASCARMedia.