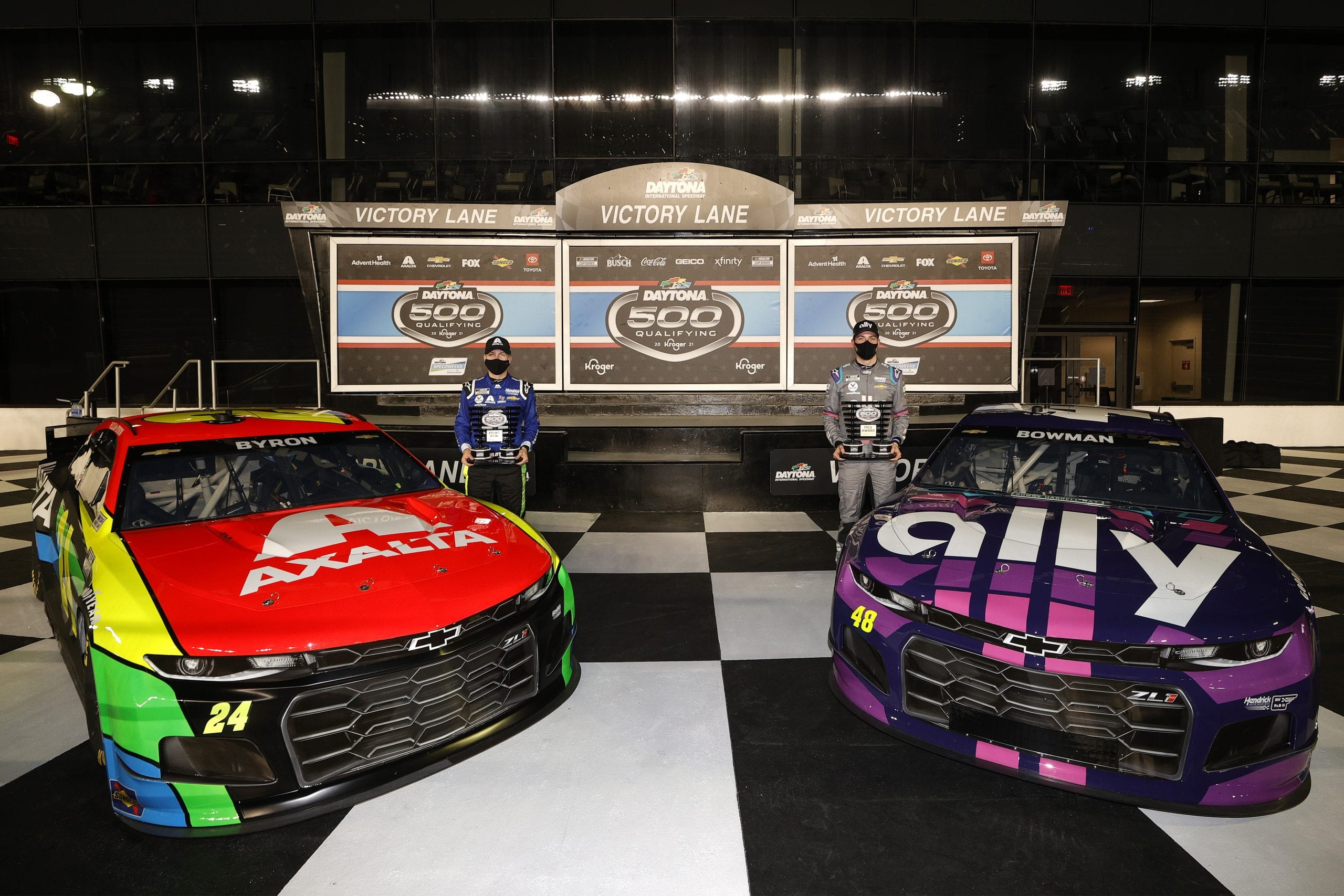 2021 NASCAR Team Preview: Hendrick Motorsports
The championship-winning organization from a season ago, Hendrick Motorsports enters 2021 ready to repeat. With the departure of 7-time Champion Jimmie Johnson, the HMS lineup gains Kyle Larson. Alongside Elliott, Bowman and Byron, the four Hendrick Chevrolets are going to be out for trophies aplenty once the season begins.
Elliott Excited to Represent NASCAR as Champ
After clutch victories at both Martinsville and Phoenix, Chase Elliott won the 2020 NASCAR Cup Series Championship. Elliott delivered Hendrick their 13th Premier Series title. Coming into 2021 as the defending Cup champ is new air for the second-generation driver he is eager to experience.
"For me, I've been trying to just enjoy all of the different situations and scenarios I've been part of," Elliott said. "Winning the championship is great and it brings confidence to our entire team. I've really just enjoyed my winter, enjoyed racing… just to go and seek out opportunities and have some opportunities come to me to be able to go race, I've had a lot of fun with it. It's something I've put a lot of emphasis on at the end of last year… just enjoying those moments more. You have to enjoy those big spots to have success in them.
From that standpoint, I'm trying to carry that over to everything and enjoying all the moments that you can… take advantage of opportunities when you have them. You may not always have these opportunities, so go race and do the things you enjoy. I'm still fairly young and am able to do these things. You gotta live life… live it and have fun with it."
Elliott on Encore Performance
"Just keep pushing. Like I said throughout the winter and since Phoenix last year, it obviously was a great end. We were able to get hot at the right time and have really well-executed races to end the season. I think for us, and the cool thing for me that I've thought about since then, there is still much more for us to go get. I don't think we are at our best in every category, which is really cool for me and something that I think our team should take a lot of pride in. To have the kind of result we had last year but also know that we can still improve in some pretty big ways is exciting. It should be for our team, and I know it is for me."
9 Team Far from Perfect
"I'm looking forward to cleaning up those areas that haven't been so good and also to make the ones that have been good, better. I think we have to do that. Everyone else is going to be improving as always. We need to stay the course, keep doing our thing, keep being us and continue to improve in every area that we have been."
Elliott's confidence entering the new season is as high as ever. Expect the 9 to be one of the top contenders once again for the Cup title. In a new generation of Hendrick Motorsports, Chase Elliott is the far and above leader of this powerhouse organization. The Most Popular Driver is ready to lead this team and spot into the new season.
Larson Ready for Next Step Forward
Perhaps the biggest offseason change in NASCAR, Kyle Larson returns to the sport, in the rebranded Hendrick 5 car. Taking over in the Hendrick lineup for Jimmie Johnson, Larson will have many eyes on him in his initial year with the top team. Larson still has faith in his talent and in the Hendrick team around him, as he has already fit into their system well.
"I guess there hasn't been much of an adjustment," Larson said. "Just because I've been out of a NASCAR Cup car for so long. I guess the biggest adjustment is getting the cockpit right. Even though we have the measurements and stuff from when I was in the No. 42 car, now things don't maybe feel the same because I've been out of a car so long and my body has kind of gotten accustomed to sitting upright in a sprint car or midget. So, getting in the cockpit and trying to remember – OK the shifter feels normal there; my pedal distance feels right or it doesn't; the throttle and brake geometry and stuff like that I think has probably been the toughest part to remember if that's comfortable or not."
Larson on Bristol Dirt
Much like his dirt-racing compatriot Christopher Bell, Larson is superbly excited for the upcoming Bristol dirt race. Larson has to be considered as a favorite for this race with his wealth of dirt experience. "It's definitely a race I look forward to running just because of really the uniqueness of it. There will be a lot of eyes on that event and you want to be the first to win the NASCAR race there. I'm also excited to race other forms of race cars there. I don't know if I'll be able to do the World of Outlaw race there yet – I'd like to. I'm definitely going to do the late model race the week before the Cup race, so I'm excited about that. It's cool that Bristol is doing it and bringing grassroots racing also to the race track. I think there's over like a thousand cars entered or something between however many classes of cars they have – like four or five divisions. It's cool they're doing it and I hope I can win something there."
Unknown of Bristol Dirt
"We've all been to Bristol that time of year and it rains all the time, so I have no clue how the track is going to be. It could be hard and slick or hard, rubbered down and one lane. Or it could rain and it could be heavy and rough, and we're ripping the noses off the car. Honestly, I hope it does get a little bit rough because I think that will add some characteristics to the track, open up some different things like that. I don't know what to expect though. I can't wait for that event and I guess the week before – get some laps and get an idea of how the surface is and then I can go talk to our team."
In his redemptive season, Kyle Larson will be one of the overarching storylines to follow all year long. Hendrick may have a great battle for top dog between Elliott and Larson, as both talents are two of the best on-track today.
Bowman Looks to Build on Late-Season Success
Although he only won once in 2020, Alex Bowman had one of the best Playoff runs of last season. In the final 10 races, the Arizona native scored seven top-10s. With this unprecedented run in the postseason, is Bowman an underdog championship contender for 2021?
"For me, it's really been the same thing for the last two years," Bowman said. "We just need to be more consistent. We were able to do that during the Playoffs. It was great. But throughout the course of the season, we were really hit and miss, hot and cold. We didn't have the summer that we needed to have and that put us way behind on Playoff points going into the Playoffs. If we had the Playoff points, we probably should have, and ran the way we did, we would have made the Round of Four."
48 Team Needs Even More Consistency
"So, we really just needed to do a better job over the course of the season in being more consistent. That was the same going into last year. We know that's what we need to do better. We just need to run how we should all year. If we can run how we did in the Playoffs all year long, we can make a lot of noise."
Moving from the 88 to the 48 now, Bowman has more job security and stability than he ever has before. Bowman's 2021 season is already off to a great start, as he qualified for his second Daytona 500 pole. If the new 48 team can replicate Bowman's consistency from late last year throughout the season, then Bowman will have a multiple-win year. With his level of experience and maturity, Bowman should be seen as a next-tier Playoff contender for 2021.
Byron Enters 2020 Brimming with Bravado
For the first time in his young career, William Byron enters a season as a Cup Series race winner. The 24 team also underwent a major change over the offseason, switching crew chiefs from Chad Knaus to Rudy Fugle. With the same crew chief from his prolific Truck season, Byron and the Hendrick 24 should not be slept on for wins in 2021.
"It's been awesome reuniting with him," Byron said. "We get along extremely well and I feel like he has a high racing IQ, which is really important in the role he's in. It's been a pretty seamless transition since November. Getting closer to the season, obviously our expectations are high, but we have to limit those to the fact that first and foremost we have to execute. I think it's going to be simple to start off with and once we get in our rhythm, we can click off some really good runs."
Byron's 2021 Goals
"Goals for us are to go out there and be a consistent threat. I think there are six to eight guys who have a shot to win each race when I look at the guys on the leaderboard who are consistently up there. For us, it's trying to be part of that consistent threat each week. Having Rudy (Fugle) on board is going to make that process really smooth. We've worked together before and we've had great success. We've really learned a lot while we've been away from each other the last few years and been in separate places. I look forward to working with him; I feel like he's gotten off to a great start. He's been great with the other crew chiefs and have no reason to expect anything different from us than how we were in the past and what we were able to accomplish."
Byron should be a contender for several race wins this season and may be able to make some noise in this year's Playoffs. Byron's career trajectory to this point has seemingly mirrored that of Elliott. If that is to continue, then 2021 should be a breakout season for the Hendrick 24 team.
Hendrick Motorsports has arguably the most stacked lineup for the coming decade of NASCAR racing. Elliott and Larson may just be at odds against each other for top dog in this legendary team. In a new era without Gordon, Johnson, or Earnhardt, the future is certainly bright for Team Hendrick.
Written by Noah Lewis
Be sure to follow us on Twitter.
Be sure to follow the writer on Twitter.
Photo credit to NASCARMedia.