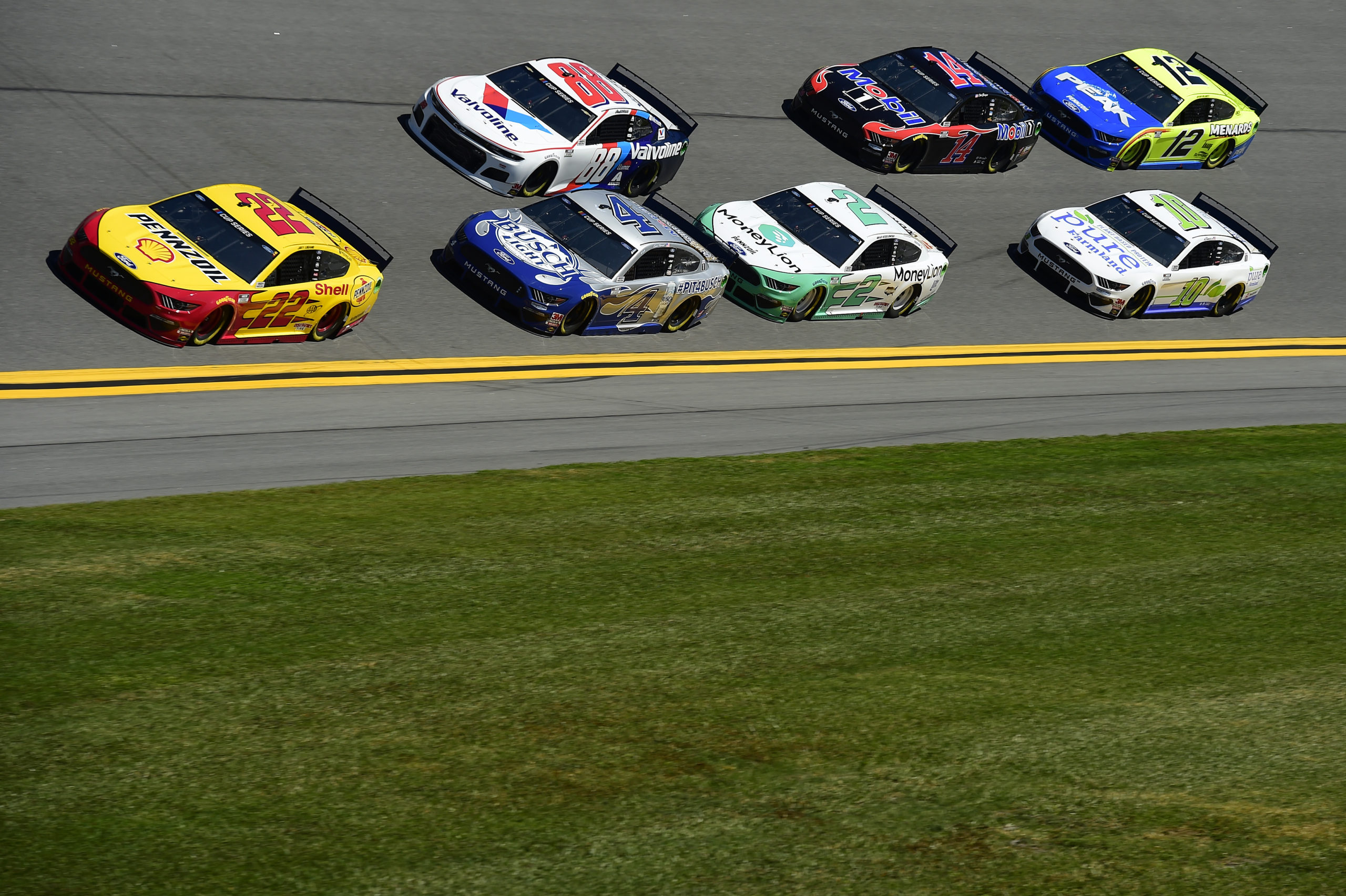 2021 NASCAR Team Preview: Team Penske
2020 was certainly a year to remember for Team Penske. Preseason saw a wide-sweeping crew chief swap for their three Cup Series teams. This would result in two of them ending up in the Championship 4. Keselowski, Logano, and Blaney would all combine for eight wins last season. However, there was still a lot left on the table. Even though Penske had a 50% shot at the 2020 title, they left Phoenix empty-handed. Will 2021 bring more successes for the Penske powerhouse organization? Along with both Matt DiBenedetto and Austin Cindric, Penske has many reasons to be optimistic for the coming year.
Keselowski Confident as Ever for the Cup
After a career-season in terms of average finish, Brad Keselowski made the Championship 4 last fall on consistency. While running up front all day at Phoenix, alternate strategy put the 2 back late. This resulted in a runner-up finish in the race and the championship. Following such a strong overall season, the 2012 champ enters 2021 as poised as ever for title number two.
"Confidence is certainly very high right now," Keselowski said. "I'm inspired. I feel really good about the team I have and their work ethic has been tremendous. Just hungry. I don't know if that's changed. The hunger hasn't changed. The confidence goes up and down, there's no doubt, and right now the confidence is pretty high. Ultimately, it depends on the results we put up on the scoreboard, not our confidence. But we feel pretty good about it right now, for sure."
BK Not Yet Moved on From Blown Title Chance
"I would say I'm not over it, to be quite honest," Keselowski said of being the title runner-up. "I don't like losing, and certainly don't like being that close. But I take solace in feeling like I did everything I could do. Losing hurts way more when you feel like you left something on the table personally. I don't feel like I left anything on the table at Phoenix, and that helped me quite a bit. But still, obviously I know that I was this close to realizing my dream of a second championship. Just not close enough."
Keselowski hopes to begin his run for a second championship in the biggest way possible. He will be gunning for his first Daytona 500 win. In 11 career starts in The Great American Race, Keselowski has a best result of third. The 2 has always been fast at the World Center of Racing. However, crashes have left him wanting more in recent years. Keselowski is among the best active drivers to not have a Harley J. Earl Trophy, next week he will be gunning to change that.
Logano Looking for Return to Championship Form
The other half of the 2020 Championship 4 from Team Penske, Joey Logano made the finale with a clutch Kansas win. Kansas was Logano's third and final win of 2020, and his first victory since the COVID-19 shutdown. The 22 was passed late in Phoenix by Elliott ultimately for the race win and the 2020 championship. After being so close to the title, Logano is ever-hopeful of another Championship 4 run. The 22 team has made the title finale in two of the last three years with clutch Round of 8 wins. However, Logano knows how important it is to get off to a strong start in a new season.
"I think these days you've got to be good all year long," Logano said. "There's the opportunity that you can get through the playoffs even if you don't have many playoff points, but you don't leave yourself any cushion to fall back on if you don't run well. So, it seems like, yeah, you're right, last year we went through quite the rollercoaster. It was really good and then it went really bad, and then it came back and we raced for a championship in Phoenix. It can go up and down, but it's nice if you have a lot of points as you go through those playoffs. You sleep a lot easier and things like that. It's just like it is for football, you want to try and seed yourself the best you can and it's the same thing for us in NASCAR.
Logano on Getting Early Victories
"It's nice to get a win early. Maybe it makes you sleep a little better, but you just can't get a win and go check out for two or three months and then come back when the playoffs start. You just can't do that. It doesn't mean that you're gonna have ups and downs throughout it, you probably will, but making sure you're good when it matters the most is key."
Logano is one of the best drivers out there today at superspeedway racing, especially in the Daytona 500. The 2015 winner of The Great American Race, Logano has five finishes of sixth or better in the last six Daytona 500s. The 22 team will try to become a multi-time Daytona 500 Champion on Sunday in their quest for another Cup Series title.
Blaney Needs to Better Himself
As the lone Penske car to not make the title fight, much was left on the table for Ryan Blaney in 2020. Although the 12 team did score a win at Talladega, that was their lone win of the year. A bad opening round of the Playoffs saw Blaney eliminated after the Round of 16. While the 2 and 22 teams consistently win multiple times per year and battle for championships, the 12 is the redheaded stepchild of the Penske group. The past three seasons have seen Blaney only earn a single win each year. 2020 was especially tough for Blaney, as he led the points early in the year. Blaney had excellent opportunities for several wins early in 2020, including the Daytona 500, Las Vegas and Auto Club. On the strength of a new contract extension with Penske, Blaney knows that 2021 is a must-perform year.
"Last year, we had some really fast cars," Blaney said. "We let, honestly, four or five slip away from us that I thought we had the fastest car in. Whether it was just racing circumstances – there are some things we could have done better as a team, I could have done some things better as a driver to give us better shots of winning those races."
Blaney Taking Brunt of Pressure
"I definitely don't want to be the guy who wins only once a year. The last two times we've won they've been on superspeedways, so we need to change that for sure. We have a group to be able to do that. Todd Gordon, his whole group is really, really great. We had super fast cars and in the offseason it was nice to sit down and say, 'Hey, what can we improve on? What are the things we didn't do well that we really need to work on? And what are the things we did well that we can still improve?'
Those were things I was able to actually sit down with Todd and talk to everybody to try to figure those out, but it's real important. Hopefully, we have a really good year this year. I'm sure our cars will be really fast, it's just a matter of executing a little bit more on my side, on pit road, everybody has a hand in this, but I have full confidence in our group. I think they're great people, great guys and have potential that can be a really good year for us."
Blaney certainly has urgency to perform in this new season. Prior to the pause last year, the 27-year-old inked a contract extension for the 12 ride. Roger Penske put much faith in the young driver, so 2021 could be his breakout season to score multiple wins.
More Pressure for DiBenedetto
Among all drivers in the NASCAR Cup Series, none may have more outside pressure on them than Matt DiBenedetto. The fan-favorite driver of the Wood Brothers Racing 21 already knows that he is out of a job come the end of the season. With one more year ahead in a top-level car, the question becomes when can DiBenedetto earn his first career win?
"I try to focus on executing to the best of our ability as a team, which we were doing finally toward the last third of last season," said DiBenedetto. "That's my main focus is making the most of our race cars and executing. As far as winning, I think we are ready to win now. We are ready as a team. The first bit of last year I don't think we were ready to win because we had a lot to learn, we had a lot to learn about each other, and then it finally clicked like I was talking about and then I felt like we were ready.
On top of doing everything perfect things have to fall in your favor and fall properly. You have to have good luck on your side to close one of these things out. The best car doesn't always win, so I think we are ready to put ourselves in position consistently to win and I think that's how it's gonna come for us and I feel like this year is definitely our year."
DiBenedetto's Best Shot at a Win?
"It may sound crazy, but this is the best I feel about [winning] because I have such a good team behind me and especially because we had all that time last year together where we were really rocking and rolling the last part of last season. So going into this year even with the uncertainty you can call it about 2022, I feel the best I've ever felt in my career going into this year even without knowing my plans for next year. This is all I can ask for is to have the seat time that we had last year together, to have the speed, have the equipment behind me, all the things that are lined up for success for this year. If we go out there, we win, run up front consistently, compete in the Playoffs – hardcore – all the things I know that we are 100 percent capable of doing this year more than ever, the rest will take care of itself."
Seemingly on the cusp of his first career win, DiBenedetto hopes to add to the long and illustrious history of the 21 car. Should he get a win, it would mark the 100th Cup Series victory for the Wood Brothers Racing Team. On top of the personal significance a win would hold for him, the California native would love to be the lucky one to deliver this family their 100th checkered flag. DiBenedetto will surely be a factor week in and week out this year for that elusive win, so keep an eye on him at a multitude of different tracks.
Cindric Looks to Clinch Another Xfinity Title
2020 Xfinity Series Champion Austin Cindric is in a surely unique position for 2021. While he remains in Xfinity competition to defend his title, he will also run select Cup Series events in the No. 33 Mustang for Penske. Cindric's first Cup attempt will be the Daytona 500, where he will need to secure his starting spot either on speed or through the Duels. Cindric hopes to become a back-to-back Xfinity champion, before his rookie year in the Cup Series for 2022. Despite the wide differences in both series, Cindric simply wants to race as often as possible.
"I've never approached racing as looking to prove something to somebody else," said Cindric. For me, I'm just a competitor. I want to go out and win and for us coming back as the defending series champion is fun. It's a new experience for me. I'm looking forward to embracing that, but also stepping up my game. We've got great competitors I that series and I don't think that should be taken likely. I think there's potential for this year to be even more competitive than last year, so I'm excited for having some new faces in the garage area and new cars and putting our best foot forward. I feel like Saturdays put on some really great shows last year and I wouldn't expect that to change."
Cindric on Making the 500
Cindric is also well aware of the challenges he will have this coming week in making the Daytona 500 as an open car. "I think anyone who makes plans at superspeedways do it because they're nervous because there's no way to prepare for these races. There's no way to prepare for those scenarios. Qualifying is significantly important for both of our opportunities to make it into the race, but also where we start in the Duels. I think we'll play it as it goes. I'd be extremely unlucky if I didn't have a Penske-affiliated car with me in the Duels, so that would be nice to have and nice to have teammates. If I get in the race, hopefully I can help those guys get stage points and try and fight for a race win and get a Penske car and a Ford into Victory Lane for the Daytona 500."
"There's a lot of work to still do, but there are definitely a lot of different scenarios and a lot of things you have to prepare for and sometimes it will come down to the small details and hopefully it doesn't have to come down to missing big wrecks and the things you're accustomed to seeing in speedway racing, but you definitely have to be prepared for."
Watch out for Cindric on Wednesday
That Verizon No. 33 Penske Mustang should be among the fastest open cars in Daytona 500 qualifying on Wednesday night. If Cindric is to make the 500, another Penske car could spell doom for the rest of the field. Expect teammates to certainly help each other out where possible in the Duels and in the 500, as Cindric is out to prove his mettle at the top level.
As an organization, Team Penske will definitely be one to watch out for in 2021. Their Cup lineup has three drivers capable of multiple wins. The affiliated 21 team can also mount a deep Playoff run. In addition, Austin Cindric returning to Xfinity and also in select Cup races can be dangerous. Cindric has to be seen as the favorite for the Xfinity title, while also a contender at select Cup tracks. On the Cup side meanwhile, the 2021 title will certainly go through the Penske powerhouse organization.
Written by Peter Stratta
Be sure to follow us on Twitter.
Be sure to follow the writer on Twitter.
Photo credit to NASCARMedia