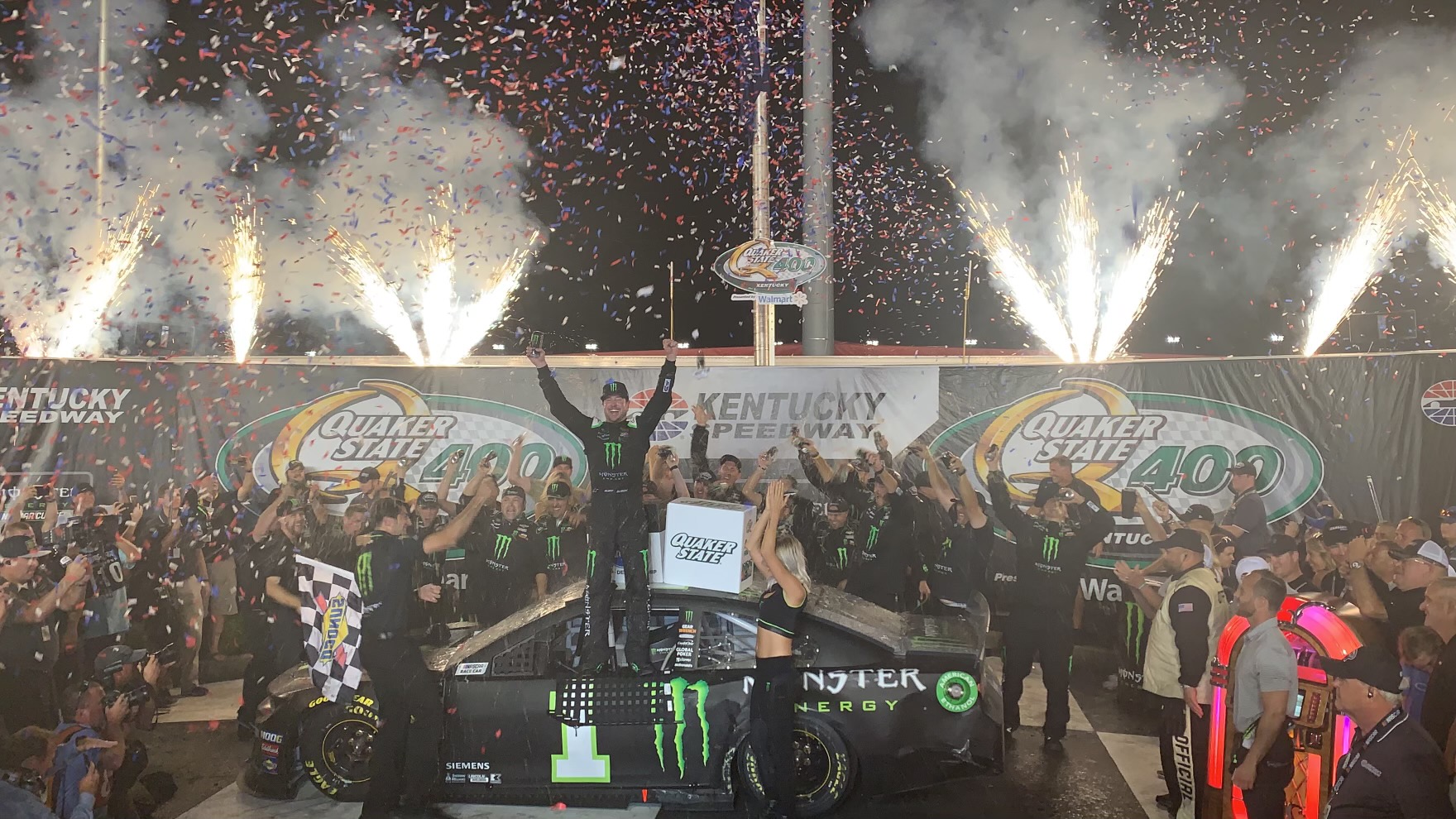 2021 NASCAR Team Preview: Chip Ganassi Racing
2020 was a year unlike any other for Chip Ganassi Racing. During the COVID-19 pause, this organization had to scramble to fill one of its two seats with a replacement driver. Once the season resumed, Kurt Busch and the 1 team came out of the gates swinging. The 42 team meanwhile struggled with Matt Kenseth in a substitution role for the suspended Kyle Larson. Busch did score Ganassi's lone victory of 2020 in his hometown race at Las Vegas in September. That win propelled the 1 team to the Round of 8, en route to a 10th-place championship result. Now in a new year, the 42 team has a new driver with Ross Chastain. While far from a rookie, Chastain does have much to learn in his first full-time Cup campaign.
Busch Has Newfound Perspective
As one of the most experienced drivers in the Cup Series, Kurt Busch has undergone a career renaissance at Ganassi. The past two years have seen the 1 team win twice, while seemingly improving every week. The elder Busch brother attributes much of this success to his current mindset in life and his outlook on racing.
"Yeah, I feel confident in who I am, what I've done in this series, what I've done in all of motorsports," Busch said. "This is the point in my career where it's easy to give back. It's easy to help young crew members, engineers. I'm in a perfect situation now with being a mentor to Ross Chastain, who I think is an up and comer in the NASCAR Cup Series. So, it's just fitting into that role and being confident with all my moves and Chip Ganassi, himself, and this racing program has brought the best out in me."
At 42-years-old, Kurt Busch shows no immediate signs of slowing down. Expect the 1 team to be in contention to win several races this season. With the uncertainty of so many road course races, it is not inconceivable to see the 1 win multiple races.
One overarching question for Kurt Busch in 2021 will be 'is this it?' The 2004 Cup Series champion is currently a free agent at the end of this season. With more than two decades of racing at the highest level, many are wondering whether or not the Las Vegas native will retire following this season. Busch brushed off contract talks by saying "all this will come together for the right reasons at the right time." We will update Kurt Busch's contract status when available.
Chastain Grateful for Busch as a Teammate
The new addition to the Ganassi lineup, Ross Chastain is as ready as ever for his first season as a Cup driver. The Alva, Fla. native ran last year in the Xfinity Series, and now makes the jump to Cup. Though he did not earn a victory in 2020, Chastain led the Xfinity Series in top-10s (27) and finished second five times. Even with Chastain's hard-nosed all-or-nothing style of racing, he knows he still has a lot to learn about being a Cup driver, and is heavily leaning on his veteran teammate.
"I'm going to follow that guy's lead, even on Media Day I'm following him," Chastain said. "He's a good guy to follow. We've gotten to spend some time together this off-season. He came by the watermelon farm. I showed him around a little bit. He got to meet some of my family. We're not that different in a lot of ways in just taking and chatting about life and race cars and watermelons and talking about his childhood. He actually ran some of the same series' I did, and my dad did, as a hobby; that was cool to talk about old times. He's been there and he's done it.
"The depth of drivers and like the best role models I can try to be like; I've had some really good ones in my life obviously, with my dad. But you get into the CGR fold and the guys that Chip (Ganassi) has assembled (like) Scott Dixon and Dario Franchitti and Jimmie Johnson; these are all guys that I've been able to now go to and ask questions. Kurt is first and foremost and the closest, and we're driving the same race car. I've bugged him with quite a few questions."
Melon Man Certainly Not a Rookie
Chastain does in fact have a bit of a steep learning curve ahead of himself. While he has made 79 prior Cup Series starts, none have been with such a stable team and sponsorship around him. Chastain winning in 2021 is not out of the question, but with so many unknowns with new venues and limited practice, some struggles could be in his immediate future.
Ganassi will try to make their seventh-straight Playoff appearance in 2021. Between the veteran experience of Busch and the youthful optimism of Chastain, there are great odds of another Ganassi car making the postseason.
Written by Peter Stratta
Be sure to follow us on Twitter.
Be sure to follow the writer on Twitter.
Photo credit to Paul Sutton