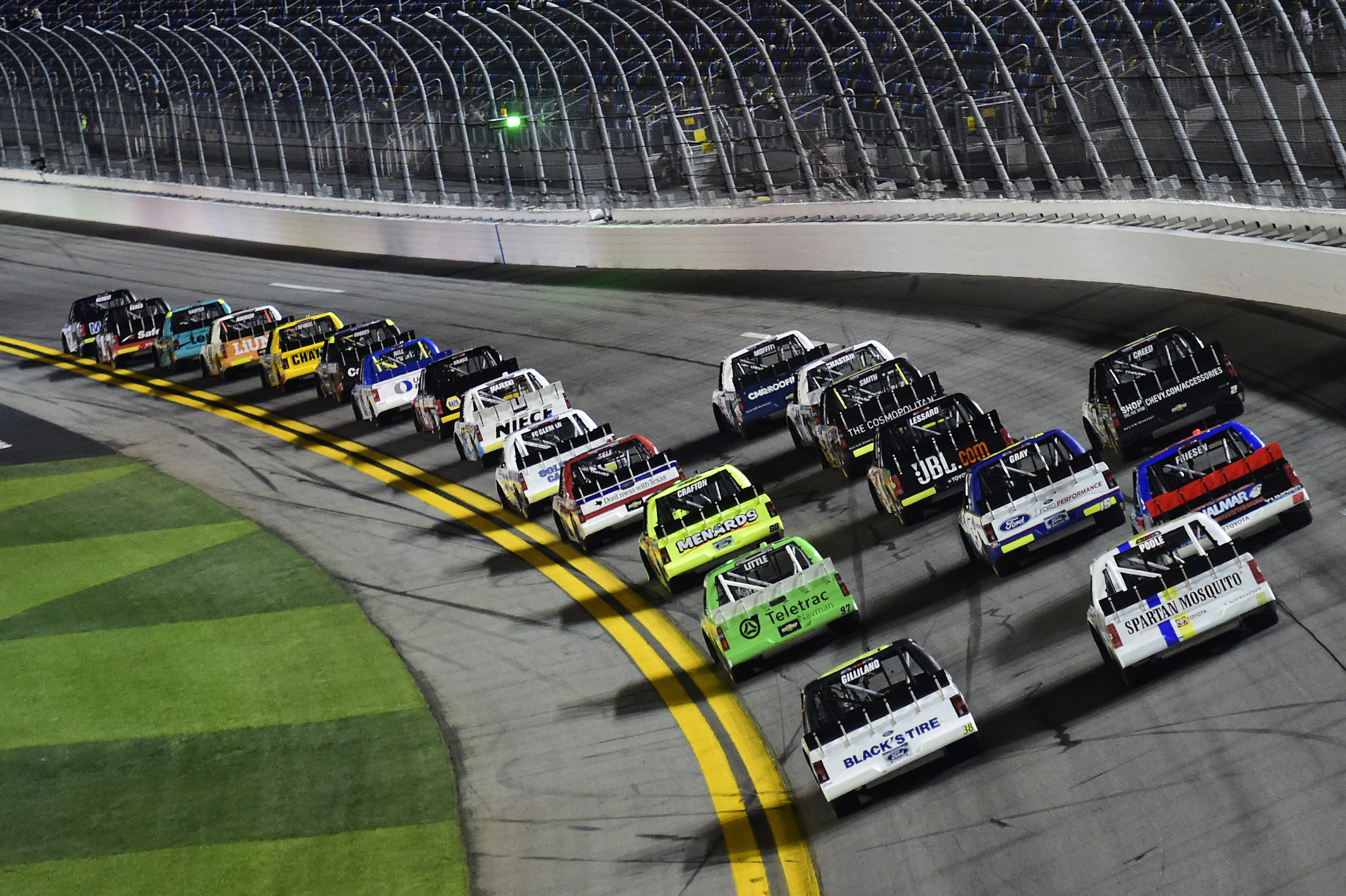 Several Camping World Truck Series Teams Have Wildly New Lineups for 2021
The current offseason has seen much change take place in the Truck Series. Alongside a returning title sponsor, many Playoff and championship caliber trucks will have new drivers in Daytona. Much like both the Cup and Xfinity Series, let's take a look at some of the major silly season moves that have taken place. Expect many of these new teams and drivers to be race-winning contenders from the start of the season, as some very experienced drivers will populate the Truck Series in 2021.
Hailie Deegan to Make Much-Anticipated Rookie Run
Ever since her first K&N West Series win two years ago, many have eagerly awaited Hailie Deegan's NASCAR National Series debut. That came in the DGR-Crosley No. 17 Truck at Kansas in October. That day, she started 34th but wound her way up to 16th by the finish. Ever since, she has been very excited for the upcoming full season in the Truck Series. The Ford development driver will pilot the DGR-Crosley 17 full time. Deegan spent this past season competing in the ARCA Series, where she finished third in points after four top fives, 17 top 10s, and a best finish of second.
Deegan certainly spent the Kansas debut race learning and adapting. Despite her inexperience, she could still be a contender for the Playoffs. The Truck Series season opener will only mark her second career start though, so she is a very green rookie.
Niece Doubles Down on Talent
Two seasons ago, Ross Chastain put Niece Motorsports on the map with a Championship 4 appearance and a second-place points finish. With Chastain moving onto the Xfinity Series for 2020, Niece had their struggles in the Truck Series. Across a rotating cast of 16 different drivers, Niece Motorsports trucks only scored three top fives in all of 2020. Change was certainly needed for this team over the offseason, as they hope to make another deep Playoff run. Niece's new two-man lineup features one of the best in Trucks today, as well as a promising young driver.
Carson Hocevar will take over the Niece No. 42 Truck for 2021. In nine Truck starts over the last two seasons, Hocevar has a best finish of 12th. The Michigan driver is also the defending Winchester 400 winner, so he is certainly a star among short track drivers nationwide. His lack of experience will balance nicely with his veteran teammate.
Can Moffitt Repeat Past Success?
Taking over the 45 Truck will be Brett Moffitt. Moffitt, the 2018 Truck Series champion, spent the last two seasons at GMS Racing. Since his 2018 title-winning year, Moffitt has made the Championship 4 in both seasons, and won five races. Moffitt's lone win last season came in the Kansas Playoff race, though his team was close to victory on many more occasions. This included the season finale at Phoenix. If not for a late caution, Moffitt would have likely been the 2020 Truck Series Champion.
Moffitt will once again race for the Truck Series title, but this coming season will be a new challenge. Similarly to Ross Chastain in 2019, Moffitt will try to compete the entirety of both the Truck and Xfinity Series seasons. In Xfinity, Moffitt will pilot the No. 02 Chevrolet for Our Motorsports. In a plan many are already comparing to Chastain's herculean effort, it is only appropriate that Moffitt is also at Niece Motorsports. Can Moffitt bring this team back to relevancy? Expect to see the 45 up front contending for wins once again, as Brett Moffitt is a premier talent in the Truck Series.
Major Reorganization at Kyle Busch Motorsports
After a down year that saw only one driver make the Playoffs, Kyle Busch Motorsports cleaned house. Gone from the Toyota powerhouse are Christian Eckes and Raphael Lessard, and in their seats now are John Hunter Nemechek and Chandler Smith. Nemechek returns to the Trucks after a rookie year in the Cup Series, while Smith will compete the full schedule for the first time.
In underfunded equipment, Nemechek scored six Truck Series wins from 2015-2018. With over 100 starts already under his belt, Nemechek will be one of the most experienced drivers for the 2021 season. Now in the best equipment he has ever driven, expect big things from Nemechek. The 4 should be a near-constant threat for victory lane, and a deep Playoff run should be expected. Nemechek dropping back to the Trucks after making the Cup Series is definitely a surprising move. However if the 23-year-old can prove himself, bigger opportunities could be on the horizon for this second-generation driver.
Joining Nemechek as a teammate will be Chandler Smith in the flagship 18 truck. Once Smith turned 18 last year, he competed in 12 of the 23 Truck Series races. While he did not win, he earned five top fives and an average finish of 15th. Now in a full-time role, Chandler Smith should be a breakout talent for 2021. Chandler Smith has been a standout short track racing star for years, now he finally gets his big break in the Truck Series.
Will GMS Remain the Team to Beat?
If there was one constant for the Truck Series in 2020, GMS Racing was the class of the field. This Chevrolet powerhouse team made up three of the Championship 4 drivers, and won the title with Sheldon Creed. While Creed, Zane Smith, and Tyler Ankrum all return to the team, GMS Racing will also welcome some new faces for 2021.
Replacing the seat vacated by Brett Moffitt will be Chase Purdy. Purdy, 21, from Mississippi, will be competing a full schedule again for the first time since the 2018 ARCA season. Purdy did make seven starts in a GMS truck in 2020, with a best finish of tenth at Kansas. As a young driver who has been out of the seat for a few years, the start of the season may be slow for Purdy. However, expect this Chevrolet to fight for a Playoff berth as the year winds onward.
Part-Time Effort for Lessard
The final new addition to the GMS lineup for 2021 will be Raphael Lessard. Lessard ran a rookie campaign in the Kyle Busch Motorsports 4 truck last year, earning one win at Talladega. Outside of that triumph however, the Quebec native did not have many high points. Lessard earned four top fives, seven top 10s, and a 12th-place points finish in 2020.
Lessard's current deal with GMS is also not a full-time ride, as they only have sponsorship for 12 races together. Only time and on-track results will determine whether or not Lessard can piece together enough funding for the entire season.
The start of the new year grows ever so bigger in the windshield, and silly season is still ongoing for some. The 2021 Camping World Truck Series season will kick off in just seven week's time with the NextEra Energy 250 from Daytona on Friday, February 12. Be sure to stay tuned for any updates from any remaining NASCAR offseason news, as Daytona will be here before any of us know it!
Written by Peter Stratta
Be sure to follow us on Twitter.
Be sure to follow the writer on Twitter.
Photo credit to NASCARMedia