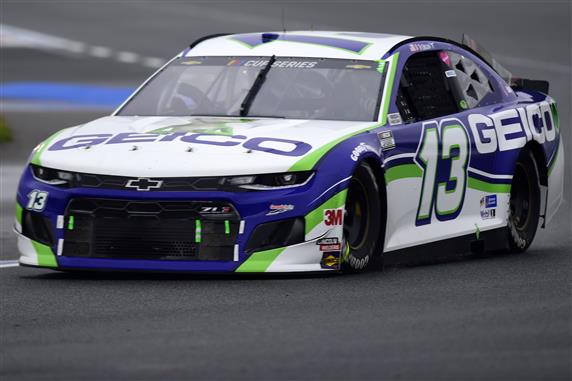 Silly Season Update, Which Drivers and Seats are Still Open for NASCAR in 2021?
The month of December is here, and NASCAR is in the midst of the brief offseason. Although no racing action is happening, plenty of news has broken since the finale in regards to silly season. In addition, some drivers and teams also have yet-to-be-determined plans. As the 2021 season is just over two months away, let's take a look at the new faces who will be in new places.
Heavy Hendrick Shakeup
By far the largest single organization to change their lineup for 2021 is Hendrick Motorsports. Only the championship-winning 9 team of Chase Elliott will remain constant. With Jimmie Johnson retiring from full-time competition, Alex Bowman's 88 team will now become the 48. The 48 will retain sponsorship from Ally Financial, and Greg Ives will remain as crew chief. The former 88 team is simply just switching numbers to the 48.
With Johnson's exit from the 48, that team will also change numbers to the 5. The new driver tabbed to bring HMS' legacy number back is Kyle Larson. After a year that saw Young Money win over 40 times on dirt, he will enter 2021 as confident and dedicated as ever. With over 200 Cup starts and six wins already, Larson's potential at Hendrick is truly sky-high. Expect him and Elliott to battle it out weekly to be top dog at this powerhouse team.
The last major change at Hendrick will be with the 24 team's crew chief. With Chad Knaus being promoted to the Vice President of Competition role, this opens the door for Rudy Fugle. William Byron and Rudy Fugle do have quite the history together. In the 2016 Truck Series season, this duo won seven times and came up just short of making the Championship 4. With Byron now having a Cup win under his belt, the 24 team can and should take a big leap forward in consistency for 2021.
Briscoe Prepares for Rookie Campaign
Late in the 2020 campaign, it was announced that Clint Bowyer would retire from the Stewart-Haas 14 Ford. Bowyer moves on to the television booth for NASCAR On Fox, joining Jeff Gordon and Mike Joy. As for Bowyer's replacement, SHR promoted their standout Xfinity star, Chase Briscoe. This past season saw Briscoe win an unprecedented nine times, including thrilling finishes at Darlington, Pocono, and Indianapolis. The Indiana native who grew up idolizing Tony Stewart will now race the 14 car that Stewart took to his final championship. One Stewart-Haas rookie in Cole Custer stunned everyone with an upset victory in 2020, can Chase Briscoe follow suit?
New Teams Entering Cup Series
23XI Racing
In anticipation of the Next Gen car coming for 2022, several new race teams will join the grid for Sundays in 2021. The most high-profile of these new teams will be 23XI Racing, the new joint venture between Denny Hamlin and Michael Jordan. The No. 23 Toyota Camry will be piloted by Bubba Wallace, and have a close technical alliance with Joe Gibbs Racing. With Wallace's newly found star power both on and off-track, he will have lots of eyes on him in 2021. Mike Wheeler will make the transition to crew chief for this team, coming from Leavine Family Racing. The 23 may be slow to start off as a new team, but in time they should adapt into a threat for wins.
Trackhouse Racing
Another new team owned by a driver will be Trackhouse Racing. Justin Marks' No. 99 Chevrolet Camaro will enter the year with Daniel Suarez behind the wheel. This team will have close ties to Richard Childress Racing, as they will operate off of their campus in Welcome, North Carolina. Suarez's 2020 team, Gaunt Brothers Racing, will also drop back to a part-time effort in 2021.
For Suarez, Trackhouse will mark his fourth different team in four seasons. The Mexico native and past Xfinity Series champion needs to build a foundation on which he can perform at his best, can Trackhouse be the answer to his struggles? Travis Mack will be the crew chief of this operation, as he has led multiple drivers to stardom before.
Live Fast Motorsports
The third and final new operation to join the 2021 Cup Series will be Live Fast Motorsports. This partnership between BJ McLeod and Matt Tifft will run the No. 78 Ford Mustang, using the Joe Falk-owned charter previously from Go Fas Racing. Similarly to Go Fas, Live Fast will have an alliance with Stewart-Haas Racing, as McLeod will drive this entry full time. With health issues late in 2019 putting Matt Tifft's driving career on hiatus, it is great to see him enter a new role in the sport. Like any new team, things may be slow out of the gate for the 78, but in time they could become a dark horse contender.
Domino Effect Puts New Faces at Petty, JGR
Midway through the 2020 season, Erik Jones was told that he would not return to the No. 20 seat at Joe Gibbs Racing. This opened up the spot for Christopher Bell, who ran as a rookie for Leavine Family Racing. With Jones out, he found a home replacing Bubba Wallace in the Richard Petty Motorsports 43 car. The 43 team will retain Jerry Baxter as crew chief, joining him with Jones. Baxter's addition to the 43 team this past year saw major improvements. Now with Jones, the 43 should take another leap forward in competition.
Christopher Bell taking over the 20 also coincides with major crew chief changes at JGR. Bell will be paired with Adam Stevens, who leaves the 18 of Kyle Busch after six seasons. In this time Stevens won two championships, so putting him with the highly-touted sophomore driver could be a dynamic combination. The new man atop the 18's pit box will be Ben Beshore, who gets promoted from JGR's Xfinity team. The past two seasons have seen Beshore call his cars to eight wins, including four with Busch. Beshore also worked with Busch when Stevens was suspended in 2017, so they have a history together.
Chastain Finally Gets His Calling to Cup
After years of building a reputation as a driver who will get everything out of lesser equipment, Ross Chastain will get the best opportunity of his career. 'The Melon Man' will take over the No. 42 Chevrolet at Chip Ganassi Racing, replacing the retiring Matt Kenseth. Although 2021 will be Chastain's first time running the full Cup schedule, he is far from a rookie. The Florida native has close to 100 starts already, but none in a car as strong as the 42. With Chastain's aggressive driving style, it is not out of the question to see the 42 return to Victory Lane. The teammate combination of Chastain and Kurt Busch will be among the most interesting dynamics in NASCAR for 2021, only time will tell how they mesh together.
Lajoie one to Watch Out for?
Announced via his podcast Sunday Money this week, Corey Lajoie will go to Spire Motorsports to drive the No. 7 Chevrolet. Lajoie makes this silly season move after two seasons in the No. 32 Go Fas Racing Ford. Lajoie has signed a multi-year deal to drive for Spire. With Lajoie's departure, the 32 team sold their charter to Trackhouse, as they will only compete in select races for 2021.
Expect Spire Motorsports to take a step forward in 2021 as well, since they will be closely aligned with Hendrick and Ganassi. This second Spire entry comes from the purchase of the Leavine Family Racing charter, as the 77 will also be a full-time car for 2021. The status of the 77 and its driver(s) will be announced at a later date. Spire is also moving into the former-Leavine shop, so they are certainly upgrading for the coming season.
Nemechek Betting on Himself
In a surprising twist after a moderately-successful rookie year, John Hunter Nemechek will leave the Cup Series. The 23-year-old will now drop down to the Truck Series, to drive the No. 4 Toyota Tundra for Kyle Busch Motorsports. This move may just pay off for Nemechek, as he is now entrenched in the Toyota Racing Development ladder system. Nemechek's replacement in the No. 38 Ford at Front Row Motorsports is still TBD.
Who Remains in Silly Season Flux?
Lastly, four drivers in the Cup Series remain currently unsigned for 2021. Much like the 38, the 34 Front Row Motorsports Ford is also still TBD. However, Michael McDowell delivered FRM their most consistent season ever in 2020, so he is likely to return. As mentioned above, his teammate is also still an unknown.
A pair of teammates also have 2021 plans in limbo, as Joey Gase and Brennan Poole have uncertain futures. Both drivers ran a majority of 2020 for Rick Ware Racing, and sponsorship will determine their silly season fates. RWR is expanding their efforts into the Xfinity Series for 2021, so their Cup participation could change.
The last big question mark for NASCAR silly season revolves around Ty Dillon. His former home of the Germain Racing 13 Chevrolet closed down at the end of 2020, thus leaving the younger Dillon brother without a ride. Of the remaining drivers, Ty Dillon is certainly the most high-profile free agent.
With silly season being delayed this year due to the pandemic, many releases and hires happened simultaneously towards the end of the year. This year's version of silly season is slowly wrapping itself up, but there are still a few unanswered questions. Be sure to stay tuned for any updates on these driver's plans, as the 2021 season nears ever so closer.
Written by Peter Stratta
Be sure to follow us on Twitter.
Be sure to follow the writer on Twitter.
Photo credit to NASCARMedia