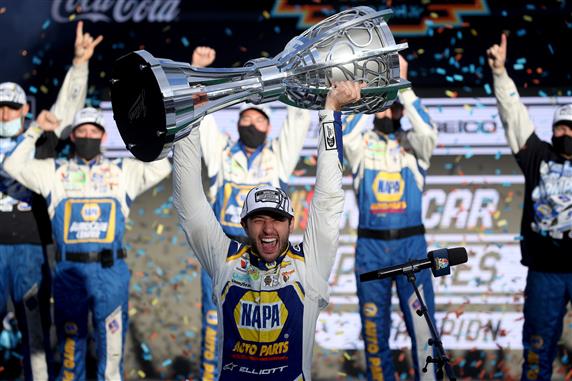 Clutch Phoenix Win Leads to First Cup Series Championship for Chase Elliott
Heading into the Season Finale 500 on Sunday, many eyes were on Chase Elliott. He would be the only one of the Championship 4 to fail prerace inspection, and thus would start from the rear. This would prove to not be much of a handicap, as Elliott became a man on a mission slicing his way through the field. Once Elliott got out front, the 9 was hardly touchable. In the end, Chase Elliott would win at Phoenix to secure his first career NASCAR Cup Series championship. The Bill France Cup is going to Dawsonville, Ga with the second-generation star. After his best season to date, Elliott is more than a deserving champion of NASCAR.
Logano Leads Early
While Chase Elliott would start the day in the rear, his three title rivals of Joey Logano, Brad Keselowski, and Denny Hamlin would start up front. Logano would get the jump on the initial start and pull away in the opening laps. Hamlin would challenge Keselowski for second, but a failed slide job allowed the 2 to cross over the 11 again and hold ground. It would only take Elliott 16 laps to crack the top 15, as the 9 car was flying. By the time of the lap 30 competition caution, Logano had a lead of just over a second.
By the end of Stage 1 the top running cars would not see much change. Logano held off a late charge from Hamlin to take the Stage win by about five tenths. Not far back in third would be Elliott, and Keselowski made it a clean sweep for the Championship 4 in the top four. The story of Stage 1 would certainly be Chase Elliott's incredible recovery, racing his way up into the top three after starting at the tail of the field. Logano appeared to be fast out front, but Elliott's charge had no signs of slowing down.
New Faces Up Front in Stage 2
Logano would restart Stage 2 as the leader but the 22 would not stay there long. Hamlin also held second on the restart but he could not impede the 9's progress for long. Elliott took second away and then the lead on lap 120. In just 120 laps, Chase Elliott had gone from worst to first at Phoenix, trying to wrestle the championship away from the veterans.
Logano would begin to fall back with reports of a vibration in the 22 machine. Not long after the 22 lost the lead, his teammate the 2 also pitted for a vibration. This sent Keselowski off strategy and back to 27th, one lap down. Meanwhile, it only took Elliott a few laps to build up  a one second lead.
A green flag pit cycle midway through Stage 2 would briefly cede the top spot among the Championship 4 to Keselowski, as his pit window was longer. With 40 to go in the Stage however, Elliott retook command of the race and the championship.
This green flag pit cycle would be halted by a caution for James Davison and Josh Bilicki both hitting the wall. With a two-tire call, Kurt Busch beat Elliott off pit road under yellow to restart as the leader. By turn three on the restart though, the 9 was clear of the 1 and driving away. Also quickly getting by the 1 would be Keselowski, who was not letting Elliott get away. Amazingly on lap 173, Keselowski got by Elliott for the lead. After a spirited back-and-forth battle, Keselowski just edged out Elliott on the last lap for the Stage 2 win.
Elliott Extraordinary in Final Stage
Elliott would quickly regain the lead however under caution. The Hendrick 9 pit crew gave Elliott a lightning-fast pit stop that allowed him to leapfrog the 2. When the race restarted with 112 laps left, Elliott took off over Logano. The lead would only change hands in the final green flag pit cycle. Fifth-place running Ryan Blaney was the first to come in for service with 57 laps left. Logano and Hamlin would come in with 54 to go while the 9 and 2 came in the next time by. Due to pitting a lap earlier, after pit stops Logano led Elliott by 1.5 seconds. Inside of 50 laps to go though, Elliott had the faster car and began to rapidly catch the 22.
In heavy lapped traffic, Elliott got up to Logano's bumper with 44 to go. The next time by, Elliott took the lead away from the 2018 Series champion. In just a matter of laps, Elliott had another one-second lead. As laps wound down, no late caution ever came. This allowed Elliott to amass a bigger and bigger lead over Logano. With 10 laps left, second place changed hands among Penske teammates, as Keselowski got by Logano. The 2 had nothing for the 9 though, as Elliott cruised to a win and a championship by nearly three seconds.
For only the second time since 2014, the Championship 4 drivers would finish 1-2-3-4 in the finale. Across the stripe at the checkers the order was Elliott-Keselowski-Logano-Hamlin. Hamlin would be the only contender who failed to lead a lap, as both Elliott and Logano led over 100 circuits.
Touching Moment Between Teammates
The celebration was on for Chase Elliott, the 9 team, and Hendrick Motorsports once the checkered flag waved. On the cooldown lap, many drivers came alongside the 9 to congratulate the newest Cup Series champion. Of those competitors, Jimmie Johnson drove alongside Elliott in formation, celebrating as a team. Johnson, who finished fifth in his final full-time race, was as happy as anyone to see the 9 car as champion. Johnson would soon join Elliott on the championship stage to congratulate him as well.
The remainder of the top 10 in the Season Finale 500 from Phoenix would be Ryan Blaney, Kevin Harvick, Matt Dibenedetto, William Byron, and Martin Truex, Jr.
Father Greets Son
Another one quick to celebrate by Chase Elliott's side would be Bill Elliott. The Hall of Famer and 1988 Cup Series champion was as ecstatic as anyone to witness the Elliott family legacy live on. Bill and Chase Elliott are only the third father-son duo to each win the Cup Series championship. They join Lee and Richard Petty, as well as Ned and Dale Jarrett, all Hall of Famers. With Bill already in the Hall, the sky is now the limit for Chase's future potential joining his father enshrined one day.
Numerology Behind Chase's Championship
Elliott's 2020 championship comes on the strength of five victories, including the final two races at Martinsville and Phoenix. Elliott is the first champion to win both of the last two races since Kevin Harvick in 2014.
Although this is not yet official, Chase Elliott is very likely to win Most Popular Driver Award for the third-straight year. He would be the first since his father in 1988 to win both MPD and the championship in the same year. Elliott's Cup Series title also comes six years to the day after he clinched his Xfinity Series title, which also came at Phoenix Raceway.
In addition, crew chief Alan Gustafson earns his first Cup Series title. Gustafson also now has the unique honor of having won races at Phoenix with Kyle Busch, Mark Martin, Jeff Gordon, and Chase Elliott.  Elliott's title is also the 13th for Hendrick Motorsports, which is the most among race teams in NASCAR history.
Chase Elliott is also the sixth man to win both titles in the Xfinity and Cup Series. The list he joins there includes Bobby Labonte, Brad Keselowski, Kevin Harvick, Kyle Busch, and Martin Truex, Jr.
At 24-years-old, Elliott is also the third-youngest Cup Series champion. He is only older than Bill Rexford (1950) and Jeff Gordon (1995).
Elliott's Championship Reaction
Elliott immediately called the Cup Series title "Unbelievable. This is a moment I've dreamed about. The stars aligned to be here, and this moment is something that not a lot get to enjoy. I'm humbled that we get to home tonight as champions."
Elliott went on to describe his emotions immediately after the race. "Heck, I'm still not sure I completely realize what has exactly happened," Elliott said. "I don't feel like I'm a crier in these situations, but dang, I feel like there's going to come a time where I'm probably going to break down and really lose it. I feel like I kind of did there after the race, and then you get caught up in everything else that's going on.
I'm really looking forward to just kind of sitting back and looking at everything from a different perspective and just enjoying it. But I'm also going to enjoy it as I'm living it because this is something that may not ever happen ever again, and I recognize that. It's a moment and a time and an accomplishment that I will never, ever, ever, ever, ever take for granted. It's a really big deal to me.
This is as big as it gets. I mean, my goodness. I mean, a champion in the Cup Series? Are you kidding me? It's nuts. It's absolutely nuts."
Elliott on the Last Two Weeks
"I'm not sure I could have sat down and drawn it up any better, you know? So for me, it's unbelievable. It's something that I'm not sure — well, I know I haven't let it sink in yet. I'm waiting on it to hit me and I'm going to break down here and look like a fool in a minute. I know it's coming.
Just so grateful for the opportunities and the things I've had over the years, great people. My mom and dad and their support obviously has been from the beginning. Mr. Hendrick came in and really changed my life when he wanted to help. Not to sound like a NASCAR driver, but NAPA Auto Parts, too, coming in when they did. 2014 wouldn't have happened without them and the championship that came that season. And man, they've been a champion partner for years. Now they have a championship to go with it. Very grateful for a lot of great people, more people than I named that have got me here today."
2020 is Finally in the Books
Somehow we all made it. After the most unconventional year in modern history, let alone NASCAR, the Cup Series season is over. The coming offseason is more than well deserved for the entire industry. The major efforts put forth by every team, driver, official, media member, and industry personnel to get the 2020 season restarted cannot be underemphasized. 2021 will be here before we know it, kicking off with Speedweeks and the 63rd Running of the Daytona 500. Until February, be sure to stay tuned for any breaking NASCAR news.
Written by Peter Stratta
Be sure to follow us on Twitter.
Be sure to follow the writer on Twitter.
Photo credit to NASCARMedia