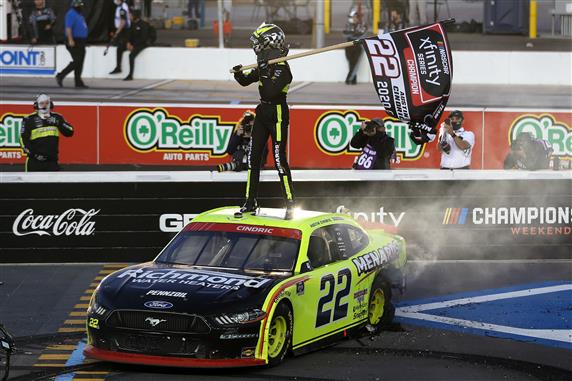 Austin Cindric Wins 2020 Xfinity Series Championship with Phoenix Victory
In his 100th career Xfinity Series start, Austin Cindric won the biggest race of his life. Cindric used a late pit stop to pass Justin Allgaier and Noah Gragson to win the Desert Diamond Casino Valley 200 and Xfinity Series Championship at Phoenix Raceway. It looked like Cindric had the race in hand, as he led Allgaier by over a second with under five laps to go. Then, with three laps to go, Chase Briscoe spun to bring out the final caution. Cindric's decision to pit helped him win his sixth race of the season and first NASCAR championship. This also marks the second Xfinity title for Team Penske
Chase Briscoe Starts off Strong
After an early caution, Chase Briscoe would take the lead from Allgaier on the restart. Briscoe raced side by side with Cindric early on but Briscoe held him off. Cindric's car came to life late in the Stage. He passed Allgaier for second with five to go, then set his sights on Briscoe. He nearly passed Briscoe for the Stage win, but he came up just short.
Allgaier and Cindric Take Command in Stage 2
Allgaier would win the race off pit road and take the lead to begin Stage 2. He had a great short-run car all race long. Allgaier would use that to get out to a big lead. Cindric's car was much better on long runs, and he began to run Allgaier down late in the Stage. A caution with 15 to go would bunch everything back up. Allgaier couldn't hold off Cindric for long though, as Cindric made his move with eight to go. The 22 would take the lead and ultimately the Stage win. The other Championship 4 drivers, Briscoe and Justin Haley, were running third and seventh, respectively.
Cindric Shows Off His Long Run Speed
Allgaier took the lead to start the Stage since Cindric lost some spots on pit road. It didn't take long for the 22 to work his way back to the front though. With 70 laps to go, Cindric made his way to the lead and checked out on the field. Allgaier began to fall back, as he reported a possible flat tire. However, the tire would stay intact until green flags pit stops began with 41 to go. Cindric waited three laps after Allgaier pitted to make his stop.
Caution During Green Flag Stops Changes Strategy
Ross Chastain decided to wait on his final pit stop to try and catch a lucky caution. Because so many drivers had pitted, there were only six cars on the lead lap. Chastain got that break when Joe Graf, Jr. brought out the caution with 30 to go. Cindric and Allgaier were both on the lead lap. Meanwhile, Briscoe got the free pass, and Haley had to take the wave around.
Knowing this may be his only chance to win, Allgaier decided to pit for his final set of fresh tires. This meant he would have eight-lap fresher tires than Cindric. Cindric led Allgaier with 22 laps to go. As the laps went on, Cindric's lead got bigger and bigger. It looked like he was home free until three laps to go.
Briscoe's Spin Sets Up Wild Green-White-Checkered
Briscoe was trying all he could to make up a few spots but he was nowhere near catching the leaders. Going into turn three, Briscoe got loose and spun into the outside wall, bringing out the final caution.
With over 30 laps on his tires, Cindric made the daring decision to pit from the lead. Sheldon Creed won the Truck Series championship the previous night after making a similar decision. Allgaier stayed out because he was out of fresh tires.
He and Cindric both chose the outside lane on the front two rows. Allgaier was able to hold him off through turns one and two. Cindric and Noah Gragson were able to get alongside Cindric as they all took the white flag. Allgaier just couldn't hold on with the older tires. He would fall back to fifth while Cindric passed Gragson for the race win going into the final turn.
Championship Results
Cindric had the best car all day, leading 72 laps and capturing his first championship. Allgaier led a race-high 76 laps but his lack of long-run speed doomed him. His fifth-place finish earns him a second-place finish in the championship. Haley was quiet all race, as he ran in the back half of the top 10 for much of the race. An eighth-place run is good enough for third in the championship. While he has speed early, Briscoe just couldn't keep up with the two front runners. He did rebound from his spin to finish ninth. Unfortunately, his dominant season ended in a disappointing fourth-place championship result.
Looking Ahead to 2021
The Xfinity Series will return to action for Daytona Speedweeks in February. Most of the championship contenders will also be back in 2021. Briscoe and Chastain are the top drivers that will be moving up to the Cup Series. Briscoe will replace Clint Bowyer in the 14 car, while Chastain will drive the 42 car next season. Cindric will be back to defend his title before he moves up to Cup in 2022. He will face plenty of competition in 2021 from Allgaier, Haley, Gragson, Harrison Burton, and others.
Written by Nicholas Sterling
Be sure to follow us on YouTube and Twitter.
Be sure to follow the writer on Twitter. 
Photo credit to NASCARMedia