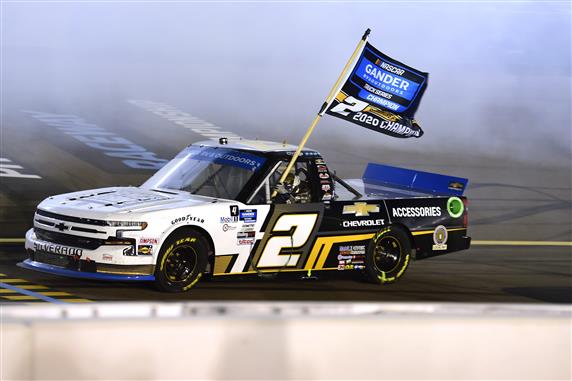 Sheldon Creed Wins 2020 Gander RV & Outdoors Truck Series Title
Coming into 2020, Sheldon Creed had just 30 career starts in the Truck Series, with five top fives. After a breakout year with five wins, the Alpine, CA native is now a Truck Series champion. It all came down to an Overtime finish at Phoenix, where Creed was back in the pack. After a mad dash down into turn one, the 2 truck had a big run with fresh tires. At the white flag, Creed led and would cruise to the biggest win of his life. The 2018 ARCA Racing Series champion, Sheldon Creed now also adds a Truck Series title to his impressive racing resume.
Calm Before the Storm in Both Stages
Championship 4 contenders Grant Enfinger, Zane Smith, Sheldon Creed, and Brett Moffitt would start in the first four positions. Despite rolling off on pole, Enfinger failed to lead the opening lap. That honor would go to Zane Smith, looking to take the title as a rookie. The Huntington Beach, CA driver would lead every lap of Stage 1, winning it by about two seconds.
Stage 2 would see Sheldon Creed roll off as the leader, as the 2 passed the 21 of Smith on pit road. Although Creed fired off as leader, GMS teammate Brett Moffitt began to stalk him down. Lap 75 would see the 23 get by the 2 for the lead, as Creed began to fade. Creed would finish Stage 2 in third, as his two teammates of Moffitt and Smith beat him to the green-and-white checkers. Only Ben Rhodes in fourth broke up the Championship 4 at the end of Stage 2, as Enfinger was back in fifth.
Moffitt Begins to Pull Away in Final Stage
Moffitt would retain his lead on pit road under caution after Stage 2. When the final Stage went green on lap 99, the 23 took off. Creed began to hunt down Moffitt for the top spot, but this charge would be halted by a caution for Carson Hocevar pounding the wall. Under this caution, Grant Enfinger would pit for fresh tires, going on an alternate strategy to hopefully gain position late. The 98 would restart 12th, but on the newest tires of the Championship 4.
When the green flag fell again on lap 113, the 23 narrowly led over the 2. As the laps wound down, Moffitt began to get into a rhythm and his lead slowly grew. With 25 laps left, Moffitt's lead was nearly two seconds. Meanwhile, Enfinger had raced his way all the way back up to second with 14 laps left.
Overtime Sets Up Mad Dash to Checkers
With just four laps left in the season, Moffitt appeared to be on cruise control en route to his second title. The 23 led the 98 by three seconds. The very next lap though would entirely change the complexion of the night. Dawsom Cram would spin after making contact with Tanner Gray. This would send the Lucas Oil 150 into Overtime, and the Championship 4 would split their strategy.
With prime track position, both Moffitt and Enfinger would elect to stay out. Meanwhile, both Creed and Smith came in for tires, as did everyone behind them. A few trucks did beat Creed off pit road though, so both the 2 and 21 would be buried in the back half of the top 10 for this restart.
Front Row Falls Back on Clutch Restart
When Overtime went green, both Moffitt and Enfinger spun their tires badly. Moffitt also got ran into by Ben Rhodes, forcing him to check up. This led to a four-wide fight for the lead into turn one, as Ben Rhodes and Chandler Smith had momentum. By the exit of turn two, the 51 of Smith led over the 98 of Enfinger and the 2 of Creed. Enfinger would get into the 51 entering turn three, slowing them both and allowing Creed to clear for the top spot by the white flag.
The last lap would see Enfinger brush the wall in turn one, as Zane Smith also got all the way back up to second. Behind them though on older tires, Moffitt fell from the lead all the way back to 10th in Overtime, while Enfinger would cross the line in a dismal 13th position.
At the checkered flag, Sheldon Creed beat Zane Smith by six tenths to take his first NASCAR National Series championship. At 23 years of age, Creed earns the Truck Series title in only his second full-time season. With five wins in 2020 at Kentucky, the Daytona Road Course, Gateway, Texas, and now Phoenix, Creed won the championship in dominating fashion.
Moffitt Doesn't Mince Words Post Race
After appearing to have the championship in the bag only to lose it in Overtime, Brett Moffitt was less than happy. The 2018 series champion would throw his GMS team under the bus, saying "We finally hit the setup right, but we can't call a race to save our lives. It's cost us multiple times this year, and now it's cost us the championship." Moffitt went on to say "I guess if broken legs aren't enough of a handicap, race strategy is. It's been a frustrating year on and off the racetrack, and to be honest I'm just glad it's over."
Moffitt mentioned earlier in the weekend that he does not have a ride lined up for 2021. After these harsh comments, it is not likely that he will return to GMS Racing.
Sheldon Creed's Celebration is On!
From the low of Brett Moffitt's defeat, his teammate Sheldon Creed had all the reason to celebrate such a high. Creed's 2020 mark of five wins led the series, as GMS Racing earned their second title. Being so far back on that final pivotal restart, even Creed did not think he could get all the way back to the lead.
"I thought my teammate was going to win the championship and we would run third," Creed said. "Just a good truck on the short run, we just got way too loose there as we went on. The caution came out, me and Jeff [Stankiewicz, crew chief] were talking and we agreed that we had nothing to lose. The worst we were going to run was fourth, so we put tires on it. I pride myself on my restarts week in and week out. We just nailed the restart there, and they were all just racing really hard."
Creed Goes more in-depth on Overtime Finish
"We wanted to pit and at least have a shot there. Four tires, no fuel. We tightened it way up because I was extremely free. Just had a plan to run the bottom and just try to pick off as many guys as I could. Was trying to watch where they were. Was trying to watch the 18 because I was on the inside of him. I was trying to clear him right away because I didn't want to get free underneath on exit.
I was then kind of washing up the track a little bit. I'm seeing the 51 just bonsai his way in there. I need to watch the replay again to see what happened, but seemed like the 51 slid up the raceway and checked the whole line up, the 98 up. I was able to get to the gas extremely fast, almost be even with them. Yeah, just got clear off of four there and had to put together a good lap."
Creed on Impact of Championship
"At this level, being young, a kid still, it's like we're in college right now, you're in class every day. Racing against my teammates for rides really. Incredibly talented, Brett, everyone. All the kids on other teams, you're racing them for the next chance, right? There's very few Cup rides open. Just racing for that opportunity. Just giving my best every week."
Sheldon Creed will return to the GMS Racing 2 truck for 2021 to defend his title. The Truck Series will be back in action in Daytona on February 12. Until then, it will be a much-needed offseason for all of the drivers and teams that make up the NASCAR Truck Series. In a year that saw the world come to a practical standstill, it cannot be understated how tirelessly all of these teams worked to return to racing and get in a full season's worth of racing. This break of 97 days is a welcome relief to everyone, as the Truckers will return to the track before we know it.
Written by Peter Stratta
Be sure to follow us on Twitter.
Be sure to follow the writer on Twitter.
Photo credit to NASCARMedia