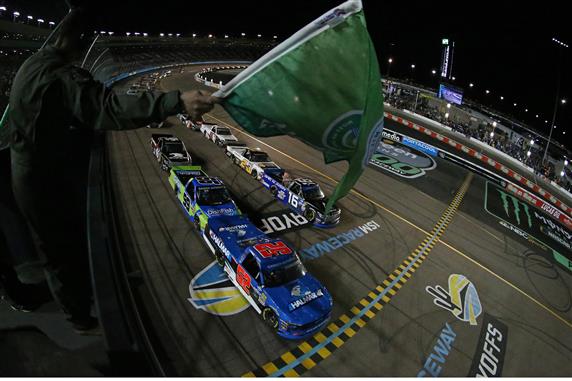 Preview of the NASCAR Gander RV & Outdoors Truck Series Championship 4
On Friday, the NASCAR Truck Series will do battle in the Lucas Oil 150 at Phoenix Raceway. This year, however, it won't just be another race. Instead, four drivers will go head-to-head to decide the 2020 champion. The matchup includes Brett Moffitt, Grant Enfinger, Zane Smith, and Sheldon Creed.
Brett Moffitt
Brett Moffitt will be making his third-straight appearance in the Truck Series Championship 4. As the 2018 series champion, Moffitt is the only title contender who's once put all the pieces together. However, with the final race now being fought at Phoenix Raceway, elements will not be the same for the 28-year-old.
The Grimes, Iowa native has only raced a truck at Phoenix twice but does have a deeper history with the track in other series. Back in 2018, Moffitt was able to claim victory at the Arizona raceway in just his first Truck Series start there. In 2019, Moffitt would settle for a 10th place finish after a mediocre performance.
Moffitt on Racing at Phoenix:
"Obviously, going to a smaller track than we've had in the past for the championship race is going to be a lot of aggression on the line, I'm sure," Moffitt said. "I believe that all four of us will be pretty fast, and we'll probably have to race for the win in order to win the championship."
"I expect lots of tempers," Moffitt continued. "We'll probably have to stay mentally strong throughout the race and be there at the end when it counts."
Moffitt On Three GMS Team Trucks Apart Of The Fight:
"Obviously, you don't want to self-destruct and do something that's going to take us out of the shot for at least winning the owners championship. That being said, you have to race everyone equally this week. There are no teammates involved, it's all about your specific team. For me, it's the 23 team and winning a championship for myself."
Grant Enfinger
Grant Enfinger is the odd man out for this season's championship battle. In his first final 4 appearance, Grant will go up against three GMS Racing teammates to try and seal the deal for ThorSport Racing. With a few years of full-time competition under his belt, Enfinger entered the season with only two series wins. However, the 35-year-old has really put it in gear this season with an additional four victories.
In three prior starts at Phoenix, the Fairhope, Alabama driver has claimed two top-fives in his most recent attempts. His first career start resulted in a crash on lap 75. While it will likely take a win to claim the title, Enfinger has proven to be fast before.
Does Enfinger Feel Like an Underdog & How About Phoenix?
"I don't at all," Enfinger said. "It's been a crazy season for us, a bit uncharacteristic. I'd much rather be in this position than the position we've been in over the past few years. I don't feel like we're entering Phoenix as an underdog. Obviously, only one of our ThorSport Racing trucks made it and we're going against three GMS Trucks, I understand all that. But I feel like Phoenix is a good style track for us this year. I feel like we've excelled at the short tracks."
Zane Smith
The next competitor looking for a taste of championship victory is 21-year-old rookie Zane Smith. The Huntington Beach, California driver has come out of the gate very fast in his Truck Series rookie campaign. With two victories, six top-fives, 12 top-tens, and 328 laps lead, Smith has proven worthy of a championship run.
A major deficit Zane Smith is sure to face is his lack of experience at Phoenix Raceway. Smith has only raced at the Arizona track twice in his career, both times in a different series. That being said, most recently Zane made a Phoenix Raceway start with JR Motorsports in the Xfinity Series, resulting in a sixth place finish.
Zane Smith on a Strong Rookie Run:
"After our first few races of the year, I knew I didn't know what I'd be doing after 2021," Smith said. "After having some off time during the pandemic, we went into Charlotte and I remember driving to the track with a different outlook. I've kept that outlook for the remainder of this year and it's working out for me. Just a screw-it mindset, just go for it. It's worked at times and it hasn't at times."
"I feel like just learning how to adapt as fast as possible has really made the difference in people this year. With no practice and no qualifying, it was pretty tough with me never being in a truck and never had been to a lot of these places [tracks]."
Sheldon Creed
The final competitor of the Championship 4 is 23-year-old Sheldon Creed. Creed comes into Phoenix with possibly the most momentum. While he does tie Enfinger with four wins this season, his consistency and ability to battle almost every weekend has not gone unnoticed. Creed has also claimed eight top-fives, 12 top-tens, and has led 560 laps this season.
The Alpine, California native has made just two Truck Series starts at Phoenix Raceway. In those starts, he's claimed a 10th place finish and most recently a 12th place finish. Again, it will likely take more than that to get the job done tonight.
Creed Explains More on What Racing at Phoenix is Like:
"Passing can be tough there. The air is kind of like Gateway where you're just trapped behind people. It's more of single lane until the spray (traction compound) comes in. Once the spray does come in, it's pretty racy in one and two. I just hope it doesn't become dominant."
Sheldon Creed on the Noticeable Speed He Has:
"Yeah, I mean I honestly don't even think about it. I just go and try to do my job every week. Coming into the Playoffs, we had speed. Very consistent. I feel like we've hit our stride in the last six or seven races. We just have really fast trucks and I feel I've done a really good job on racing and executing my part. I hope that scares the other guys a little bit."
Where Can You Watch?
It all comes down to this! After a season of uncertainties, we know that a new NASCAR Truck Series champion will be crowned in just a few short hours. You can watch or listen to all of tonight's action on FS1, MRN, and SiriusXM NASCAR Radio Channel 90 at 8:00 p.m. ET.
Written by Noah Lewis
Be sure to follow us on Twitter.
Be sure to follow the writer on Twitter.
Photo credit to NASCARMedia.