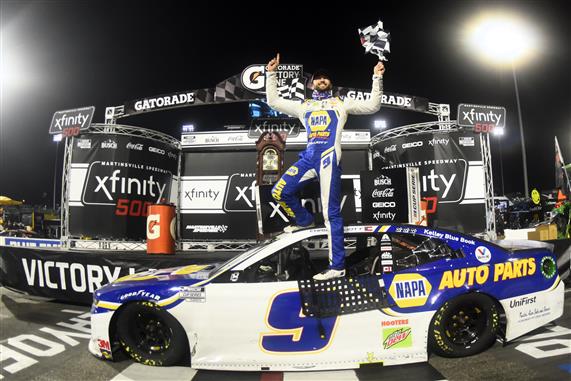 Chase Elliott Earns First Martinsville Win, Ticket to Phoenix Title Hunt
On what he called, 'Last Chance Sunday,' Chase Elliott put together the greatest and most clutch victory of his career. After leading 236 of 500 laps at Martinsville, Chase Elliott earned his ticket to the Championship 4 in Phoenix next week. This is the first time the Dawsonville, GA native will contend for the Cup Series title. Behind him though, the fight for the final transfer position was down to a lone point separating three drivers. On the last lap, Kevin Harvick tried but failed at making his way through to the finale.
Toyotas Take Stage 1
Although Brad Keselowski started on pole, it would be Martin Truex, Jr. dominating early. The 19, having to win at Martinsville to make Phoenix, would look fast early, going for his third-straight win on the short track. Truex held command until lap 89, when Chase Elliott took over the point for the first time.
A caution for a stalled Garrett Smithley would ultimately decide the outcome for Stage 1, as neither Elliott or Truex chose to pit while everyone else did. This tire disadvantage showed in the closing laps of Stage 1, as Denny Hamlin would pass the 9 with ease. Another caution would set up a 10-lap dash to end the Stage, but it was clean sailing for Hamlin, taking his 11th Stage win of 2020.
Busch Brothers Restart with Position
When the green came back out to start Stage 2, it was an all-Busch brothers front row, as Kyle led Kurt down into turn one. The 1 of Kurt eventually got by Kyle, twisting the Playoff standings as he was eighth in points. Kurt would lead for a little bit, but eventually the 9 moved back by the 1 to take over again.
Right after Elliott took the lead, one Playoff driver's tough day got even tougher. While running back in 24th, Kevin Harvick suffered a flat tire and had to pit. This put the 4 two laps down and in 32nd, below the cut line. Harvick would spend much of the remainder of the race trapped a lap or more behind the leaders, as he failed to keep the lucky dog position.
A caution for Ryan Preece late in Stage 2 would give Hamlin and Joey Logano position over Elliott. The 11 and 22 swapped the lead back and forth as Stage 2 wound to a close, but the 9 was aggressively coming through the field. On fresher tires than Hamlin, Elliott retook the lead on lap 240 and would hold on to win Stage 2, his 10th of the year.
Setback for Playoff Favorite
Under caution after Stage 2, Denny Hamlin would have to come back down pit road for a loose wheel. This sent the 11 to the tail of the field for the restart, and gave Harvick a slim chance at still advancing on points.
As lap 300 would pass, Elliott still held ground over Truex. Hamlin was also coming through the field, while Harvick was still trapped outside of the lucky dog position.
Season-Defining Penalty Revoked
Lap 353 would trigger another caution with a flat tire for Timmy Hill. On pit stops here, Chase Elliott's team would have what may go down as the save of the season. Elliott's jackman initially went over the wall too soon. However, he went back to the wall to reset his position, and thus canceling out any penalty. The 9 still came off pit road in fourth, but averted a huge setback by not being sent to the tail of the field for the restart. Per the NASCAR rulebook, this is the proper protocol for a crew member who does go over the wall prematurely. All the credit has to be given to crew chief Alan Gustafson and Hendrick Motorsports for knowing this rule and also instilling it in their crew guys.
When the race resumed, Logano initially had the lead but soon lost it to teammate Ryan Blaney. Trying to salvage a disappointing Playoffs, the 12 took off and looked to steal a Grandfather Clock. The 12 would lead as the race hit 100 laps remaining, where another Ford driver's day would be saved.
Harvick Saved by Timely Caution
On lap 400, a caution came out for the stalled 53 car of James Davison. This would be the saving grace for Kevin Harvick in 22nd, who got the free pass here. This caution would also see Brad Keselowski speed on pit road. This would be important because Harvick was racing for fourth in points against the 2, and now they would both be back in the back.
When racing resumed, Truex and Logano had the front row, while Elliott would roll off in 10th. The 19 initially took off, looking to upset the Playoff picture and usurp Harvick from Phoenix. Meanwhile, Elliott was a man on a mission, tearing through the field and looking for the lead. All that would delay Elliott's march forward would be a caution for his teammate, William Byron.
Elliott Takes Lead and Rides Off into the Night
With only 51 laps to go, a wildcard factor was thrown into the mix up front. Corey Lajoie would stay on track to inherit the lead. The No. 32 team had no fresh tires left, so they opted to stay out for a track position gamble. Lajoie would be busted for jumping the restart, but it would not matter ultimately as Truex, Elliott and others quickly swarmed him.
With 43 to go, Elliott made the pass for the lead on Truex and began to drive away. It was at this time where Truex reported a loose wheel, and thus began to lose time to Elliott. The 19 would stay on track for several laps, but eventually had to come in with just 26 laps left. In turn, this would give Elliott a lead of nearly five seconds over Ryan Blaney. Without caution, the race for the win appeared to be well-decided. However, the race for fourth in points was anything-but set in stone. One final caution would never come, as Elliott would cruise to his first-ever Martinsville win by nearly seven seconds.
Race for Final Transfer Position Intensifies Late
Keselowski would be steadily marching forward over this closing run, racing his way into third in points by continually passing cars. Hamlin would fall back, but teammate Erik Jones would fail to get by the 11 for 11th. This gave Hamlin the slimmest margin on fourth in points over Harvick, who was stuck in 10th behind DiBenedetto. The 4 had major damage and could not easily pass cars, thus he was on the outside looking in for the Championship 4.
Last-Ditch Effort Comes up Short
Coming to the checkers, Harvick ran in 10th and needed one more position to lock into Phoenix. He caught the 18 of Kyle Busch entering turn three and dove to the inside. Out of turn four, Harvick turned right into Busch, attempting to spin him out and pass him for that all-valuable point. However, Harvick ended up also spinning and slapped the inside wall. Harvick would limp across the finish line in 17th, failing to make the Championship 4.
Championship 4 Decided
With the commanding win, Chase Elliott makes the Championship 4 for the first time in his young career. He joins Joey Logano as drivers who won their way in through the Round of 8. By racing his way up to fourth at the end, Brad Keselowski is also locked into Phoenix, only his second time making the final four in this format. Lastly, Denny Hamlin was able to finish 11th and also made it in by a single point. The 2020 Championship 4 are represented by two Fords from Penske, a Joe Gibbs Racing Toyota, and a Chevrolet from Hendrick Motorsports. Both Keselowski and Logano are going for their second Cup Series title, while Elliott and Hamlin are racing for their first Cup.
Top 10 Results from Martinsville
Behind Elliott by six and a half seconds would be Ryan Blaney. The 12 leaves Martinsville as the runner-up for the second time this year. The remainder of the top five would be contenders Joey Logano, Brad Keselowski, and Kurt Busch.
Alex Bowman would be the final Playoff driver with a top 10 in sixth. Behind the 88 were Aric Almirola, Clint Bowyer, Kyle Busch, and Matt DiBenedetto.
Elliott's Winning Reaction
A Career High Point so Far
Chase Elliott was quick to call Martinsville "absolutely, hands down," the biggest win of his NASCAR career. This marks his 10th career victory in 184 starts. Elliott went on to describe how much it means to finally make the Championship 4, a mark he had yet to hit. "I think it's huge," Elliott said. "It's huge for me personally. I think it's huge for our team as a whole, each and every person that puts in time and effort to try to make our program work.
I think when you're able to be in a position that we were in, like we were tonight, have to go to perform, go and do that, I think everybody gains a lot of confidence from it. We proved to ourselves that we can do it. I think we have always believed we can do it. But to go out there and achieve it certainly is something we haven't experienced yet as a group.
To win a championship in this series, you have to make the Final 4. We've seen the same crowd make the Final 4 since this deal has been implemented. We want to assert ourselves amongst the people who can make it consistently. I feel like we're very capable of doing that. We just have to seize the moment, enjoy it. This is a huge week. I'm just excited to get out there and try to have the best race we can."
Amazingly, Chase Elliott's Hall-of-Fame father Bill never won a race at Martinsville. The 1988 champion's best result on the paperclip would be third, which came twice. As a result, Chase Elliott is the first to take the famed Grandfather Clock back to Dawsonville.
First Chevrolet to Race for a Title in Four Years
Elliott is also the first Chevrolet driver to make the championship-deciding race since 2016. That year, it was Elliott's teammate Jimmie Johnson who went on to win his seventh championship. Elliott mentioned how big this Championship 4 appearance is for Chevrolet and Hendrick Motorsports.
"It's a huge deal for everybody involved. Obviously me personally, it's a huge deal. Never been in this position before. That's exciting. But for everybody that is a part of our organization, obviously NAPA is a huge partner, super pumped to have them on the car tonight, a big moment. They've been a big piece of my career. Hendrick Motorsport, everyone that lays a hand on our cars. It's a big deal for everyone to have a chance to win a championship. For Chevrolet to have a shot again this year I think is important for them, for sure. I'm excited for everybody, especially myself. I'm going to enjoy it, then we'll go to work tomorrow and get ready for the big day."
Evenly-Matched Championship 4
Elliott cannot and should not be counted out of this championship battle just yet. While his three competitors trump Elliott in experience and in Phoenix wins, the 9 team has all the momentum entering Championship week. Earlier this year at Phoenix, Elliott was also one of the cars to beat, leading 93 laps from the pole before finishing seventh. It will take a much better run though for Elliott to take the 2020 title.
How to Watch the Next Race
Can Chase Elliott win his first NASCAR Cup Series championship? The race for the Bill France Cup comes down to a 312-lap finale in the Valley of the Sun. Phoenix Raceway is the location for this championship-deciding fight, as Keselowski, Hamlin, and Logano will go to battle against Elliott for the ultimate prize in NASCAR. Coverage of the 2020 NASCAR Cup Series Championship race will be Sunday, November 8 at 3 p.m. ET on NBC. With only two past champions in this year's final four, the odds of a new champion are 50-50. Don't miss a lap of action as one driver looks to cement their name in the history book as the 2020 NASCAR champion.
Written by Peter Stratta
Be sure to follow us on Twitter.
Be sure to follow the writer on Twitter.
Photo credit to NASCARMedia