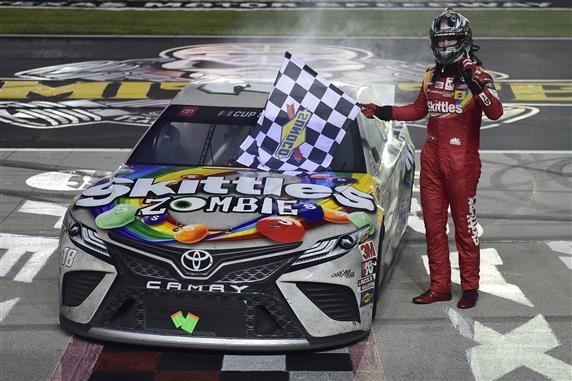 Kyle Busch Has Enough Gas to Earn First Win of 2020 at Texas
Everything is bigger in Texas. That includes rain delays, as well as Playoff spoilers. Persistent mist and rain pushed the conclusion of Sunday's NASCAR Cup Series Playoff race at Texas Motor Speedway to Wednesday evening. Once racing resumed, Kyle Busch was the victor, holding off Martin Truex, Jr. in a fuel-mileage race. This Texas win is Busch's first victory of 2020, extending his career-long streak of consecutive winning years to 16. With two races down in the Round of 8, the battle is on for the final three spots in the Championship 4 next week at Martinsville.
Playoff Favorites Face Adversity Sunday
From the opening laps on Sunday, rain would be in the area and pose a threat. On an early restart, Kevin Harvick washed up out of turn two and slapped the wall while leading. Harvick had been the dominant car of the day, but now had an injured machine. The lap before, Harvick's season-long title rival also found issues.
Also in turns one and two, Denny Hamlin tried running in the high line and lost grip. This sent the 11 sliding wide, but he was able to keep it out of the wall. Harvick would come to pit road immediately but Hamlin remained on track.
Weather Delay Leads to Wednesday Night Show
The caution for weather initially came out on lap 44. After the completion of 52 laps, a red flag would be displayed. This red flag would last an unprecedented 72 hours, 28 minutes. Racing would finally resume on Wednesday night, as cell after cell from a tropical storm system impeded track drying efforts.
The leader under this long wait was Clint Bowyer, as he never pit during the caution period Sunday. Once the race resumed on Wednesday, Bowyer was the class of the field early on.
It was not long after the resumption when carnage came, however. While running 13th on lap 59, Matt Kenseth ran wide out of turn four. Having nowhere to go, Denny Hamlin got into the back of him and sent the 42 spinning. Kenseth spun right into the path of Bubba Wallace, sending the 43 hard into the outside wall. Both driver's races would be over after just resuming, and both teams had an early head start on going home.
Stage 1 would only see one more caution for debris. The remainder of the Stage would have Bowyer on offense over Martin Truex, Jr. Late in the opening Stage, Bowyer threw a major block on the 19, causing him to lose momentum. Truex was not happy with the aggressive move, but finished Stage 1 in second. Truex was one of only three Playoff drivers to earn points in Stage 1, as Bowyer took his fourth Stage win of 2020.
New Faces Up Front for Stage 2
A two-tire call after Stage 1 would give Alex Bowman the lead to start Stage 2. On the restart, the 88 took off. Ryan Blaney would keep Bowman on his toes, as he reeled in the 88 for the lead, but could not make the pass. This run would halt with a caution for a spinning Joey Gase on lap 135.
Pit stops under this caution would see Blaney take the lead, while Bowman fell all the way back to ninth. The ensuing restart would have a spirited battle between Blaney and Truex, as the 19 was racing for a spot in Phoenix. At the halfway mark, it was a three-way fight for the lead between Blaney, Truex, and Kyle Busch.
As a green flag pit stop cycle began, Kyle Busch methodically passed Blaney and then Truex. The 18 took control for the first time on lap 199, only to pit on lap 202. A quick fuel-only stop though resulted in Busch cycling back out to the lead late in Stage 2. Busch held on to take Stage 2 over Truex by a few seconds. Stage 2 at Texas marked only Busch's third Stage win of the year, as he still searched for his first win.
Busch Dominates Final Stage
Amazingly, Busch was one of several to not pit after Stage 2, thus he retained his track position. However, he had a hard-charging Clint Bowyer within a car length of him for much of the next run. With 100 laps remaining, the battle was between the 18 and the 14.
This battle would last until Bowyer had run out of fuel with about 70 laps to go. The 14 would coast in for a splash and go stop and only recover over the closing run to finish 17th.
With Bowyer out of the picture, the race for the win turned into a fuel-mileage battle among teammates. Kyle Busch had a several-seconds gap over Truex and third place Christopher Bell. As Busch was saving throughout the closing laps, Truex slowly reeled in the 18 but could not get close enough. By the checkered flag, Busch had a lead of half a second.
Top 10 Results From Texas
Behind Busch and Truex was Christopher Bell, putting forth his best-career result. For the lame-duck Leavine Family Racing team, this third-place effort is also their best-ever result on an intermediate track. The remainder of the top five were Ryan Blaney and Playoff contender Alex Bowman.
Brad Keselowski, Kurt Busch, Matt DiBenedetto, Denny Hamlin, and Joey Logano would round out the top 10. Of the eight Playoff drivers, only Kevin Harvick and Chase Elliott did not get a top 10 result.
Busch's Winning Reaction
"We had raw speed today. That car was fast," Busch said of his surprising Playoff upset. "Whatever it was, the guys did a great job. They brought some good stuff here this week. I think we saw it with myself, the 19, the 95, the 11 obviously got damage at some point, I'm not sure what happened to the 20. You know, the overall top 3 was Gibbs cars, Toyotas, so maybe there's something there that we can look at and try to study and work on for next year."
"It was obviously much needed and very much a lot of relief, as well, too," Busch said.  For me having the opportunity to continue that win streak was certainly high on our list, and when you fall out of the Playoffs and you've got nothing else to race for, that's all you have to race for is trophies and getting wins for the rest of this year, and it feels really good to be able to come here to Texas and score that win.  We haven't been the best on mile-and-a-halfs this year but we've been working on it and strategizing on things that we can do to improve and it was nice to see some of that in that fruit pay off tonight.
Pressure Mounting on Busch
"Really it kind of felt like a championship win," Busch said of his first win in 33 races. "When you're at Homestead and you're racing around on that final run and every little thing that can go wrong you feel like is going wrong or every creak of the tire you think you've got a flat tire when everything is fine.
Today was one of those days. We had to save fuel that entire last stage. The beginning of the final stage, we were saving fuel there towards the end once Bowyer had to pit, and then after the pit stop, the entirety after the final pit stop I was saving fuel, as well, too. So there was a lot on my mind and things that we were trying to do and accomplish, obviously, with trying to stretch it.
And then the other thing was just the amount of things that can go wrong will go wrong type stuff that goes in your mind, and we had a rubber fire that was in the cockpit of the car. It happened — it was pretty much the whole final run. If it was a 50-lap final run it was there for 40 laps. It was just a rubber fire that would light on fire and pretty much smoke me out, like I don't know if I'm going to pass the CO test, but we made it, so it all doesn't matter now." 
Kyle Busch's streak of consecutive winning seasons now stands at 16. This breaks a tie he had in this record with Tony Stewart, and puts him equal with Jimmie Johnson, Rusty Wallace, and Ricky Rudd. The all-time record of 18-straight winning seasons is still held by The King, Richard Petty.
Playoff Standings After Texas
With a non-Playoff winner at Texas, Joey Logano is still the lone driver securely into Phoenix. The top four in points also include Harvick, Hamlin, and Brad Keselowski. They each have at least a 25-point buffer. The remainder of the points can be seen below.
How to Watch the Next Race
The Round of 8 finale is Sunday from the half mile of mayhem at Martinsville Speedway. The Xfinity 500 will determine the final three drivers in the 2020 Cup Series Championship 4. Coverage will be Sunday, November 1 at 2 pm ET on NBC, MRN, and SiriusXM NASCAR Radio Channel 90. Martinsville as an elimination race should be absolute chaos, don't miss a lap of this hectic fan-favorite fall short track race.
Written by Peter Stratta
Be sure to follow us on Twitter.
Be sure to follow the writer on Twitter.
Photo credit to NASCARMedia