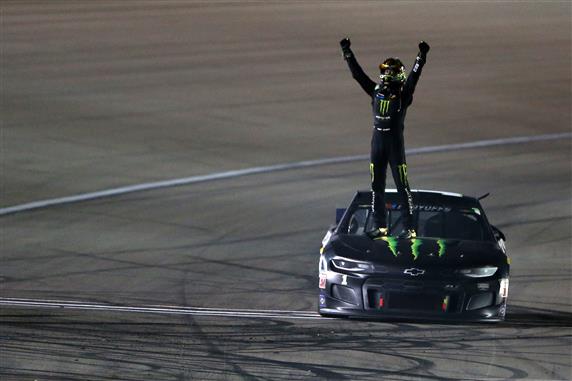 Kurt Busch Holds on for Hometown Victory, First Win of 2020 at Las Vegas
Finally, the hometown hero got it done in Sin City. After more than 20 years, Kurt Busch at long last scored a Cup Series victory at Las Vegas Motor Speedway. This win is Kurt's first of the year, breaking a losing streak dating back to Kentucky last summer. In addition, this victory also locks the elder Busch brother into the Round of 8.
Elliott, Hamlin Dominate Stage 1
Even though Kevin Harvick was the polesitter, the 4 would fail to lead a single lap. Rather, Chase Elliott took the lead early and began to pull away. In the Las Vegas spring race, Elliott was also a strong contender. However, a cut tire ended his shot of a good finish that day. Elliott appeared well on his way to a retribution run, as the 9 led by over three seconds. The lowest running Playoff driver at this point was 16th-place Kurt Busch.
After the competition caution, Kyle Busch briefly led, but was soon overtake by Denny Hamlin. Hamlin, who appeared to be the class of the field, was racing for his first win at Las Vegas. The 11 looked nearly unbeatable out front, as Hamlin won Stage 1 by over two seconds. This marked Hamlin's series-leading ninth Stage win of 2020.
Contact Racing for the Lead!
On pit road following Stage 1, both Kyle Busch and Joey Logano beat Hamlin to the timing line. On the restart it was chaos up front, as the 18 and 22 stayed door-to-door through turn two. Logano finally cleared the 18 into turn three thanks to a big push from Austin Dillon.
The next time by though, Busch got back to Logano's outside. This stalled out both leaders enough for Hamlin to make a bold and daring three-wide dive into turn three. The 11 had the position, and the 18 washed up into the 22. This cut down Logano's left rear tire, forcing the 22 to pit on lap 90. This unscheduled stop sent Logano a lap down and back to 30th. The 22 would spend much of the remainder of the race trapped a lap behind the leaders, but recovered to finish 14th. It would be far from a Las Vegas season-sweep for Logano, but their day could have ended far worse.
Elliott vs. Hamlin Again
Hamlin would get the lead, while Kyle Busch would ride out in fourth, also in a wounded race car. Two laps later though, Hamlin lost the lead to Elliott. After Elliott narrowly lost on the Stage 1 win, he did not want to be denied in Stage 2.
After a round of green flag pit stops right at halfway, Elliott held serve over Hamlin. The 11 had caught the 9 late in Stage 2, but was unable to make the pass. Elliott held on to take Stage 2, his eighth Stage win of 2020.
On the ensuing restart, it was Hamlin and Alex Bowman up front. The 88 of Bowman would briefly take the top spot away, but Hamlin powered on by just five laps later. These marked Bowman's first career laps led at Las Vegas, as the 88 showed speed not seen since May. Elliott would also quickly retake second, drawing a bead on Hamlin. The top two were less than five tenths apart as the race hit 80 laps to go.
Cautions Shake Up Running Order
A debris caution on lap 191 would bunch the field up once again. On the restart, Matt DiBenedetto would get as high as second, after a daring four-wide pass. Defending Las Vegas fall winner Martin Truex, Jr. would also assert himself here, racing the 21 car for third. Meanwhile, Hamlin was still up front, looking as strong as ever for his first Las Vegas win.
Trouble for Playoff Contender
As the race hit 54 laps to go, the 3 of Austin Dillon reported major issues. His water temperatures were rising and he lost power steering. The 3 car quickly began pushing steam from the base of the windshield. Both belts had snapped on the 3, forcing him to pit road for repairs. Dillon's team was able to fix his Chevrolet, but lost eight laps in the process. Dillon left Las Vegas finishing 32nd, and now finds himself at the bottom of the Playoff standings.
Caution in the Midst of Pit Cycle
What many thought would be the final round of pit stops kicked off with roughly 36 laps left. After they both came in for service, Alex Bowman blasted by the 11 of Hamlin, as Bowman pitted a lap earlier. Mere seconds after Bowman took the provisional lead, a caution came out for tire debris from Jimmie Johnson.
This yellow trapped all but nine cars a lap down, as they had yet to pit. Among those nine drivers was only one Playoff contender, the 1 of Kurt Busch. Kurt would be scored second under the caution though, as Matt DiBenedetto actually had the lead. The 21 was on pit road at the time of caution, so he did not get lapped. These nine drivers pitted under this caution, as everyone else took the wave around and restarted behind them.
Cautions Trigger Cautions
On the restart with 25 laps to go, Kurt Busch and Matt DiBenedetto were leaning hard all over each other for a solid lap. The 21 finally subsided, as Kurt Busch began to pull away. This run would be cut short though, as John Hunter Nemechek spun in turn two to trigger another yellow. Nemechek spun and turned back up the track, clipping the 47 of Ricky Stenhouse, Jr.
With under 15 laps to go, Hamlin pitted from 11th for fresh tires, also bringing in everyone behind him. It was evident that both Bowman and Hamlin would cut through the field on this restart, but would they have enough time to get the lead?
On the restart Kurt Busch took off like a rocket, as DiBenedetto had trouble getting up to speed. As the race hit 10 laps remaining, Bowman and Hamlin were making up massive time, but Kurt was also pulling away. Bowman was up to third while Hamlin ran sixth. Another caution would come out when William Byron spun with just five laps left. This would set up NASCAR Overtime to finish a chaotic and upside-down strategy race.
The Overtime restart was much of the same, as Kurt blasted off while DiBenedetto spun his tires. Hamlin was a man on a mission though, as he was up to Kurt's bumper at the white flag. It would not be enough though, as Kurt Busch held on for his first win at his home track.
Celebration is on for Kurt Busch
After the checkered flag, Kurt Busch was congratulated by many drivers. This included younger brother Kyle Busch, whose only win at Las Vegas came in 2009. Las Vegas Motor Speedway has not been overly kind to the Busch brothers, but now they each have put on show-stopping performances at home.
The Chip Ganassi Racing 1 crew also partied hard with Kurt Busch at the start-finish line. Kurt was as exuberant as ever, knowing how much he had previously struggled at his home track.
Top 10 Finishers From Las Vegas
Coming up just short again at Las Vegas would be Matt DiBenedetto. It was revealed during the broadcast that DiBenedetto's contract option deadline for 2021 is this coming Thursday. Matty D is certainly racing for a job next year, at Wood Brothers Racing or elsewhere. For the second-straight Vegas race, the 21 wheeled it to a P2 finish. Stay tuned for any updates on DiBenedetto's status in the 21 car.
The rest of the top five would be comprised of Playoff contenders Denny Hamlin, Martin Truex, Jr. and Alex Bowman. Hamlin led a race-high 121 laps only to muster a third-place effort, his best finish so far in the Playoffs.
The rest of the top 10 were Kyle Busch, Ryan Blaney, Erik Jones, Chris Buescher and Kevin Harvick. Busch looked like a strong threat for the win early until his contact with Logano, while Harvick had a rare off week but still managed 10th.
Kurt Busch's Winning Reaction
Kurt Busch was as excited as ever to finally break through on his home track. "This is what kids dream of when they grow up racing," Kurt Busch said. "You dream of winning at your hometown track. And for two decades it's kicked my butt. And tonight, with this Monster Energy Chevy, I'm in awe. I knew the race would come to us. We needed to get to nightfall and one of those quirky Matt McCall (crew chief) pit sequences finally unfolded. We got lucky. You've got to be lucky. And you have to be lucky in any race, but we did it tonight with teamwork and pulling through and just not giving up."
Kurt Busch also stated how it feels to not have to worry about the coming week's wildcard races. "It's an incredible feeling to not have; well, it's sinking in. No Talladega worries. No Roval worries. But we're still going there to get points. We're still going there to add up what we need to do to win this championship."
Kurt's Winning Moments
The race was won for the 1 team on the final few restarts against the 21, Kurt Busch reached into his wealth of racing tricks to get the job done.
"The race unfolded in our favor when we were leading and we were cranking out some great lap times on old tires, and a yellow came out, and I'm like, this is like a huge break. This is like having all your chips in on a roulette number and it came up 1, it came up our number, and we doubled down. We had a good pit stop to hold our track position. We had to battle DiBenedetto on some of those restarts.
I pulled out a few drag racing tricks on him. I used our strengths against his weaknesses, and at the end, to again have 20 years of this track kicking my butt, it did the same thing tonight after lap 200 I'm like, really? Again? I'm going to have to battle, battle, battle maybe to get to 10th and we had no stage points tonight, either. So that yellow was a huge break for us.
And again, thank you to everybody in Las Vegas that helped my career get up and going. There's so many people here; enjoy it tonight with me."
Round of 12 Standings
With the victory, Kurt Busch is locked into the Round of 8, taking off all pressure for both Talladega and the Charlotte Roval. Both Kevin Harvick and Denny Hamlin are pretty safe on points, at +61 and +58 above the cut line respectively. Behind them though is a major drop off. Fourth-place Brad Keselowski is only 16 points ahead of elimination. The tight bubble battle goes all the way down to Kyle Busch at -9 points in ninth. Behind Kyle Busch, Clint Bowyer, Aric Almirola, and Austin Dillon all have major ground to make up over the next two weeks.
How to Watch the Next Race
The next stop for the NASCAR Playoffs is Talladega Superspeedway. The YellaWood 500 will be live next Sunday, October 4 at 2 p.m. ET on NBC. The ultimate Playoff wildcard can be host for a big spoiler win, who will survive Talladega? Many drivers are in need of breakout performances, don't miss a lap of action from the world's fastest speedway.
Written by Peter Stratta
Be sure to follow us on Twitter.
Be sure to follow the writer on Twitter.
Photo credit to NASCARMedia