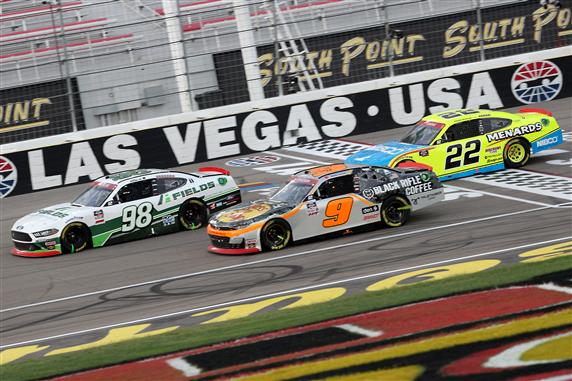 Chase Briscoe Picks Up Eighth Win of the Season in Dominant Fashion
Chase Briscoe led 164 of 200 laps to win the Alsco 300 at Las Vegas Motor Speedway. Briscoe also swept both Stages for the first time in his career. The win gives Briscoe the season sweep of the Las Vegas races, and marks his second-consecutive victory after winning at Bristol last weekend.
Ryan Sieg Surprises Early
Chase Briscoe started on the pole and quickly jumped out to an early lead. Kyle Weatherman brought out the caution on lap seven after his car slid down the track on the frontstretch. A three-wide move on the ensuing restart saw Austin Cindric take the lead while Ross Chastain got to second.
After a lap 19 caution, Chastain got around Cindric for the lead, but Ryan Sieg wasn't far behind. Sieg battled Chastain for about 15 laps but just couldn't get around him. Briscoe got a huge run on the outside coming off turn four. The 98 passed both Sieg and Chastain to take the lead late in the stage.
Briscoe pulled away to win Stage 1 over Chastain and Sieg. Chastain made contact with the wall with two to go but he remained in second.
Briscoe Sets Tone in Stage 2
Chase Briscoe won the race off pit road and immediately pulled away from the field. A new challenger emerged, as Noah Gragson ran down Briscoe with 10 to go. Unfortunately, Gragson couldn't get close enough to make a move on Briscoe. Briscoe picked up his seventh Stage win of the season.
Late Cautions Can't Slow Down Briscoe
As with Stage 2, Chase Briscoe beat everyone off pit road and checked out on the field. One of the crazier moments of the race came early in this final Stage. Daniel Hemric got into the back of Anthony Alfredo entering turn one. Alfredo's car slid into the turn but he unbelievably kept it off the wall.
Green flag pits stops began with 53 laps to go. A loose tire rolled into the infield on the frontstretch as the pit stops were finishing up. NASCAR went ahead and threw the caution. As a result, Michael Annett was the leader because he had yet to pit. Annett, Harrison Burton, and a few others came down pit road to put on their final set of fresh tires. Annett still had one additional set because he did not pit under green.
A 30 lap green-flag run came to an end when Alex Labbe stalled at the beginning of pit road. The fresh tires on Annett and Burton got them up to fourth and fifth when the caution came out. Despite there being just 14 laps to go, everyone came to pit road for four tires.
To no one's surprise, Briscoe led off pit road once again. He was challenged on the restart by Noah Gragson but it was to no avail, as Briscoe completed his dominant night with the victory. Gragson came home second while Ryan Sieg completed a great night in fifth.
Playoff Picture After Race 1
Chase Briscoe's win clinches him a spot in the Round of 8. With Talladega coming up, it's even more important that Briscoe doesn't have to worry about losing points if he gets caught up in the big one. Austin Cindric is also in a good spot with a 53-point cushion over ninth place Ross Chastain. Ryan Sieg's strong run also moved him up to seventh, nine points to the good.
What's Next
The race every Playoff driver will be worried about, Talladega is up next. The second race of the Round of 12 will be the Ag-Pro 300 at Talladega Superspeedway. This will be the first time in the Xfinity Series Playoff era that there is a race at Talladega in the playoffs. Coverage will be Saturday, October 4 at 4:30 p.m. ET on NBCSN. Kaulig Racing has dominated the last two superspeedway races with Justin Haley winning both. Can he or Ross Chastain punch their ticket to the next round, or will another driver upset Kaulig Racing?
Written by Nicholas Sterling
Be sure to follow us on Twitter.
Be sure to follow the writer on Twitter.
Photo credit to NASCARMedia