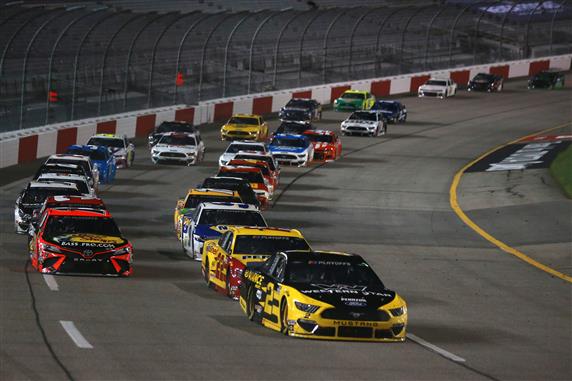 Keselowski is Onto Round of 12 with Richmond Statement Victory
After leading 192 of 400 laps Saturday night at Richmond, Brad Keselowski advanced his way into the Round of 12. This win is Keselowski's fourth of 2020, and his first Richmond victory in six years. A race that was only halted by three cautions helped set the stage for the first elimination race of 2020 next week at Bristol, as some drivers are in need of a miracle performance.
Hamlin, Dillon Up Front Early
Although Kevin Harvick had the pole, he would only lead the opening 20 laps. Third-place starter Austin Dillon would soon take control, as the 3 was lightning-fast. Dillon would hold the lead through the competition caution. However, hometown hero Denny Hamlin would sneak his way towards the 3's bumper as Stage 1 went onward. After the green flag fell again, Hamlin would take the lead from Dillon and began to drive away. Denny Hamlin would win Stage 1 at his home track with Dillon close behind in second.
Pit Road Blunder Gives New Players Opportunities
On pit road for the Stage break however, both Hamlin and Dillon incurred speeding penalties. This would send the two fastest cars to the tail of the field for Stage 2. In turn, this gave the lead to Joey Logano, who took off at the start of the Stage. While Logano had the fire-off speed, his car was not content on the long runs. Brad Keselowski stalked down his teammate from over a second back and would pounce on lap 121. Logano tried blocking the 2 but Keselowski gave him a bit of a shove on corner exit.
A pit cycle midway through Stage 2 would give Dillon track position over Keselowski and the field. In heavy lapped traffic though, the 2 was able to beat the 3 and retake the lead. Keselowski would hold on to take Stage 2, his seventh of the year. After the pit road speeding penalty, Dillon recovered to second while Hamlin was mired back in traffic.
Under that same pit cycle, Kevin Harvick had a rare penalty. The 4 overcooked his pit road entry and hit the commitment box, forcing a pass-through penalty. Even though he was as far back as 26th and two laps down, Harvick was able to rally to finish Stage 2 in 10th.
When the final Stage went green, Keselowski took off. The 2 quickly had a lead in excess of a second, as he was the class of the field. Keselowski only yielded the lead to pit with 105 laps to go. On this round of stops, Logano would actually leapfrog Keselowski by about a second. This gave the 22 the lead once others pitted with 90 laps to go. Not long after though, Keselowski would be all over the 22's bumper and charged on by.
Another Pit Road Error By a Contender
As the final cycle of pit stops occurred with roughly 60 laps to go, Austin Dillon tried to come in after taking third place. Unfortunately for the 3, he missed pit entry. As a result, he limped around at a slow pace in order to come in under control. This cost Dillon dearly, but his night was not over. This same pit cycle would see Kyle Busch, Kevin Harvick, and then Kurt Busch lead. Dillon did also have the point for a lap, before Keselowski stormed on by.
Not long after getting by Dillon, Keselowski quickly opened up a two-second lead. As the closing laps wound down, Keselowski would hold serve over Martin Truex, Jr. in second and earn his fourth win of 2020.
Top-10 Results From Richmond
Finishing in the top five for tenth time in the last 12 races is Martin Truex, Jr. in second. This same streak has seen Truex earn four runner-up finishes. Truex was on his way to a potential win last week in Darlington before late contact with Chase Elliott. The 19 has all but returned to their normal form in the Playoffs, as they've been contenders to win both races. Joey Logano was third for the second week in a row, with Austin Dillon and Chase Elliott rounding out the top five. Dillon's two top fives in both Playoff races have the 3 sitting in a great position on points.
The remainder of the top-10 were all Playoff contenders: Kyle Busch, Kevin Harvick, Aric Almirola, Alex Bowman, and Clint Bowyer would round them out.
Other Contender's Results
Richmond was far from the race expected for Denny Hamlin, as the Virginia native was stuck in traffic all race long after his speeding penalty. The 11 would only rally to finish in 12th, but that would be enough for Hamlin to clinch a Round of 12 spot on points. The final nine positions are up for grabs next week between 13 other drivers.
Right behind Hamlin would be both Kurt Busch and Cole Custer. Kurt led late on an alternate pit strategy but could not break back into the top-10, while the rookie had another solid result. Custer leaves Richmond eight points below the cut line in 14th.
Two drivers who desperately needed strong Richmond runs were Matt DiBenedetto and Ryan Blaney. Richmond did not pan out for either of them, as DiBenedetto was 17th and Blaney was 19th. Blaney and Richmond have never gotten along, as it is his statistically-worst track. Both DiBenedetto and Blaney will likely need to win Bristol in order to move onto the Round of 12.
The last of the Playoff drivers would be William Byron in 21st. The 24 team knew coming in that Richmond would be their weakest track, as they spent much of the night at least a lap down. Byron's career-best streak of three top-fives is broken, and he is three points below the cut line.
Keselowski's Winning Reaction
"It was a great race for us and the 2 team," Keselowski said. "This is, I think my car from Loudon, and I wanted to do a really cool burnout with it, but I want this car for Phoenix. It's 2-for-2 and I'm real pumped. I don't want to look too far ahead. We've got to get there. The next round is gonna be really difficult, but, still, I'm really pumped about this performance and the way we run at short tracks. I felt like coming in here with the Western Star/Alliance Ford Mustang that we would run well, but this thing was awesome.
Our Mustang was really hauling. It's nice that we broke the curse of the black and yellow car. Twice in a row it's been in victory lane this year and we haven't been able to win with it the last six years, so it's good to do that for these guys. This car was really strong and I really got a great rhythm out on the racetrack. You've got to get a really precise rhythm for how you get around here and I was able to find that very early on, put a lot of thought into what I was gonna do and it paid off."
Keselowski Looking Ahead to Round of 12
"(This win) allows me and the team to get a deep breath and focus a little more on Las Vegas rather than being panicked about Bristol, and the six bonus points are huge for the next two rounds. That's six spots on the racetrack. That should be a good thing."
Keselowski's care from his New Hampshire win has proven to be just about unbeatable. In both races, the 2 has been lights-out dominant. Should Keselowski make Phoenix and bring this car out again, he will be a legitimate threat to steal the 2020 championship.
How to Watch the Next Race
Up next for the NASCAR Cup Series is the Round of 16 finale from Bristol Motor Speedway. The Bass Pro Shops Night Race will be the end of the Playoffs for four drivers, while another will take one step closer to the title. Coverage will be next Saturday night at 7:30 p.m. EST on NBCSN, PRN, and SiriusXM NASCAR Radio Channel 90. This will be the first time Bristol is in the Playoffs, so it should be a wild and crazy race. Keselowski was also the spring race winner at Bristol, can he make it two-straight wins in the Playoffs?
Written by Peter Stratta
Be sure to follow us on Twitter.
Be sure to follow the writer on Twitter.
Photo credit to NASCARMedia