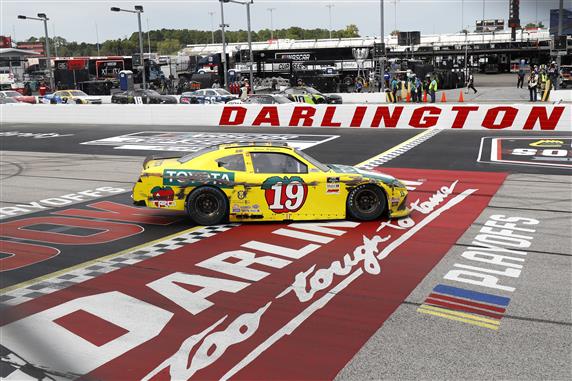 Brandon Jones Capitalizes on Leader's Mistake
Brandon Jones was sitting about two seconds behind leaders Ross Chastain and Denny Hamlin with 10 to go at Darlington. The leaders made contact multiple times, including an incident that allowed Jones to close the gap. Coming to the white flag, Hamlin tried a slide job but carried too much speed and hit the wall. Chastain was unable to turn under him and ran right in the back of him. Jones capitalized and passed both drivers to win the Sports Clips VFW 200 at Darlington Raceway.
Denny Hamlin Goes from Last to First in Stage 1
The new qualifying format forced Denny Hamlin to start at the rear. It took just 16 laps for him to crack the top 10. Aided by the competition caution, Hamlin was able to take the lead from Chase Briscoe on lap 33. Hamlin set sail and won Stage 1 by nearly five seconds.
Anthony Alfredo slid up the track on lap two and forced Daniel Hemric into the wall. Hemric made contact with Ryan Sieg and Brandon Brown, bringing out the early caution. The DNF was Hemric's seventh in 16 starts this season.
Hamlin Completes Another Comeback to Win Stage 2
A slow pit stop caused Hamlin to drop from first to 11th to begin Stage 2. Chase Briscoe took advantage of this as he won the race off pit road. Hamlin got back to third with 15 to go in the stage. He and Jones were both beginning to run down Briscoe. Briscoe got held up in lapped traffic, allowing now second place Hamlin and Jones to get right to the bumper. Hamlin would take the lead just one lap later and win Stage 2 under caution.
Justin Allgaier pitted late in the stage with a tire issue but took the car behind the wall just a few laps later. Noah Gragson was battling Ross Chastain with two to go when Gragson got loose under Chastain and spun out. There was minimal damage to either car so they both continued.
Final Stage Leads to Wild Finish
Once again, Denny Hamlin had a slow pit stop but this time, he only lost two spots. Chase Briscoe inherited the lead and held it for a few laps until Jeremy Clements brought out the caution. Briscoe, Harrison Burton, Noah Gragson, Riley Herbst, and others pitted to take advantage of fresh tires.
Just two laps after that restart, David Starr hit the wall and brought out another caution. Briscoe had gone from 14th to fourth in just two laps on fresh tires. As a result, everyone who stayed out before would come down for tires.
Briscoe got back to the lead after he stayed out under caution. A few laps later, Briscoe spun out while leading after hitting oil being put down by Brett Moffitt. Ross Chastain and Denny Hamlin quickly passed leader Ryan Sieg on the restart
The final 13 laps were an instant classic and it was so fitting that it took place at Darlington Raceway. It truly was shades of the famed Kurt Busch-Ricky Craven battle from 2003. Hamlin was the faster car but Chastain held him off as long as he could. Both drivers were loose and hit the wall multiple times. A misjudged slide job was enough to slow both drivers enough for Brandon Jones to fly by and steal the win. Chastain held on for second while Hamlin dropped back to fifth.
What's Next
The final doubleheader of the Xfinity season will take place next weekend at the Richmond Raceway. The Go Bowling 250 will take place Friday, September 11 at 7:00 p.m. EST, and Virginia is For Racing Lovers 250 will be the following day at 2:00 p.m. EST. NBCSN will have coverage for both races. Will we see another thrilling finish like Darlington or will a championship favorite continue their dominance?
Written by Nicholas Sterling
Be sure to follow us on YouTube and Twitter.
Be sure to follow the writer on Twitter.
Photo credit to NASCARMedia