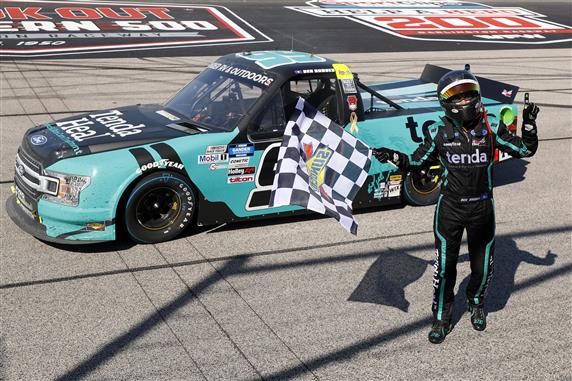 Ben Rhodes Gets His First Win in Over Two Years at Darlington
Ben Rhodes grabbed the win in the NASCAR Gander Outdoors Truck Series' first race at Darlington Raceway since 2011. The 23-year-old driver out of Louisville, Kentucky was able to capitalize on a late caution by staying out as those in front of him pitted. An overtime finish would show Ben Rhodes getting the checkered flag with Derek Kraus second.
"Gosh, that was such a tough win,'' Rhodes said after climbing from his truck. "We weren't the best truck all day. I was actually really disappointed when the caution flag came out because I thought fourth place is a good finish for us, we'll get in the Playoffs. But I'm not letting this checkered flag go. It's been a long time coming.''
Sheldon Creed Has Another Strong Run
The one driver that's shown the most strength heading toward the Playoffs is Sheldon Creed. With two wins in the last four races, Creed was on track for another victory today. After leading 82 laps on the day, the yellow flag flew with just two laps remaining. Sheldon Creed, Austin Hill and Brett Moffitt all elected to hit pit road as 11 other drivers stayed on the race track. Austin Hill and Brett Moffitt were able to rebound to a top 10, but Creed would go on to finish 18th.
"If more would have come [to pit road] it would have helped out the situation,'' Creed said after the race. "Man, that one hurts. Capitalized on that [next to] last restart and go to the lead and I knew if I was to the lead I was really good for 15-20 laps and I feel like track position was really important. Just so much fun today. This place is so cool. It was really fun racing my teammate for the lead and quite a few times on restarts. Such a good job by my guys.''
Notable Finishes From Non-Truck Series Regulars
Three notable non-Truck Series regulars took on 'The Lady in Black' today. The strongest of the bunch was David Ragan who made his first Truck Series start since 2006. After running most of the event inside the top 10, the 00 truck spun in front of Ragan, striking his right front on lap 146. He would take his damaged truck to a 22nd-place finish.
The second best non-regular was Greg Biffle. Biffle made his first NASCAR start of the 2020 season and struggled throughout the race with an ill-handling truck. He showed top-10 speed at times but would finish the day 19th.
The final notable non-regular was Trevor Bayne. Bayne was making his first NASCAR start in two years and his first career Truck Series start. Unfortunately, the 40 truck had a mechanical issue early that put them a number of laps down. Because of those issues, Bayne finished 27th.
How to Watch the Next Truck Series Race
With one races remaining until the Truck Series Playoffs, the next stop on the schedule will come at Richmond Raceway. The last race the Truck Series competed in at the Virginia short track was all the way back in 2005. You can catch all of the action on Thursday, September 10th at 8 pm EST. Coverage can be found on FS1, MRN, and SiriusXM NASCAR Radio Channel 90.
Written by Noah Lewis
Be sure to follow us on Twitter.
Be sure to follow the writer on Twitter.
Photo credit to NASCARMedia.