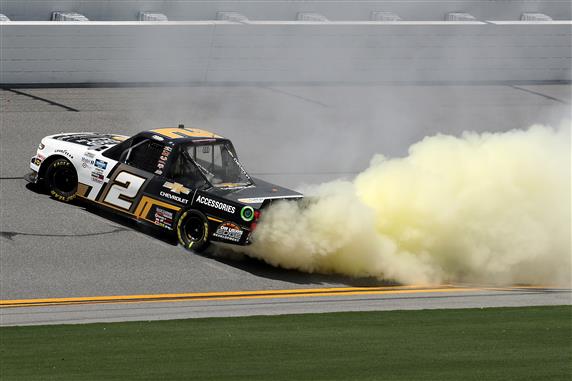 Sheldon Creed Holds Off Brett Moffitt in Thrilling Finish
Sheldon Creed passed Matt Crafton on a restart with 10 laps to go, and then held off Brett Moffitt on two late restarts to win the Sunoco 159 at the Daytona Road Course. This marks Creed's second win of 2020 and his career. His first win came in a rain-shortened race at Kentucky Speedway.
Early Mistakes Highlight Stage 1
Zane Smith started on the pole and got a big jump on the field. However, he locked up his brakes heading into turn one and went off track. The incident sent him from first to 19th. Brett Moffitt inherited the lead and checked out to a 2.5-second lead until he got off track on the backstretch chicane. Derek Kraus also missed the backstretch chicane just two laps later and lost nine spots. Moffitt recovered from his mistake to win Stage 1 under caution.
Strategy Switches Up the Running Order in Stage 2
Many drivers pitted before the end of Stage 1, meaning they could stage out at the start of Stage 2. Brett Moffitt restarted outside of the top 10 because of this. Christian Eckes and Austin Hill stayed out despite not pitting in Stage 1, but they were quickly overtaken by Matt Crafton and Sheldon Creed.
Creed capitalized on a mistake by Crafton to take the lead and set sail. Crafton pitted late in the stage, giving Creed an eight-second lead over Austin Hill. Creed mistakenly slowed down on the final lap of Stage 2, thinking it was over a lap early. This allowed Hill to get to his bumper. Despite this, Creed was able to hold off Hill for the Stage 2 win.
Mistakes and Strategy Lead to Exciting Finish
Raphael Lessard inherited the lead after staying out under caution, but he fell back after going off course on the final chicane just before the start-finish line. Matt Crafton took the lead but it was short-lived, as Brett Moffitt worked his way back to the front. A caution shook up the running order as Moffitt pitted from the lead while Crafton and Sheldon Creed stayed out.
Moffitt restarted seventh with 10 to go. He worked his way up to second in just four laps, but he was almost six seconds behind the leader. Creed got away on the restart and appeared to be on his way. That would change when a three-truck crash brought out another caution. Moffitt was all over the bumper of Creed on the final two laps. Despite the pressure, Creed built up a big enough gap to cruise to the victory at Daytona Road Course. Moffitt, Lessard, Crafton, and Austin Hill rounded out the top five.
What's Up Next
The Truck Series will head north for their annual stop at Dover International Speedway. Coverage of the KDI Office Technology 200 will be Friday, August 21 at 5 pm EST on FS1. With the Playoffs fast approaching, will 2019 Championship four driver Stewart Friesen or past champion Johnny Sauter be able to get on the right side of the cut line, or will their struggles continue?
Written by Nicholas Sterling
Be sure to follow us on Twitter.
Be sure to follow the writer on Twitter.
Photo credit to NASCARMedia