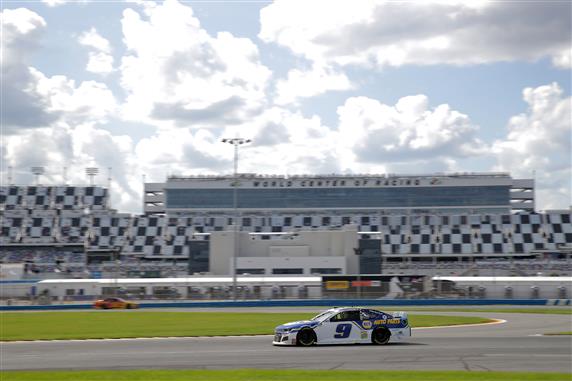 Chase Elliott Earns Inaugural Victory on Daytona Road Course
Earning his third-straight win on a road course, Chase Elliott took the checkers in NASCAR's first race on the Daytona circuit. Elliott now has four career wins on road courses, tying Kyle Busch and Martin Truex, Jr. for most of active drivers. This win comes at a pivotal time for Elliott, as he had not won a points-paying race since May. With the Playoffs just three races away, the Hendrick 9 team is positioning themselves nicely for a championship run.
Calm-Yet-Costly Opening Laps
To the surprise of many, the opening lap of the Cup race ran without issue. The field was able to successfully navigate the tight first corner and Denny Hamlin led lap one. Kyle Busch would take the lead on lap two, but the 18's time out front was brief.
Coming into the new frontstretch chicane, Kyle Busch flat-spotted his left front tire on lap two. The defending series champion was forced to pit road with the tire issue, sending the 18 back to 34th. This would move Martin Truex, Jr. up to second, as he was quickly chasing down Hamlin. Once Truex and Hamlin were racing for the lead, the 11 overcooked a corner in the infield. This resulted in Hamlin ramming into the 19, causing a tire rub. The 11 quickly pitted and their crew fixed the damage. In the span of ten laps, two Joe Gibbs Racing Toyotas would have to pit from the lead with self-inflicted tire problems.
Truex would hold the lead until he short-pitted Stage 1 on lap 13. This gave the race lead and Stage win to Chase Elliott, his sixth of 2020. Elliott leads all drivers this year in Stage wins. Numerous Playoff bubble drivers also scored valuable Stage points in this first segment. This list included Jimmie Johnson, Clint Bowyer, Matt DiBenedetto, Erik Jones, and William Byron. After Stage 1, the cut line gap was down to just an eight-point separation.
Another Mistake for Truex
With roughly half of the leaders having pitted before the Stage 1 break, strategy was already split for Stage 2. Hamlin would quickly grab the lead but had to fight off a hard-charging Truex. The fight would see Truex muscle his way by Hamlin in the banking to briefly take the lead. MTJ would lead three circuits before short-pitting once again. Unfortunately though, the 19 would incur a speeding penalty. This allowed Hamlin to win Stage 2 with relative ease. Since pit road was closed before the Stage end, Truex's penalty was to restart at the tail of the field. Over the course of 32 laps, three JGR drivers made unforced errors that put them back in the pack.
Weather Hold Early in Final Stage
When the green flag fell on the final Stage, Elliott had the lead once again and took off. Running second at the time, Harvick spun through turn three after contact from Christopher Bell. Even though the 4 did not suffer any damage, this took Harvick out of any chance at a good result. The 4 would only rally to finish 17th after a second spin.
Not long after the restart, a caution would come out for a lightning strike. After a 30-minute delay, the race would resume without issue. When the green flag flew again, Elliott took off. Less than a lap into this run, the No. 9 led by over two seconds. The final cycle of pit stops would occur with roughly 20 laps to go. Elliott would come in for his final service on lap 47, giving up an eight-second lead. Truex tried to stay out to catch a caution, but none would come. In just four laps' time, Elliott would regain the lead. Elliott inherited a gap of 11 seconds over Denny Hamlin.
Brutal Season Continues for Busch
Right as Elliott made his final stop, Kyle Busch also pitted from second. The 18 would not leave pit road however, as his team identified a broken brake hub. Busch went behind the wall for six laps as repairs were made. The Snickers Toyota returned to the race, only to be trapped out of contention. Busch would soon bring out the final caution with six laps left. While running down the backstretch, Busch's rear tires blew out. This erased a mammoth lead for Elliott, giving Hamlin and others one more shot at the win.
Elliott would nail the restart with three laps to go, but Hamlin was not letting him get away. The final laps were perfection out of Elliott, as he had to hit every corner perfectly to stay ahead of Hamlin. By the checkers, Elliott only led Hamlin by two tenths.
Elliott an Elite Road Racer
With the Daytona Road Course win, Chase Elliott has now won the last three consecutive road races. In that span, Elliott has also won four of the six Stages. Elliott also has a career total of four road course wins, tied for most among active drivers. Chase Elliott replaced the all-time winningest road racer in Jeff Gordon, only time will tell how many victories Elliott can nab on these circuits.
Top 10 Results From Daytona Road Course
Coming up just short at the checkers, Denny Hamlin had to settle for second. Along with his five wins, Hamlin now has five runner-ups in 2020. This includes each of the last two races. Hamlin did recover nicely though from his lap 10 tire rub. The 11 team continues their championship pedigree on every track type.
Finishing third for the fifth-straight race, Martin Truex, Jr. also rebounded from a setback, as he started the final Stage in the rear. Truex now has six top three finishes in the last seven races, but is still searching for winning speed.
Earning his first top five since Bristol, Jimmie Johnson ended a strong race in fourth. Debuting a new paint scheme, Johnson gained a little ground on the Playoff bubble. He is still 17th in the standings, at 25 points out of the top 16. Johnson now heads to a doubleheader weekend at his best racetrack though in Dover, so the 48's Playoff chances are still alive.
Finishing fifth, Chris Buescher scored his best finish since the season-opening Daytona 500. The Daytona Road Course also marks Buescher's fifth top-10 of 2020, his first since Talladega. Roush-Fenway Racing needed a strong performance, as Buescher is now 22nd in points.
Another Playoff bubble driver with a strong result was Clint Bowyer in sixth. The underrated road course racer was in the top-10 for most of the day and closes out a strong run. Daytona is Bowyer's first top-10 in eight races, dating back to Pocono. Bowyer is now 14th on the Playoff grid, 66 points above the cut line.
Amazing Substitution for Grala
Finishing seventh in his Cup Series debut, Kaz Grala excelled substituting for Austin Dillon. Grala only found out that he would drive the 3 car at Daytona yesterday. It was then that Austin Dillon revealed he had tested positive for COVID-19. Grala set his expectations at a top-30 and finishing all the laps, and called the seventh-place run "Far beyond [his] wildest dreams." We will update Austin Dillon's status for Dover when possible.
The third Hendrick car in the top 10, William Byron brought the 24 home in eighth. Byron is at odds against teammate Jimmie Jonson for the final spot in the Playoffs, and only lost a point in Daytona. The next three races must be perfect for Byron though, as Johnson has momentum entering his favorite racetrack.
The best-finishing Penske car, Joey Logano leaves the Daytona Road Course in ninth. The 22 team now has four-straight top-10s, as they try to build up Playoff momentum.
Earning his best-career finish on a road course, Michael McDowell rounded out the top 10. After Daytona, McDowell now has a career-high three top-10s in 2020. Usually in the mix for races at Daytona, a solid road course finish is huge for the Front Row Motorsports 34 team.
Elliott's Winning Reaction
"I'm not sure I did anything very special today but had a really fast NAPA Camaro," the ever-humble Elliott said. "(That) makes everybody's job a little easier from my end driving it, from Alan's end calling the race, and then from his end on adjusting, too. Really fortunate from that standpoint. Had a really nice week of preparation, came out and executed a really good race. Really proud of the day. I think we have a lot to be proud of showing up having a car like it needed to be, it doing what I wanted, and then to take that and get the result that I felt like we deserved.
Any win at Daytona is special, and Alan and I were joking, he said we had to change it to a road case to win a race here at Daytona. That was his first win here. This is his home track, he's from down here, so I think that was really cool. Yeah, just a great day.
Obviously Watkins Glen has been good to us, but I was just really happy that we replaced a road course with a road course and didn't just pile something else on the schedule to check a box. I think there was a lot of effort into getting this road course done and completed in time, so appreciate Daytona and everybody that works in the facilities here to be able to turn it that fast, and [they] did a really nice job with it."
Importance of Valuable Playoff Bonus Points
"You can't put a price tag on the six points we earned today for the Playoffs, and that to me is the biggest piece of the puzzle for as far as a championship goes. Our performance on the ovals the past month have not been what they need to be to compete for the championship, and I think we all know that. We're working really hard on doing that and getting better. I think a day like today where we're able to come here, have a really fast car, get some of those bonus points, I don't want to say it bides us time, but having six more points than we would have had than if we hadn't have won today makes a big difference, and especially when you're fighting to run seventh and eighth at Michigan last weekend.
All that stuff matters, and as tight as it's going to be through these rounds and through this last 10, we needed all we could get, and those bonus points, they're irreplaceable."
How to Watch the Next Race
The next stop for the NASCAR Cup Series is a doubleheader weekend at Dover. Coverage will be both Saturday and Sunday at 4 pm EST on NBCSN, MRN, and SiriusXM NASCAR Radio Channel 90. The Drydene Double Weekend at the Monster Mile stands between many drivers and a Playoff spot. Can 11-time Dover winner Jimmie Johnson capture another victory in his final year? Tune in to see how the Playoff bubble changes after two races at the Monster Mile.
Written by Peter Stratta
Be sure to follow us on Twitter.
Be sure to follow the writer on Twitter.
Photo credit to NASCARMedia