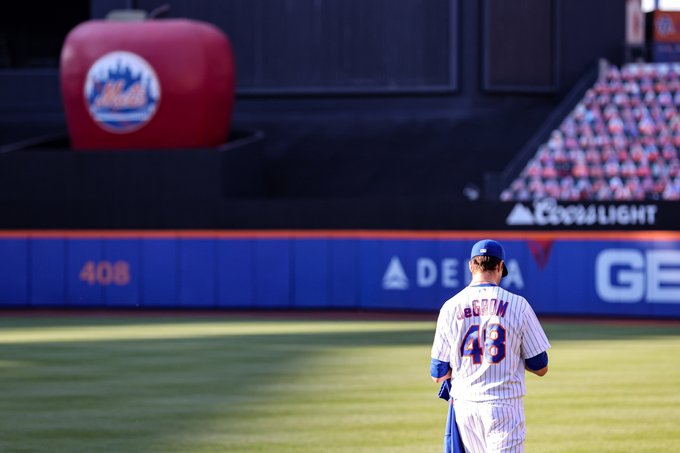 Can The Mets Rebound From Slow Start?
The Mets are slowly starting to turn things around after a rather slow start to their 2020 campaign. After splitting a four-game set with the Nationals, the Mets currently sit 9-11 and 3.0 GB in the NL East. Their offense is beginning to show signs of life (especially with runners in scoring position) and the bullpen has been fantastic. The only thing standing in the Mets way is their starting rotation.
Starting Rotation
With Noah Syndergaard out for the year with Tommy John, and now with Marcus Stroman opting out, the Mets rotation is slightly on the weaker side. Currently, the Mets rotation looks like this:
Jacob deGrom: 2-0 with a 2.45 ERA
Steven Matz: 0-3 with an 8.20 ERA
Rick Porcello: 1-2 with a 5.68 ERA
Rookie David Peterson: 3-1 with a 2.91 ERA
Robert Gsellman: 0-0 with a 9.00 ERA (recently added to the rotation due to Michael Wacha injury)
The rotation itself is not made up of poor starters, however, outside of Jacob deGrom and rookie David Peterson, the Mets rotation has gone up and down. Porcello has looked much better in his past two starts despite a terrible start. And Steven Matz has struggled his last two starts (both against Washington) despite starting solid. The inconsistency of the rotation is what is holding them back. When Wacha returns from the injured list, the Mets will be faced yet again with six starters and more decisions to make. However, for the Mets to continue to move up in the standings, the starting rotation has to be more consistent.
Never Say Never
After this past series with the Nationals, the Mets got some much-needed momentum as they head to Philadelphia to battle with Bryce Harper in the Phillies. Thankfully for the Mets, the rest of the NL East is also off to a slow start. Now with 40 games left, every game, especially against the NL East, will be crucial for the rest of the season. If the Mets find themselves in a long losing streak, it may be impossible to recover.
Written By Zach Nau
Follow Zach and TSJ: MLB on Twitter
Photo Credit to the Mets via Twitter
Follow TSJ on Facebook and Twitter