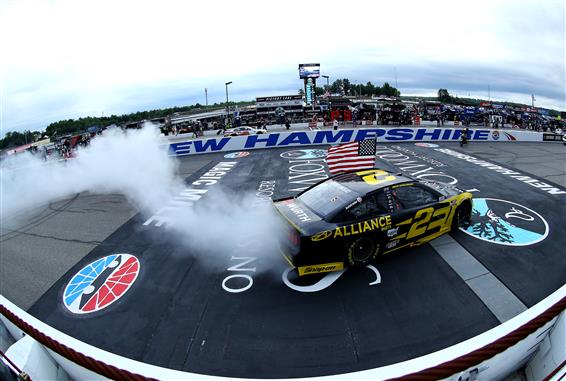 Brad Keselowski Dominates at New Hampshire for Second Win at Magic Mile
For the annual trip to New Hampshire Motor Speedway, most of the 301 laps were a two-man duel. Between Brad Keselowski and Denny Hamlin, both drivers led nearly the entire distance. Over the final run though, Keselowski was by far the superior car. The Penske No. 2 Mustang battled back on the last restart and quickly left Hamlin in the dust. At times in the closing laps, Keselowski led by nearly two seconds. With this victory, Keselowski now has three wins on the year, and 33 victories in his career.
Early Exit for Busch
Although Aric Almirola was on pole, Brad Keselowski would take the lead on lap three. The 2 began to quickly gap the 10, as Hamlin was one of several cars making up time.
After starting fifth, Kyle Busch was hoping for a strong day. The No. 18 was making up ground early, battling against Chase Elliott and others for position. On lap 16 though, Busch ran over debris while running sixth. Only a lap after scrubbing the wall, Busch lost a right front tire and pounded the outside wall in turn three. Busch's day would be over after showing early promise, as he would leave New Hampshire in 38th place. The 18 team is now 13th in the Playoff standings, 94 points above the cut line. The winless streak for the defending champion now sits at 20 races.
Stage 1 Setback for Johnson
Much like Busch, Johnson was optimistic after starting 20th for a fourth-straight week. While racing Clint Bowyer for fifth place though, the 14 sideswiped the 48 in turn two on lap 65. Johnson would go for a spin but was able to continue. The seven-time champion battling for a Playoff spot was not happy with Bowyer though. After a hard-fought recovery Johnson would be back up front late, but faded to 12th at the finish. The 48 is now 25 points below the Playoff cut line.
Tight Racing For Stage 1 Win
The three cars at the head of the pack for much of Stage 1 were Keselowski, Hamlin, and Ryan Blaney. This trio were in a tight race for the lead and Stage 1 win, with a lot of contact between them. Blaney would take the lead by staying out after the Johnson caution, but that was short-lived. Denny Hamlin would eventually get by Blaney to take the Stage 1 win. Stage 1 at New Hampshire marked Hamlin's fourth Stage win of 2020.
Hamlin would hold serve on the start for Stage 2, and maintained his lead until a rain caution. As Hamlin led most of the field down pit road, Kevin Harvick stayed on-track to assume the lead. Under this round of stops, Martin Truex, Jr. would go from a top five spot to the tail of the field with an uncontrolled tire penalty.
The track was deemed dry and the race restarted on lap 101, and Hamlin would retake the lead on lap 104. Keselowski would work his way back up to second, and tight racing once again would happen between these two. For much of this 71-lap green flag run, Keselowski and Hamlin were trading paint as they swapped the top spot amongst themselves.
Short Runs to End Stage 2
A rash of cautions would break up the end of Stage 2. Christopher Bell would spin just after a pit stop to halt action on lap 171. This caution would see Brad beat Denny out of the pits. Just three laps later though, Matt Kenseth would bring out another yellow when he spun in turn two. On this restart Hamlin blasted off initially, but Keselowski didn't let him get away. On the last lap on the Stage, Keselowski and Hamlin were door-to-door. Entering turn three, the 2 just slid ahead of the 11 and beat him back to the stripe. For Keselowski, Stage 2 at New Hampshire was his series-record sixth Stage win of 2020.
Keselowski Takes Command
Hamlin would restart the final Stage with the lead. However, two back-to-back cautions from Kenseth would see the 11 fall back in the pits. Chase Elliott would get the lead by staying out. Another caution however would see Elliott pit, giving Hamlin the lead. This would end up being the final caution of the day when John Hunter Nemechek pounded the turn three wall after a flat tire. The race for the win at New Hampshire would go green with 83 laps to go, as a battle between Keselowski and Hamlin was shaping up again.
Although Hamlin was the leader on the restart, Keselowski got by the 11 just two laps later. After repeated attempts to take the lead back, Hamlin eventually fell behind. With 50 to go, Keselowski's lead was over a second. The top two would remain unchanged at the checkers, as Keselowski earned a statement win. The 2 would lead 184 laps at New Hampshire, compared to the 11's 92 circuits paced.
Both of Keselowski's wins earlier in the season were late upsets where he took the lead late. At New Hampshire, Keselowski had the race in control for much of the day and was the class of the field. With such a strong performance, the 2 has to be considered a championship threat.
Top 10 Results from New Hampshire
After being up front for much of the day, Denny Hamlin lost ground in the last run to come home second. New Hampshire is Hamlin's third runner-up finish of the year to go along with his series-best five wins. The 11 may have lacked some speed, but they were not off by much.
After the uncontrolled tire penalty, Martin Truex, Jr. fought all the way back to third. Truex said post-race that he had the third-best car, and was happy they finished so strong. New Hampshire was the 19's third top-three in the last four races.
Joey Logano ended a strong day in fourth, as the 22 showed great pace all day. Logano went off-strategy for the last run and older tires cost him some time. However, Logano still earned his fifth top-five of the year.
Far from a third-straight win, Kevin Harvick rallied from an off-strategy lap 166 pit stop to still finish fifth. With the freshest tires, the 4 was making up ground late, and with a caution could have finished even higher. Harvick still leads the standings by 81 points over Keselowski, with 13 top fives.
Earning a second-straight top 10 at New Hampshire was Matt DiBenedetto in sixth. The 21 was amongst the leaders all day long, as he excels racing with the 750-horsepower package. This was the 21's sixth top-10 of the year. DiBenedetto is now 40 points above the cut line.
Continuing his consistent run, Aric Almirola earned his ninth-straight top-10 by finishing seventh. The 10 started New Hampshire from the pole, but lacked speed to run in the top five. Almirola is now 11th in the Playoff standings, 145 points above the cut line.
Rookie Continues to Impress
Finishing eighth, Cole Custer scores his fourth top-10 in the last five races. Custer's progression as a Cup Series driver has certainly taken an upward leap this summer, as he is quickly becoming a regular contender.
Leading Hendrick Motorsports in ninth would be the 9 of Chase Elliott. Elliott passed Jimmie Johnson late for a top-10, his first since Pocono. Despite winning the All-Star Race a few weeks ago, the 9 team is still searching for speed.
Making it two rookies in the top 10 was Tyler Reddick in 10th. Reddick passed Johnson in the closing laps for his seventh top-10 of 2020, as he battles for a Playoff spot. The 8 is now 17th in points, just 15 points out of the postseason with six races to go.
Keselowski's Winning Reaction
"I just had a great car and a great team effort," Keselowski said. "I was able to get into a really good rhythm at certain points in the race, just kind of take control. That felt really good. Third win of the year, but first kind of win where we've been able to kind of take control of the race.
"I thought we put on a great race," Keselowski said of the package. "I was really proud of it. Proud of it for our sport and for our team. Proud for our sport because we got away from rules that didn't make for good races and we went to rules that I think made for good driver battles. Denny and I had a heck of a driver battle."
Keselowski will hope to get an elusive win at his home track next week at Michigan International Speedway. "We've been really running well. I haven't quite executed perfectly until this weekend. I think we have a great shot of doing just that at Michigan. Competition is going to be really tough. I think we all know how good Harvick is on those really big tracks. I'm going to have to be perfect to beat him."
How to Watch the Next Race
The next stop for the NASCAR Cup Series will be a doubleheader from Michigan. Both races will go green shortly after 4 pm EST on Saturday and Sunday. Coverage will be on NBCSN, MRN, and SiriusXM NASCAR Radio Channel 90. The second doubleheader weekend will be pressure-packed as the Regular Season winds down, who will come out on top in the Irish Hills?
Written by Peter Stratta
Be sure to follow us on Twitter.
Be sure to follow the writer on Twitter.
Photo credit to NASCARMedia