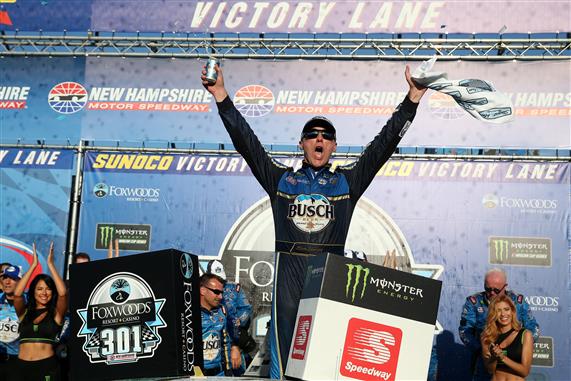 Kevin Harvick Hopes to Make History at New Hampshire
Arguably the hottest driver of 2020 can continue his amazing season and make some history this weekend. Kevin Harvick has won the last two races at New Hampshire Motor Speedway, and enters the Magic Mile as a favorite for Sunday's race. Harvick's win a season ago tied Jeff Burton's record of four New Hampshire wins, so he could become the track's all-time winningest driver with a repeat performance. In addition, Harvick would set another New Hampshire record by winning three-straight races.
Harvick's Recent Stats at New Hampshire
In 36 career starts at the Loudon mile, Kevin Harvick has four wins, 20 top-10s, 759 laps led, and an average finish of 12.8. Over the past ten races at New Hampshire, the 4 also has seven top 10s. Amazingly though, in each of the last two years Harvick has won despite not being the dominant car. 2018 saw Harvick lead only 12 laps, while he would lead 41 circuits last year. In each of those wins though, Harvick has been on both sides of a race-winning move that made highlight reels.
Harvick has a chance to become New Hampshire Motor Speedway's all-time wins leader. However, the track's leader in top fives, top 10s, and laps led is Jeff Gordon. Also of note, Denny Hamlin has the best average finish among drivers with multiple starts at NHMS, with 9.9.
Recent Finishes Some of the Best Ever at NHMS
In 2018, Harvick nudged Kyle Busch out of the way late in the race to steal the victory. This was during the year of the Big 3, where Harvick, Busch, and Martin Truex, Jr. won 20 races. Loudon was Harvick's sixth of eight wins in 2018.
A year after taking the victory from Busch, Harvick had to fend off another Joe Gibbs Racing Toyota. This time, Harvick had to battle against a last-lap charge from Denny Hamlin. The 4 was able to hold off the 11 in a fantastic duel that saw Hamlin take the lead in turn one. Harvick was able to stay on Hamlin's outside and made the winning pass heading into turn three. The 4 then had to fight off one last bump from the 11 in turn four, but was unfazed. This marked Harvick's first win of 2019.
Expect the top two drivers from New Hampshire a year ago to be among those fighting for the win once again. Harvick and Hamlin have been the two best drivers all year, with Hamlin having recent momentum. After Kansas, Hamlin now has five wins to Harvick's four, so it may be Harvick's turn to take another victory. Harvick enters this weekend's Foxwoods Resort Casino 301 as the favorite, with 4/1 winning odds. A close second in the odds for New Hampshire is the 11 of Hamlin, at 9/2. Be sure to tune into NBCSN on Sunday at 3 pm EST to see if one of these two takes the Loudon victory, or if another driver upsets their race.
Written by Peter Stratta
Be sure to follow us on Twitter.
Be sure to follow the writer on Twitter.
Photo credit to NASCARMedia