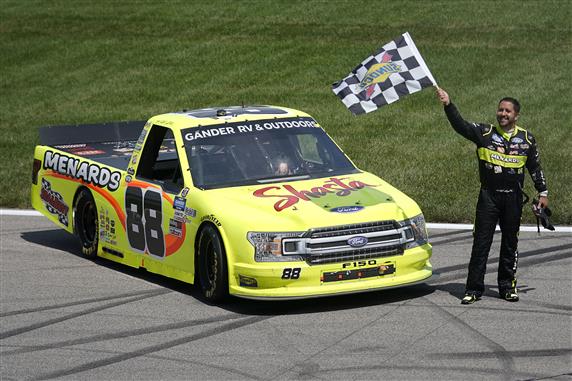 Kansas Doubleheader Equals Playoff Berths for Hill, Crafton
The first doubleheader weekend in Truck Series history saw two drivers clinch their berths in the 2020 Playoffs. Austin Hill won Friday night's show at Kansas, while Saturday afternoon went to Matt Crafton. After this weekend, four of the ten spots in the Truck Series Playoffs are now taken. With a questionable schedule still ahead for the Trucks, the Kansas doubleheader was a much needed win for both teams. On the flip side though, several drivers are in deep holes leaving the heartland.
Austin Hill Finally Breaks Through
One could describe Friday night's Truck race from Kansas as status quo for Austin Hill. The Hattori Racing No. 16 got out front on lap 41 and hardly looked back. After several close losses already this year, Austin Hill secured the win in the first leg of the Kansas doubleheader. As a result, Hill would lead a race-high 65 laps for his fifth career win. Hill has been atop the series points standings for several weeks, despite not winning until now.
"This is awesome," Hill said after the win. "We've been working so hard for this. Last week was a bummer having engine troubles. I told the guys before coming here, 'You know we finished fourth here last year, let's go finish three spots better' and I'll be danged if we didn't do it.
"Really, those last 20 laps felt like they went on forever. I started thinking, what am I going to do when a caution comes out. Am I going to choose the outside or inside lane and how hard do I drive it into the corner on old tires, just a lot of things were going through my head. I'm glad we didn't have to do a green-white-checkered finish and it just ended like it did."
Hill on First Win of 2020
"It's just a lot of weight off my shoulders honestly. I've been kind of beating myself up by not getting the win in Atlanta and felt like there were some other race tracks we should have won at or at least had a better shot at. It's just a big relief to be locked into the Playoffs and to just have that momentum going forward. We've been really consistent all year. Everybody at HRE and all the guys have been doing a fantastic job bringing really fast United Rentals Toyota Tundras to the race track. Everybody at TRD, they help out tremendously with sim and everything else that goes into this with no practice. It's just a really special feeling to be able to get the win, get the job done."
The Friday night race from Kansas was admittedly calm, as many were racing conservatively to save their trucks for race two of the doubleheader. However, Saturday afternoon's 250 mile event was absolute madness at times, as there were several major incidents.
Crafton Ends Winless Drought
Coming into Saturday's Truck race, Matt Crafton was in the thick of the Playoff bubble battle. The defending champion was 10th in the standings, only 11 points ahead of the cutoff. Riding a streak of three-straight top fives, Crafton came into Kansas with confidence. However, the 88 would not lead until after Stage 2, as Zane Smith took commanding Stage wins.
Restart Triggers The Big One
Derek Kraus spinning on a lap 78 restart would set up an interesting split strategy. This caution fell just outside of a fuel window for the lap 134 finish, so some of the leaders pitted here for fuel. This put a few of the fastest trucks in the middle of the pack with just over 50 laps to go.
On the ensuing restart, Clay Greenfield would spin off the bumper of Tanner Gray. The 68 truck would turn down into Johnny Sauter and Spencer Davis. Stewart Friesen, Natalie Decker, and more drivers would become involved in this massive crash. This crash would involve 12 trucks in total, including many who had just pitted.
Johnny Sauter's No. 13 truck would get the worst damage, instantly becoming a junk pile. Due to a string of poor finishes, Sauter is at risk of now missing the Playoffs. The 2016 champion is now 12th in the standings, 43 points below the cut line. Much like Jimmie Johnson in the Cup Series, Johnny Sauter will likely need to win to make the 2020 Playoffs.
Dominant Teammates Take Each Other Out
After a brief red flag for cleanup, the race resumed and another big incident would soon follow. While racing three-wide wide, Zane Smith would get loose and make contact with Tyler Ankrum, sending the 26 into Brett Moffitt. This GMS trio had been among the best trucks in Kansas for both doubleheader races. All three drivers were in the top five for much of Saturday, with Moffitt and Smith getting top-10s on Friday. For Ankrum meanwhile, two promising races in the Kansas doubleheader ended with respective finishes of 33rd and 28th.
Crafton would take the lead for good from Austin Hill with 22 laps to go, and set sail towards the finish. Although Christian Eckes was closing in late, Crafton was able to score his first win of 2020. Not only did this mark the first win of the year for the 88 team, it was also their first victory in 67 races. Their winless drought dated back to Eldora in 2017, and included their title run a year ago. Crafton is now securely in the Playoffs once again, chasing after a fourth championship.
Crafton on Finally Winning Again
"Feels like a monkey off of my back," Crafton said on breaking his losing streak. "That's all everyone wants to talk about. I just kept my head down and didn't worry about it. It's all about these guys. They haven't let it bother them or at least they played it off as it hasn't bothered them. I can't be happy enough for them, Duke and Rhonda Thorson, Menards, and everybody that always believed in us."
A historic first for the Truck Series ends with two more Playoff positions claimed by title contenders. The Truck Series will be back in action on Friday, August 7 from Michigan International Speedway. Coverage will be on FS1, MRN, and SiriusXM NASCAR Radio Channel 90 at 6 pm EST. Can another driver lock up a Playoff spot, or will we see another repeat winner in the Irish Hills?
Written by Peter Stratta
Be sure to follow us on Twitter.
Be sure to follow the writer on Twitter.
Photo credit to NASCARMedia